The Ford Bronco Sport is a rugged SUV, and in one recent incident proved to be bullet-proof. Although the bullet did damage the vehicle, it was prevented from entering the cabin by the moonroof. Yes, you read that correctly, the moonroof.
Tesla's 'Bulletproof' Cybertruck Fails When Windows Shatters At Tesla Event In Front Of Elon Musk
Beth E. is the owner of a 2023 Ford Bronco Sport Outer Banks. One of that particular trim's features is a retractable glass moonroof. After returning to her vehicle after a trip, Beth was shocked to discover a bullet had broken, but not entered her moonroof. Here is the story in her own words.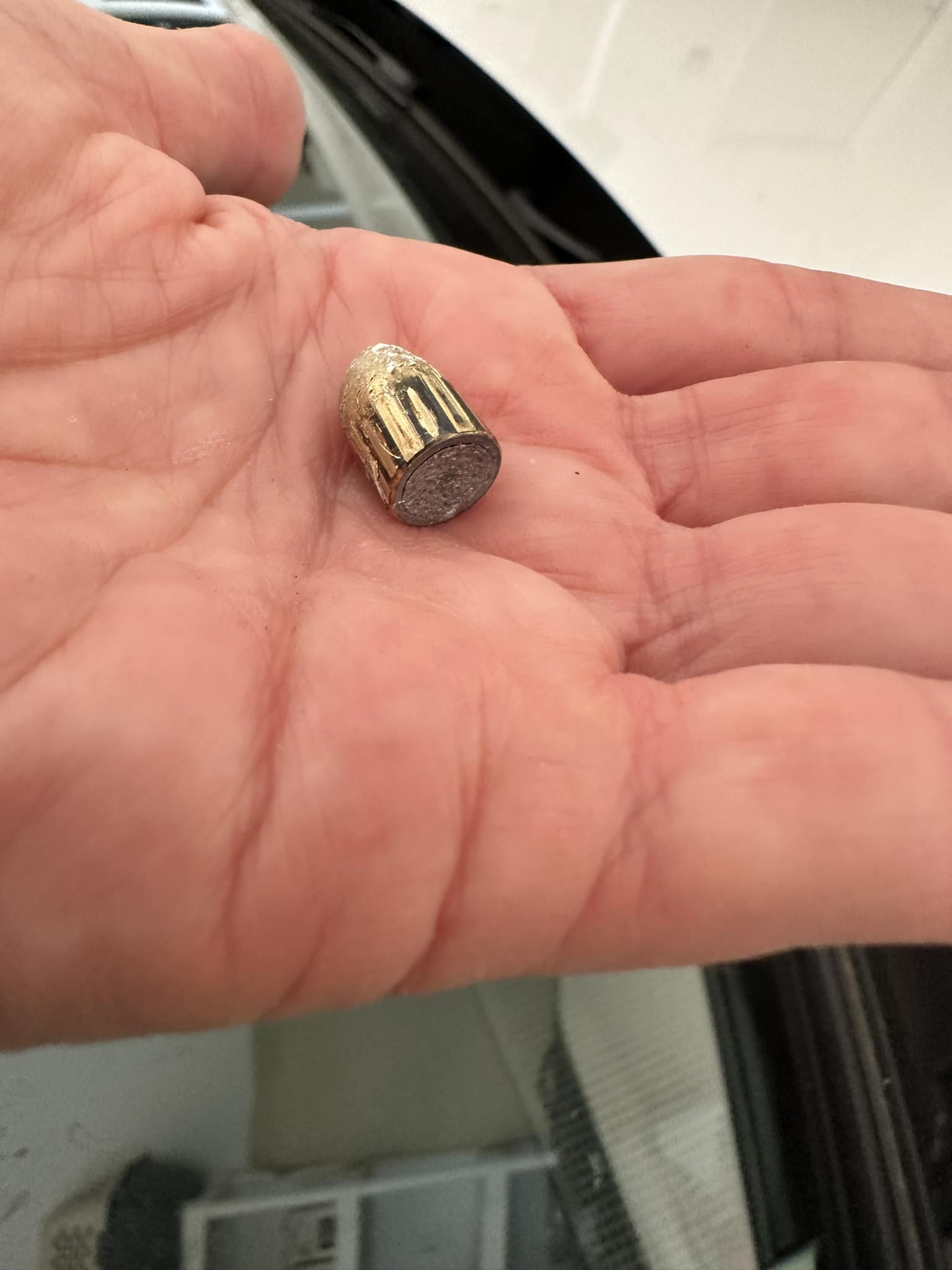 TN - Please tell us about what happened. 
Beth E. - I had to go to CA for a one-day conference. The parking ramp at Phoenix (airport's parking garage) was so full that I had to park on the top, uncovered level. I got back on the afternoon of Oct 14, got in my car, started driving, and heard what sounded like marbles up on the roof. I pulled over and looked to discover glass everywhere. At first, I thought, vandals? Did something drop from an airplane? I was so confused. The next morning, I was trying to clean up the glass, and among the shattered pieces, I found the bullet. To be honest, I wasn't 100% sure that's what it was! I sent the photo to my dad and brother, and they confirmed.
TN - Did the bullet hit something other than the glass? Why didn't it penetrate the moonroof?
Beth E. - The image where the bullet is in my hand shows where the bullet came through, hit the glass, and then one of the metal bars in the opening mechanism. I had the inner part closed so the glass didn't get inside. 
TN - Did you report the incident to the police?
Beth E. - I did report it to the police. They checked reports and cameras at the Phoenix airport, and there was nothing in the 24 hours my truck was parked there.
TN - Did the police offer any ideas about how it may have ended up hitting the moonroof?
Beth E. - They guessed it was shot from off airport property, up into the air, and came down onto my sunroof.
TN - How are the repairs being handled?
Beth E. - My insurance does cover the damages after the deductible. They estimated around $3500 to repair. Because of the auto strike, I am still waiting, as many parts are taking longer than usual. (Beth has been waiting over four weeks for her Ford to be repaired by the local dealer).
TN - We are so glad nobody was injured. Falling bullets can be deadly. 
Beth E. - I feel so lucky. I remember that as I was walking to my car, I saw a family with three little kids, two toddlers and a baby. I often think that bullet could have hit one of them just as easily as my Bronco. I could have been in the Bronco with the roof open. It makes one realize how life is truly one moment at a time.
Torque News would like to thank Beth E. for sharing her story, which we first learned of at the 2021+ Ford Bronco Sport Owners on Facebook. 
 
Images of bullet stopped by Ford Bronco Sport by Beth E.
John Goreham is an experienced New England Motor Press Association member and expert vehicle tester. John completed an engineering program with a focus on electric vehicles, followed by two decades of work in high-tech, biopharma, and the automotive supply chain before becoming a news contributor. In addition to his eleven years of work at Torque News, John has published thousands of articles and reviews at American news outlets. He is known for offering unfiltered opinions on vehicle topics. You can follow John on Twitter, and connect with him at Linkedin.