What is a sport utility vehicle, and what is so magical about the term SUV? It is one of the hardest questions to answer in the modern world of automobiles. There was a time, now long gone, when we knew what an SUV was. It was a big, hulking travesty of a vehicle adapted from a body-on-frame pickup. That is certainly no longer the case, and pickups, to their credit, have also evolved. Our very favorite pickups today are unibody and adapted from crossover platforms! Let's break down what an SUV is, and see how well Ford's Bronco Sport meets the definition.
Related Story - Myth Busted, The Ford Bronco Sport Is Not Just a Restyled Escape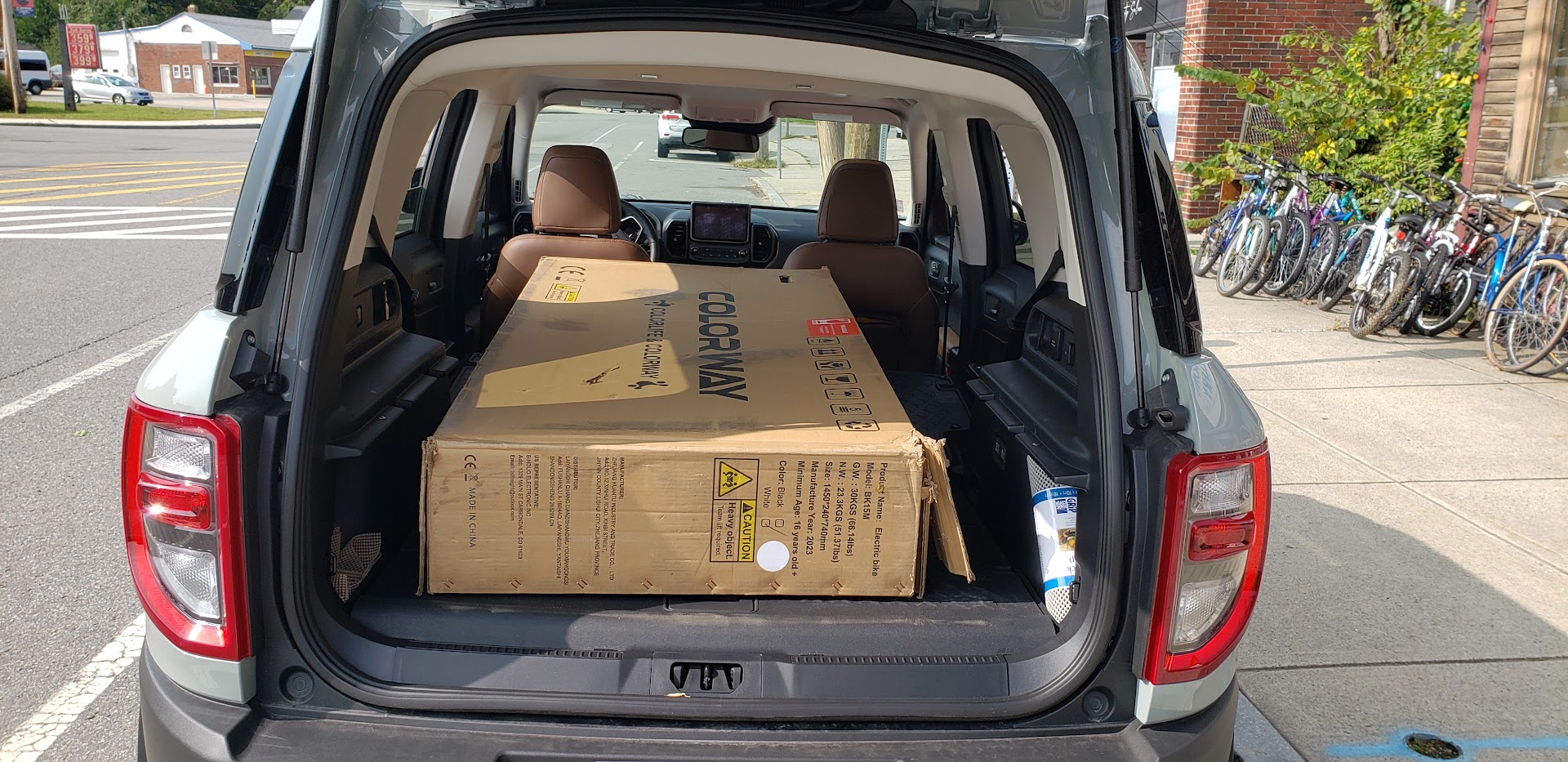 Ford Bronco Sport As an SUV - Utility
The U in SUV stands for utility. If your vehicle doesn't have a tow hitch, spare tire, a sturdy set of roof rack rails, and a big cargo area with a rubberized mat, you don't own an SUV. Maybe you have a crossover or a wagon, but if you can't haul a trailer to the dump, change a flat tire on the way, and throw a set of kayaks up on the roof that same day, you have a pretend SUV at best. If your cargo area is carpeted with premium Alcantara we don't know what you have.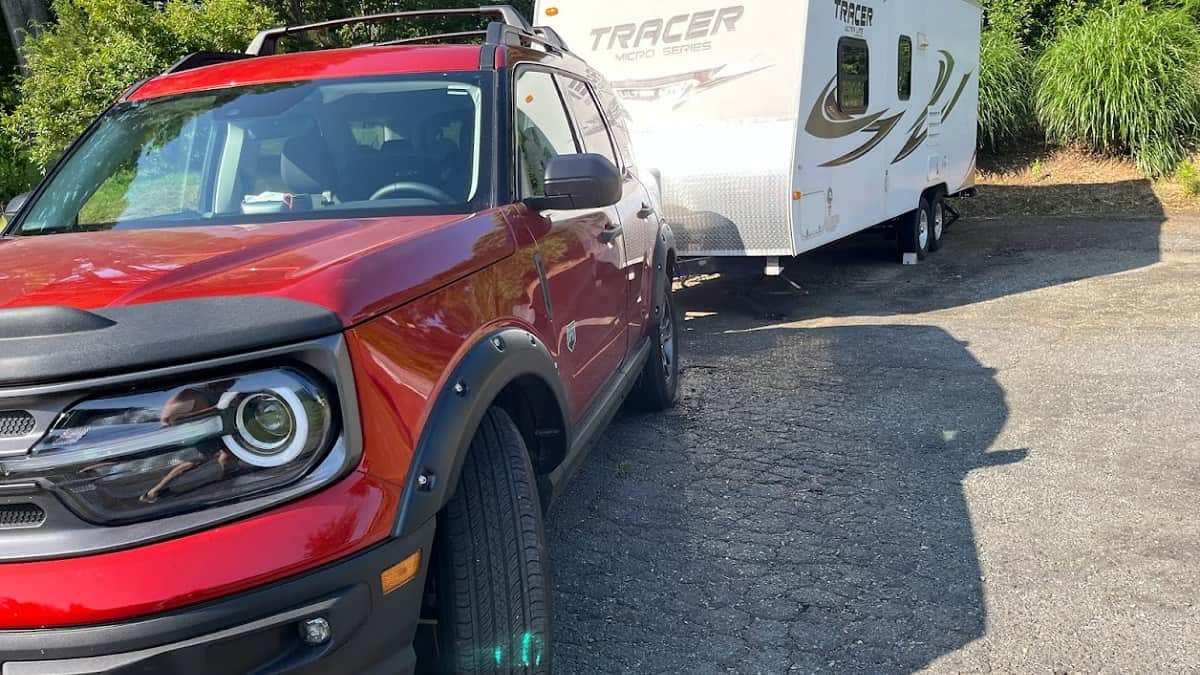 The Bronco Sport meets every definition of the U for utility. You can select trims that skip some of the more rugged utility features, but if you opt for a top-trim, your Badlands or Heritage will have all of the utility stuff imaginable.
The Bronco Sport can tow a big trailer and can haul a lot of weight up on its roof rails. There are trims with waterproof sections of their interiors. If hugeness is part of how you define utility, Ford has three larger SUVs in its lineup, but none of them are nearly as fun as the Bronco Sport (Ok, maybe the Edge Sport is).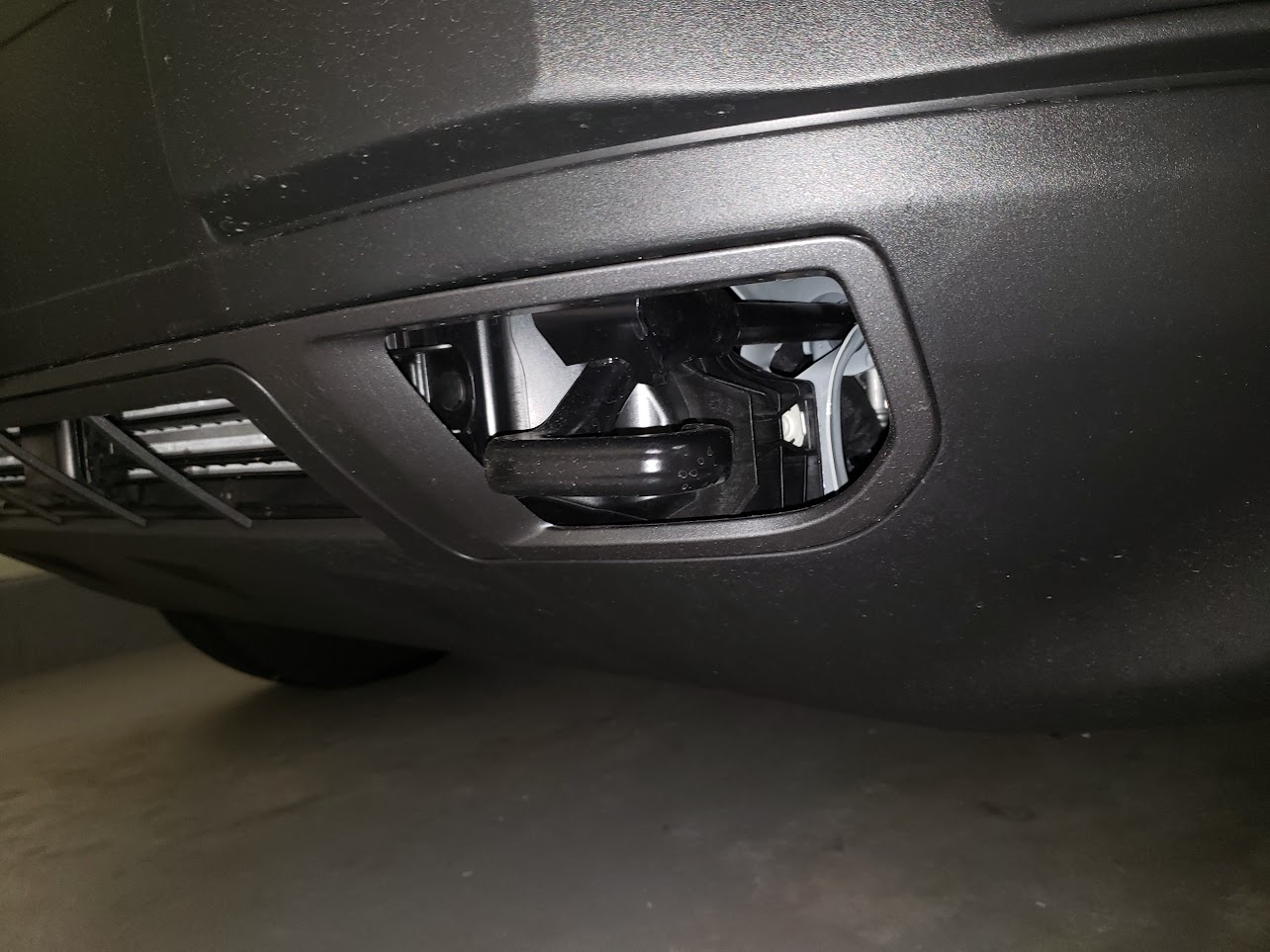 We would award bonus points to any SUV that has the utility feature of being able to recover stranded crossover drivers stuck in a mud puddle due to an off-road adventure gone wrong. Here again, the Bronco sport comes through with recovery hooks up front. Unlike the dainty (hidden under plastic) ones on the Subrau Wilderness line, Ford leaves them exposed and ready for action. 
Ford Bronco Sport As an SUV - Sport
The S in SUV means Sport. Sport has multiple definitions. For some owners, the word Sport refers to a quick vehicle with the power to launch from a stop like a "sports" car. We feel pretty strongly that the 250hp 2.0-liter EcoBoost engine in the Ford Bronco Sport's top three trims (First Edition, Badlands, and Heritage) helps the SUV meet this definition. Its sub-six-second zero to sixty time is faster than many older muscle cars with SS, IROC, and Stingray in their names, and very close to the 0-60 mph time a modern Miata, Subaru BRZ, or Toyota GR86 sports car can lay down. 
Others use the term sport to refer to outdoor sporting activities the vehicle can help facilitate. For example, kayaking, paddle boarding, skiing and snowboarding, and mountain biking.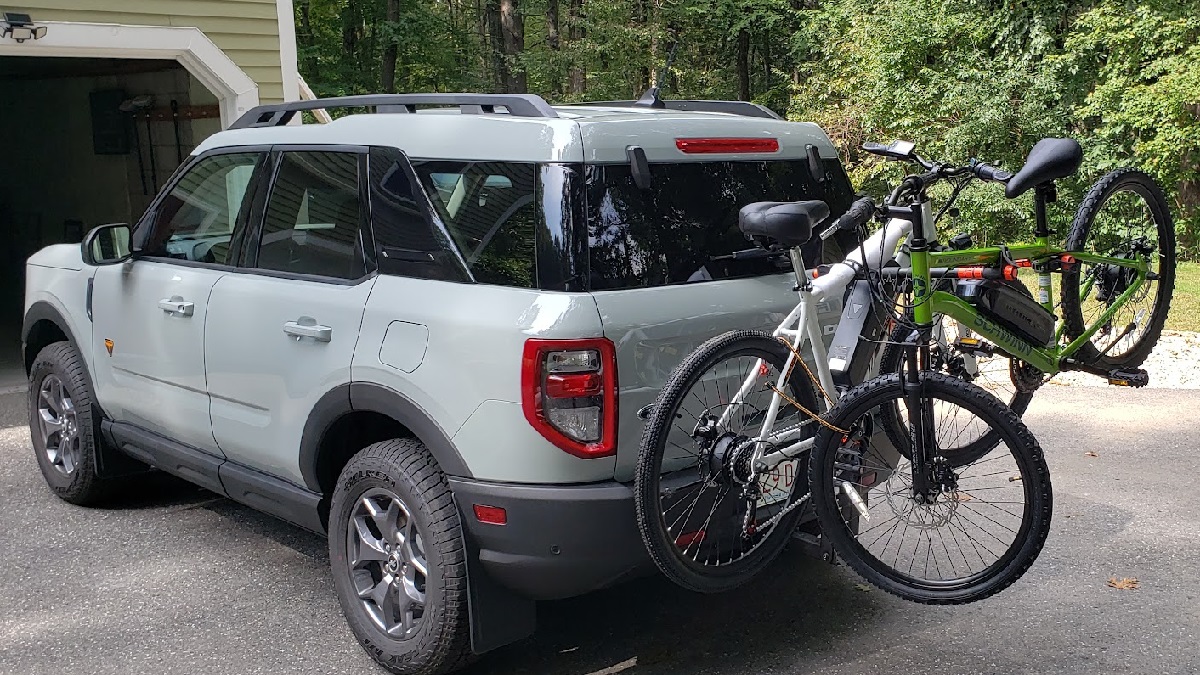 Let's use mountain biking as our example. The Bronco Sport can haul bikes in four different ways. The tall extended roof enables bikes to be transported inside the cargo area with the front tires removed on a rack Ford offers as an accessory. The second way is by using a roof-mounted bike rack. The third way is to hang a bike rack off the tailgate (not our suggestion, just a fact).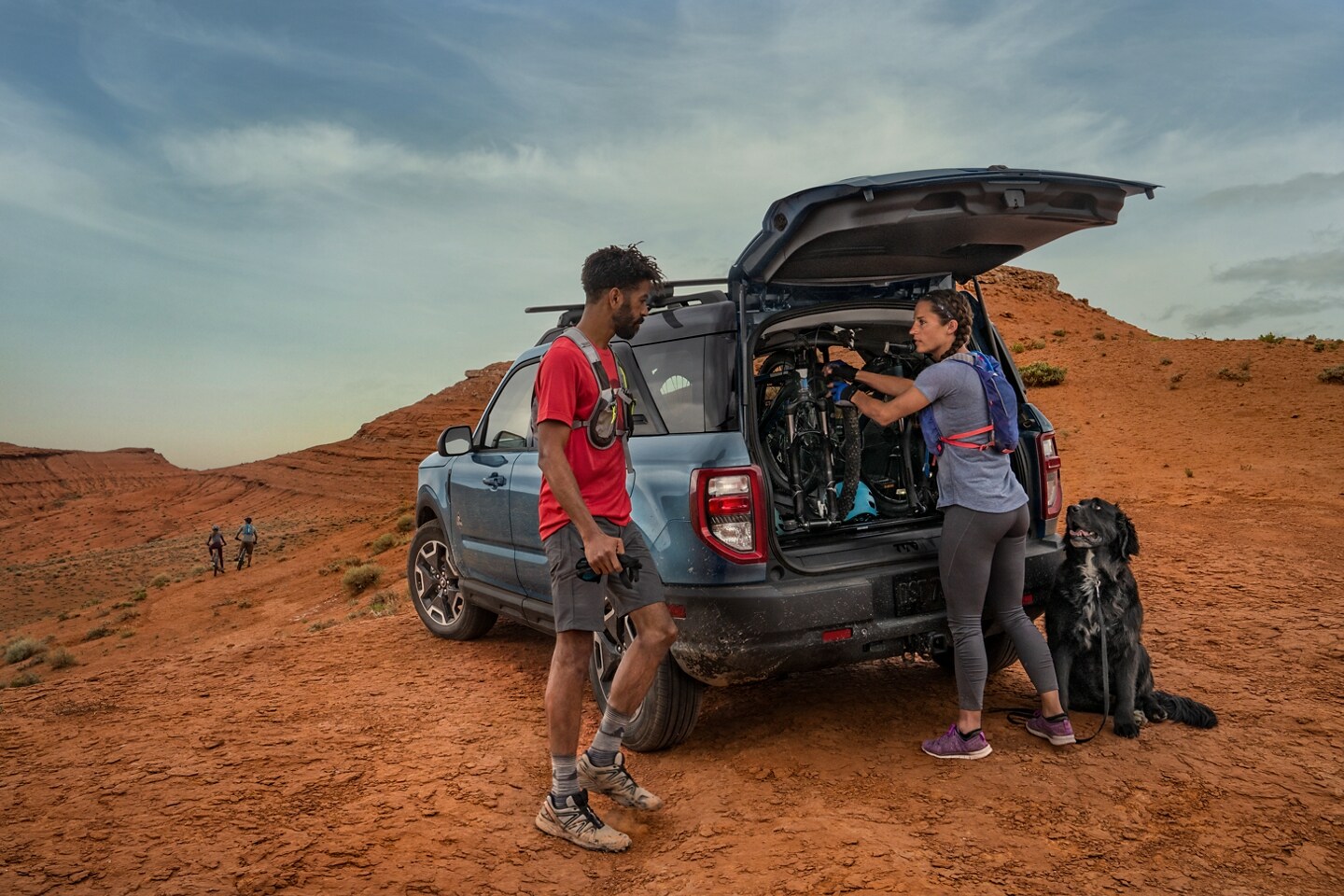 The best way may be to use a hitch-mounted bike rack. Let's be honest with ourselves about the practicality of hauling bikes on fragile battery-electric vehicles with all-glass roofs. Or trying to stuff a muddy bike into the tiny (carpeted) cargo area of a crossover with an aero-maximized sloping rear hatch. Not very safe and not very practical.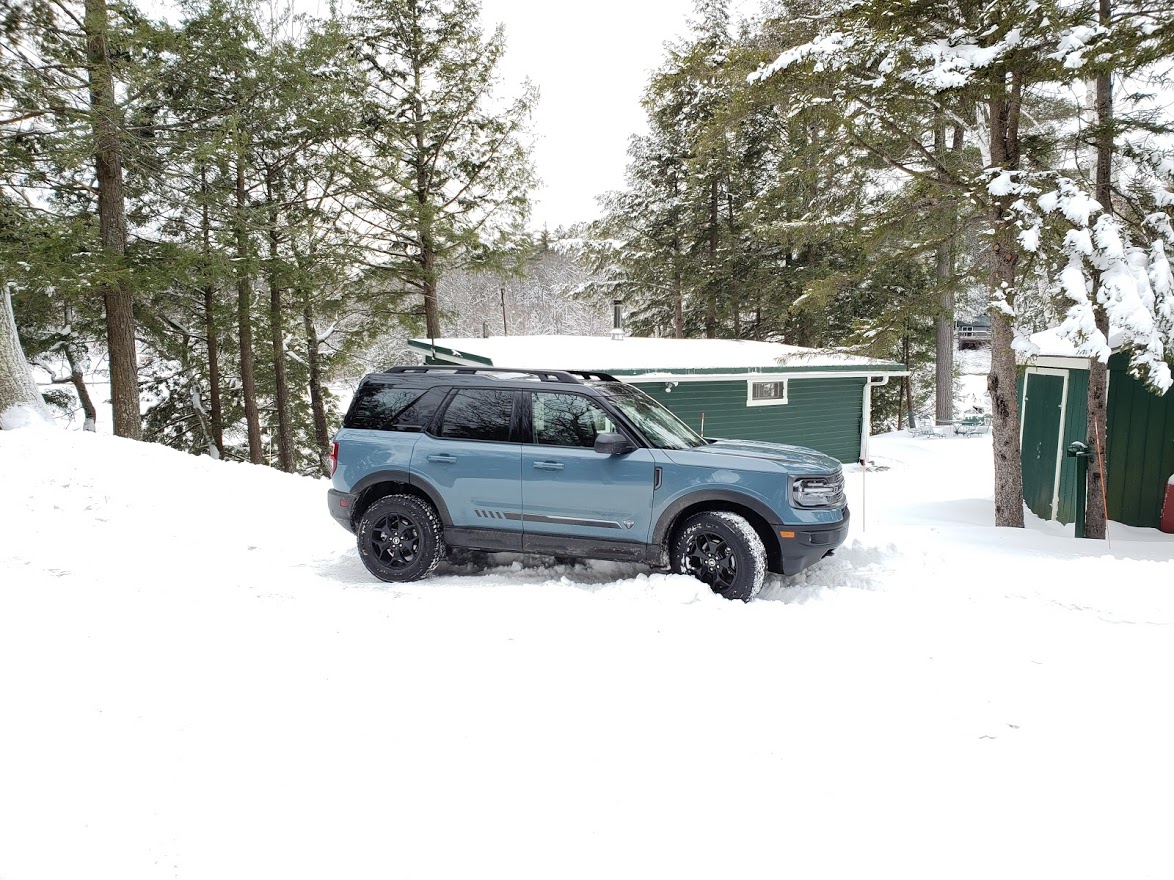 Ford Bronco Sport As an SUV - Off-Road and Winter Capability
One last pair of qualifications for an SUV are its off-road and snow-driving capabilities. Here, the Ford Bronco Sport cannot be surpassed by any compact SUV on sale today. The Bronco Sport can come equipped with tires that earn the severe snow duty rating. The vehicle also has a dedicated slippery mode, plus the ability to lock the 4X4 system, and even lock the rear differential.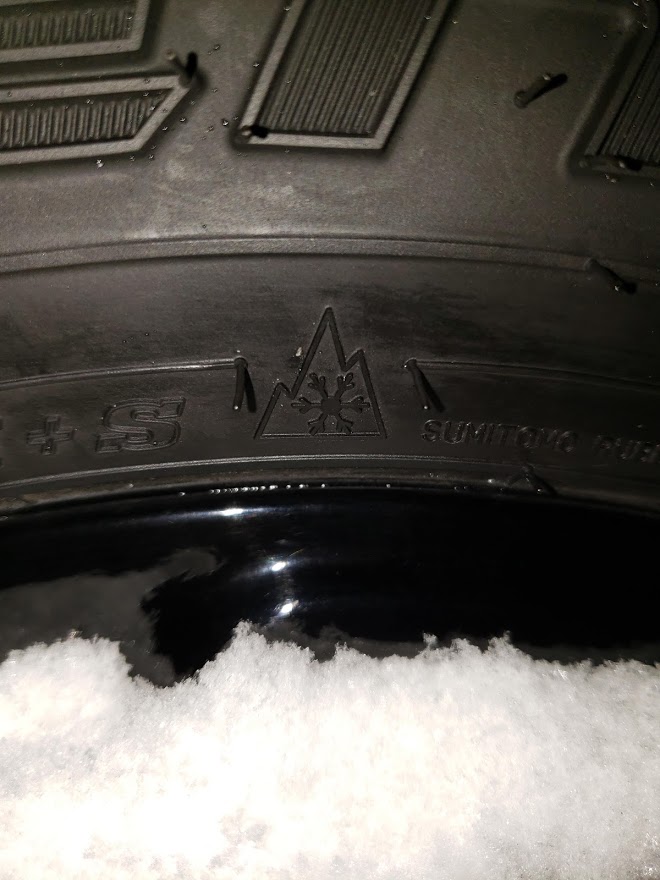 When it comes to off-road capabilities, the Ford Bronco Sport has now proven itself beyond question on numerous popular YouTube channels.
With a wide assortment of "goes over any terrain" modes, plus Trail Control, added ground clearance, up to two feet of water fording capability, all-terrain tires, and a full-sized spare available, the Bronco Sport checks off all the requisite boxes. Thrown in features like a forward-facing camera and water and mud-proof floor mats and cargo area, the Bronco Sport has options many brands don't even offer in an SUV. 
Conclusion - The Ford Bronco Sport Earns the Name SUV
We are not really sure anyone can clearly define where the line between a crossover and an SUV is. We know that great vehicles like the front-wheel drive Kia Niro and zero tow-rated Chevy Bolt are among our favorite vehicles, but they are not SUVs, despite what their manufacturers may prefer to say about them. We also know that vehicles like the Jeep Wrangler and Toyota 4Runner are (obviously) SUVs. After carefully examining the Ford Bronco Sport's design, capabilities, and features, we can now most definitely place it squarely in the sport utility vehicle category. 
 
Image Credits: Ford Bronco Sport towing image courtesy of Kent Eaton. Image with Uhaul courtesy of Scott McCoy. Image of Bronco Sport with bikes inside courtesy of Ford. All other images by the author. 
Author Note: The Author has tested the Ford Bronco Sport's First Edition and Badlands in all four seasons, and he owns a 2023 Bronco Sport. 
John Goreham is an experienced New England Motor Press Association member and expert vehicle tester. John completed an engineering program with a focus on electric vehicles, followed by two decades of work in high-tech, biopharma, and the automotive supply chain before becoming a news contributor. In addition to his eleven years of work at Torque News, John has published thousands of articles and reviews at American news outlets. He is known for offering unfiltered opinions on vehicle topics. You can follow John on Twitter, and connect with him at Linkedin.