Swapping out your Toyota Highlander's cabin air filter could not be simpler. The dealer will charge you around $75 to do this job that you can do without any tools in just 3 minutes. Even better, the part can be delivered to your home for under $20.
Buying a Cabin Air Filter
Purchase your cabin air filter anywhere you like. We've bought them from dealers, parts stores, and will admit to having had a mechanic throw a few in for us during major service intervals. However, the easiest way to get one is on Amazon. Simply do a keyword search for cabin air filter and your model (Highlander for this example) and the results will pop up. Next, use Amazon's matchmaker tool to ensure you picked the right one. It starts in the upper lefthand corner of the Amazon page. Amazon may even prompt you.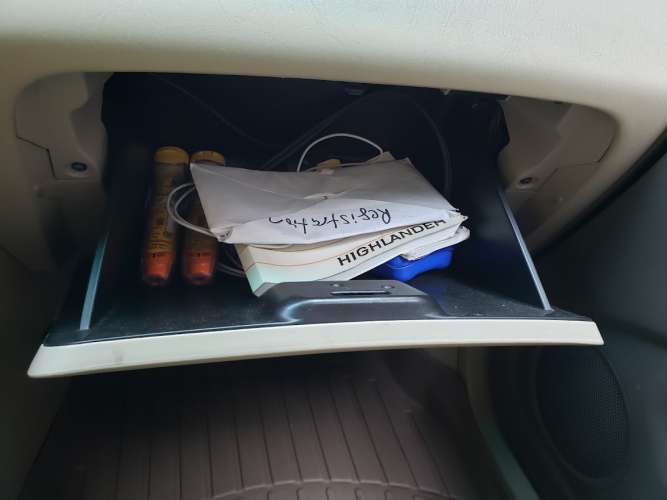 Replacing a Cabin Air Filter - Step One
To begin, open up your glove box. Take all that junk out and throw away all the stuff you no longer need. Then pinch the sides of the glove box and it will drop down. Use a phone light to look behind the glove box. You will see a little tab to pull to remove the cabin filter assembly cover. Then pull out the assembly.
Replacing a Cabin Air Filter - Step Two
The Highlander's cabin air filter may have a plastic frame into which the paper element goes. Swap the old with the new. Re-insert the assembly and replace the cover.
Replacing a Cabin Air Filter - Step Three
The glove box will likely jus close, but you can pinch the sides to make it easier. Put all your junk back inside. Then, tear off the corner of the box the new filter came in and write the date on it. Put that in your folder of all your maintenance and repair receipts so you can tell how long it's been the next time you think you need one. We change ours every fall.
If you'd like to see a quick TikTok video of the process click here. Let us know in the comments below if you were helped by this story.
John Goreham is a long-time New England Motor Press Association member and recovering engineer. John's interest in EVs goes back to 1990 when he designed the thermal control system for an EV battery as part of an academic team. After earning his mechanical engineering degree, John completed a marketing program at Northeastern University and worked with automotive component manufacturers, in the semiconductor industry, and in biotech. In addition to Torque News, John's work has appeared in print in dozens of American news outlets and he provides reviews to many vehicle shopping sites. You can follow John on TikTok @ToknCars, on Twitter, and view his credentials at Linkedin