2022 Chevy Trailblazer AWD ACTIV - Small Package Big Fun
Sport Utility Vehicle. What does that really mean? Well, to many it means the vehicle is fun and also useful for many tasks one might ask of a utility vehicle. All-wheel drive should be part of the equation since otherwise, the vehicle is a car. A spare tire seems logical since utility might mean using the vehicle on trips to the home supply store or local transfer station, parking lot of both which are likely to be sprinkled with nails. The vehicle should also have a decent cargo area, relative to its segment. Based on these qualifications, the 2022 Chevy Trailblazer AWD ACTIV ticks every box.
2022 Chevy Trailblazer AWD ACTIV - What Is It?
The Chevy Trailblazer AWD ACTIV is a five-passenger compact sport utility vehicle, or crossover if you prefer the term. It is in the size segment popularized by the Mazda CX-30 and Hyundai Kona.
Chevy Trailblazer AWD ACTIV - What Powers It?
Chevy opted for a firecracker of an engine we liked very much. It's a turbocharged gasoline engine making a strong 174 lb-ft of torque at just 1,600 RPM. It pulls from a stop with gusto and the sport mode makes it feel very satisfying.
Chevy Trailblazer AWD ACTIV - Is It Fun?
We found the 2022 Chevy Trailblazer AWD ACTIV to be very fun to drive in all situations. Around town, it is a blast to point and shoot into traffic breaks. On back roads, the sport mode wakes the engine up and it even sounds cool. The "normal profile" all-terrain tires did nothing to spoil the crips handling. The brake feel was wonderful. Firm in a way that inspired confidence.
2022 Chevy Trailblazer AWD ACTIV - What's Missing?
Almost nothing is missing from the ACTIV trim. Perhaps a hill descent control button for this off-road targeted trim, and a head-up display. However, those cost money, and we like the low price point of this vehicle. One thing we're very glad was missing was a huge delicate panoramic glass roof. The metal roof is ready to accept a soft cargo bag between its two included roof rails. Perfect for its utility role.
Chevy Trailblazer AWD ACTIV - Infotainment and Features
A wireless charger and wireless Android Auto and Apple CarPlay are the biggies this SUV has. Add in a heated steering wheel and front seats, plus a power-adjustable driver's seat and this vehicle checked all of our $30K price point expectations. Under the cargo floor is a spare tire plus tools. You won't find that in a Hyundai Kona Ultimate.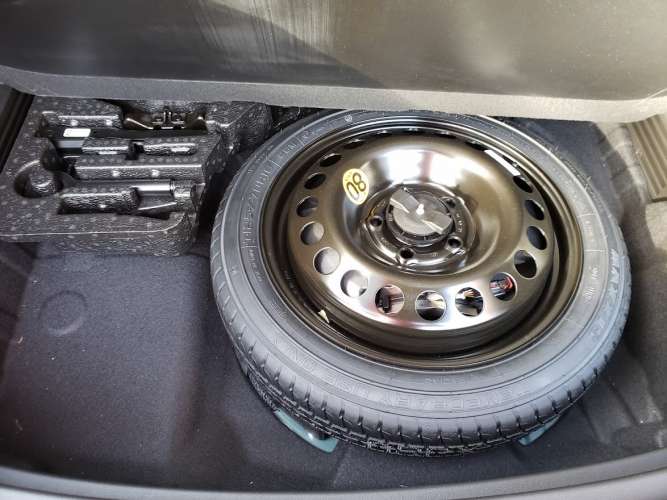 Chevy Trailblazer AWD ACTIV - Cost, Warranty, and Included Maintenance
The Trailblazer we tested had an MSRP plus destination but less dealer fees of $31,365. We feel this price fits in nicely with its features list in the segment. Chevy says one with none of the extra goodies, a less powerful engine, and 2WD starts at around $23K. We can't comment on that trim, just the one we tested.
Chevrolet's warranty is among the shortest in the industry. The bumper-to-bumper warranty lasts just three years or less and the powertrain warranty five years or less. There are multiple brands making compact SUVs with warranties twice as long (Hyundai, Kia, Mitsubishi). Chevrolet's dealers typically cover the first scheduled service, but that's it. Many brands now include two or more full years of maintenance in the price of the vehicle (Toyota 2, VW 2, Hyundai 3).
2022 Chevy Trailblazer AWD ACTIV - Conclusion
Chevy has a hit on its hands with the 2022 Chevy Trailblazer AWD ACTIV. This vehicle is truly an SUV among many pretenders. It's fun to drive, priced right, and the ACTIV trim has all the things we like to see in a $30K small crossover. Including a spare tire! Add to its many positives an IIHS Top Safety Pick Plus rating. We'd suggest that shoppers add the Chevy Trailblazer AWD ACTIV to the top of their list of considerations.
Top of page image and interior image of Trailblazer ACTIV courtesy of Chevrolet. Spare tire image by John Goreham.
John Goreham is a long-time New England Motor Press Association member and recovering engineer. John's interest in EVs goes back to 1990 when he designed the thermal control system for an EV battery as part of an academic team. After earning his mechanical engineering degree, John completed a marketing program at Northeastern University and worked with automotive component manufacturers, in the semiconductor industry, and in biotech. In addition to Torque News, John's work has appeared in print in dozens of American news outlets and he provides reviews to many vehicle shopping sites. You can follow John on TikTok @ToknCars, on Twitter, and view his credentials at Linkedin
Re-Publication. If you wish to re-use this content, please contact Torque News for terms and conditions.