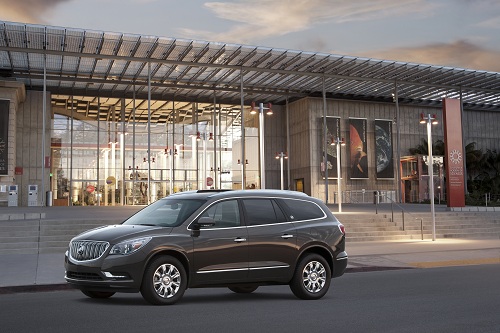 2013 Buick Enclave impresses with a new safety breakthrough and excellent connectivity
Please
SHARE
with friends and include TorqueNews in
Google Alerts
for tomorrow's interesting stories.
Buick has introduced the new 2013 Enclave at the New York Auto Show. The full size, crossover style sport utility vehicle has been a strong seller for Buick in the US and is very important to the brand. In addition to a styling refresh, the new Enclave offers an industry first front center seat airbag, a new IntelliLink connectivity system to enhance existing On-Star and other technologies, new interior designs with ice blue lighting, and performance enhancements.
Industry First Front Center Airbag
The Enclave will be the first vehicle in the world to feature a new style of airbag designed to lessen the risk of injury in a side impact. The airbag inflates between the driver and front passenger and keeps them from impacting one another. GM studied crash test data and determined that a meaningful percentage of the injuries to belted passengers was due to this violent contact. As the video below shows, the bag inflates looking like a "scary ghost" as the author's 10 year old son put it. Scary or not, the airbag clearly keeps the passengers safer. This feature will appear in Buick's GM stable mates such as the Acadia. Blind-zone and rear cross traffic alerts are now available on the Enclave for the first time. The 2012 Enclave was already awarded an IIHS Top Safety Pick award, and the new airbag and warning systems show that GM does not stop trying to build in safety.
Exterior Updates
The exterior of the Enclave is now defined by its LED tail and daytime running lights. Translucent blue rings surround the standard Xenon HID headlamps that also have accent LEDs. This look is a Buick design feature which is recognizable on other models in the lineup. Swiveling headlamps are available as an option. Wheels are now 19 or 20 inch in diameter. The rear fascia integrated the twin exhaust outlets trimmed in chrome.
Please include TorqueNews in
Google Alerts
to receive tomorrow's stories and
SHARE
this with friends if it was interesting.
Interior Updates
The new interior of the Enclave offers both ambiance changes and ergonomic improvements. The ice blue accent lighting adds a cool new vibe. The center stack is now redesigned and incorporates the IntelliLink screen which controls many of the vehicles functions. The seats are 8-way adjustable which is the norm for a luxury vehicle, but the headrests are four-way adjustable, which is not. The mahogany steering wheel nicely complements soft touch leather with "Live" stitching throughout. Enclave features three rows of seats. In order to more easily access the third row a SmartSlide system allows the second row to move out of the way with the pull of a single handle.
http://media.gm.com/media/us/en/gm/news.detail.html/content/Pages/news/us/en/2012/Apr/0403_enclave
Pages
Please
SHARE
with friends and include TorqueNews in
Google Alerts
for tomorrow's interesting stories.