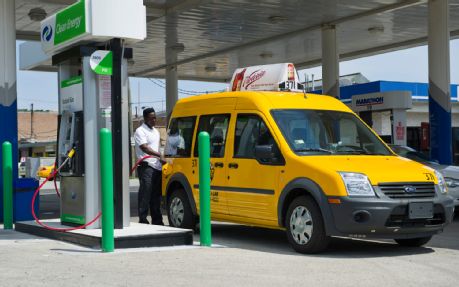 You Can Now Hail a Ford Transit Connect CNG Taxi in Los Angeles
Please
SHARE
with friends and include TorqueNews in
Google Alerts
for tomorrow's interesting stories.
This is not the first market that is receiving the Ford Transit Connect CNG taxi but it is one of the nation's biggest. California Yellow Cab of Orange County becomes the first business in California to offer Ford Transit Connect Taxis powered by compressed natural gas (CNG). The first 10 taxis are to be joined soon by more than 100 more CNG-powered Transit Connect taxis servicing the area.
The Transit Connects are already in operation in Hartford, Conn., among other markets like Las Vegas and St. Louis. Chicago is another city where CNG-powered Transit Connect Taxis are in service already. Taxi Medallion Management put 12 of the vehicles into service in June.
The Ford Transit Connect Taxis with CNG are appealing to taxi company owners because of a significantly lower operating cost per gallon. According to Ford, estimated fuel economy of a CNG-powered Transit Connect Taxi is the same as the standard gasoline version. However, operating costs are lower because the cost of a gasoline gallon equivalent of CNG is roughly half the cost of a gallon of regular gasoline. In addition to CNG, Transit Connect Taxi is available with an engine preparation package for conversion to liquefied propane gas (LPG).
"Taxicab operators will save up to $2 per gallon over gasoline at the pump," said Mitchell Pratt, chief operating officer, Clean Energy. "Because the vehicles' tailpipe emissions are near zero, Ford's CNG Transit Connects qualify to drive in California's carpool lanes and, compared to petroleum versions, will reduce greenhouse gases by almost 30 percent."
Dallas-based BAF Technologies has been certified by Ford as a Quality Vehicle Modifier to convert standard Transit Connect Taxis into CNG-powered cabs. The standard Ford Transit Connect – 2010 North American Truck of the Year – features a 2.0-liter I-4 engine that gets 22 mpg in the city and 27 mpg on the highway, an estimated 30 percent improvement in fuel economy compared with traditional taxis.
The powertrain isn't the only reason orders are expected to continue coming in for the Transit Connect Taxi. Roominess, for example, is a big factor for many, said Craig Cannons, commercial business manager, Ford Commercial Truck Sales and Marketing. "Passengers can get in and out of the vehicle so much easier than they can with other taxi vehicles out there," said Cannons. "In fact, the spaciousness of the Transit Connect Taxi is a huge factor – if not the deciding factor – for many considering adding it to their fleet."
Please
SHARE
with friends and include TorqueNews in
Google Alerts
for tomorrow's interesting stories.