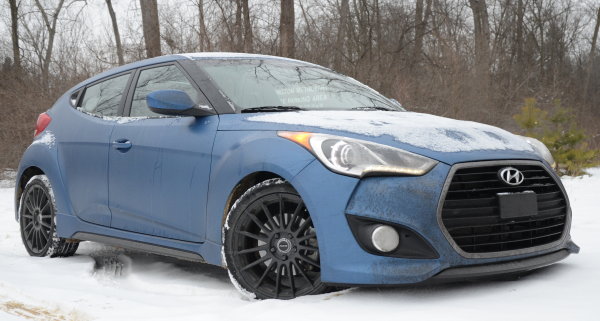 2016 Hyundai Veloster Turbo Rally: Improved Handling, Same Great Design
Please
SHARE
with friends and include TorqueNews in
Google Alerts
for tomorrow's interesting stories.
When the Hyundai Veloster Turbo was introduced for the 2012 model year, some people were quick to slight the fun little hatchback due to the fact that the automaker hadn't done enough to transform the Veloster into the Veloster Turbo. The Veloster Turbo had a unique exterior design, a unique interior layout and a then-new turbocharged engine delivering 201 horsepower and 195lb-ft of torque – features which I felt made the Turbo model far more engaging than the non-turbo models. It looked sportier inside and out while also having a decided advantage in power, making it far more interesting to buyers who wanted their Korean hatch to have a little more attitude.
However, while the Veloster Turbo was a ton more fun than the standard Veloster with the naturally aspirated engine, it was still knocked for not being spicy enough for a performance model. To address this issue, they added the R-Spec model above the Turbo and above that sits the Veloster Turbo Rally Edition. This limited edition package adds some unique features that make this Veloster the most fun to drive of any production variants released thus far, but it does so in a way that maintains all of the charm needed from a good daily driver, including the "extra" rear passenger door that improves rear-seat access while preserving the 2-door hatchback look.
In short, the 2016 Hyundai Veloster Turbo Rally Edition is a great improvement on a car that I liked a great deal in plain "Turbo" trim, making this stunning matte blue beauty my new favorite Korean compact.
The Exterior
While opinions on exterior appearance are purely subjective, I really like the look of the Hyundai Veloster Turbo and the Rally Edition package doesn't stray far from the original performance package. The Rally package adds black painted lightweight Rays Engineering 18 inch wheels and a unique matte blue paint, in addition to some carbon fiber-looking trim along the bottom of the front fascia and in the side sills. The Rally Edition also includes the Turbo-specific front fascia with the huge grille open, the angular sculpting between the LED-trimmed projection headlights and the large, round fog lights, a low profile rear spoiler and a unique rear fascia with a more aggressive design (compared to non-turbo models) and lower diffuser wrapped around the central dual exhaust tips. Finally, all of the parts of the car that aren't matte blue or carbon fiber are black – from the wheels to the window trim – tying together the whole sporty package. A simple "Rally Edition" badge on the rear hatch completes the sporty package and the result is a car that certainly fits the "rally car" look from front to back.
Pages
Please
SHARE
with friends and include TorqueNews in
Google Alerts
for tomorrow's interesting stories.