The original Acura Integra debuted in America in 1986. Eddie Money's Take Me Home Tonight was a top song that year, and it was the perfect theme song for the Integra. Acura built the original compact Integra with the idea that it would be an aspirational and attainable car for young up-and-comers looking for a vehicle that was a step up from the excellent Hondas for sale.
The original Integra was a smash hit and expanded Honda/Acura's footprint in America considerably. Today, many buyers opt for a small crossover as a first vehicle, be it mainstream or premium. However, Honda has strong data showing that the Civic line is a cornerstone of the brand due to its first buyer value. The plan is that the new 2023 Integra may do the same job at Acura. We would be shocked if it didn't.
2023 Acura Integra A-Spec - What Is It?
The new Integra seems like the perfect formula for young first-time premium vehicle buyers as well as anyone looking for a roomy midsized five-door car. The car has a sedan//hatchback style that is all the rage today. The rear seat is roomy enough for two adults on long trips or three on short drives.
2023 Acura Integra A-Spec - What Does It Cost?
The new Integra starts at a surprisingly-low $32K. There are three trims. The A-Spec adds $2,000 to the base trim and the Technology Package adds $3,000 more. Our fully-equipped Integra was priced at $37K. Acura includes two years of complimentary maintenance in the Integra's price.
2023 Acura Integra A-Spec - What Powers It? Can I Get A Stick Shift Transmission?
All Integras announced thus far will rely on Acura's excellent 1.5-liter turbocharged engine for power. The engine develops 200 peak hp, but more importantly, offers 192 lb-ft of torque from 1800 RPM. The Integra earns an EPA Estimated Combined rating of 33 MPG with its automatic transmission and 30 with the manual. Unfortunately, Acura recommends Premium fuel.
More important than the great engine is the availability of the six-speed manual stick-shift transmission. Acura expects the majority of buyers to opt for the stick. Those who don't will get the company's constantly variable automatic transmission. We tested the stick and have tested the CVT in Civics. Both are outstanding. Front-wheel drive is the only drivetrain option.
2023 Acura Integra A-Spec - How Does It Drive?
The Integra is a driver's car. Acura's special sauce is the reason why this car existed in 1986 and it is the reason it should succeed today. If you are looking for a satisfying, fun-to-drive, spirited sedan this size, there isn't a better one in the price range. Or even at a price range about $10K higher we can name. The Integra feels sporty. It has sharp steering and a ride that is a bit stiffer than a mainstream car its size would. Bumps are not an issue. Acura tuned the suspension perfectly.
First gear is aggressive and the one-two shift comes very quickly. With ample torque, we often skipped the gear three shift and shifted on-two-four when cruising in traffic. The car matches downshift revs for you, but you can still heel-toe the car if you want to. I do so out of habit and the car doesn't mind if you overlap its efforts. The shifter is snickety-snick. Those who want a manual will be pleased.
Acceleration is interesting. The engine has more than enough horsepower and torque to overwhelm the front tires turning into traffic from a stop sign, so a bigger engine would not be of practical use. The lack of AWD is the only reason the Integra isn't faster. There is a reasonable limit to how much power a front-wheel drive car can reasonably put down and this car is at that point.
Brakes are well-tuned for a sporty drive and the pedals all seem just right.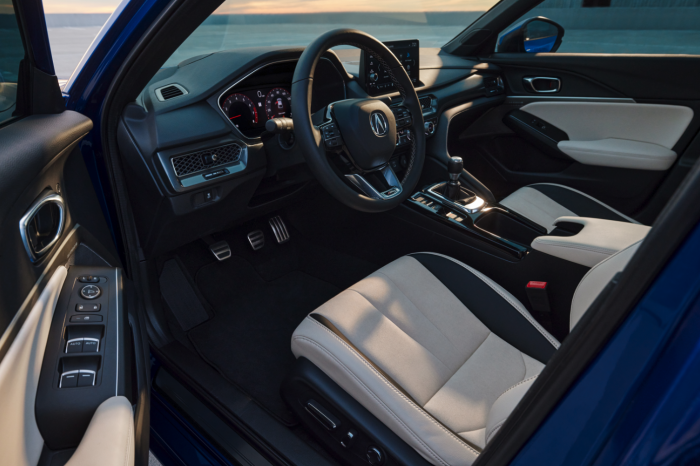 2023 Acura Integra A-Spec - Interior, Infotainment, and Features
One of the most important ways the Integra needed to be better than its mainstream peers (Mazda3, WRX, Civic) is the perceived quality of the interior. It needs to be snazzier than they are. We felt the Integra A-Spec with the Technology Package we tested succeeds here. Acura used two-material seats featuring microfiber suede surfaces to pull the Integra's luxury level up a notch.
All of the modern infotainment features are present in the Integra with the Technology Package. The screen is a wide nine inches. There is a full-feature head-up display. The Android Auto and Apple CarPlay are wireless. There is a perfect phone slot with wireless charging. There is a screen-mounted volume knob.
The sound system in the Integra A-Spec with Technology Package is the best you can buy at this price point. The ELS STUDIO 3D audio system has 16 speakers and over a half kilowatt of power. It offers exceptional clarity and a powerful bass punch. A+ for Acura's infotainment in the Integra. It is the best in the segment by a country mile.
2023 Acura Integra A-Spec - What's Missing?
The only feature missing from our fully-optioned test car was a compact spare tire. We would also like AWD to be an option, but we respect that Acura has a long list of great AWD vehicles from which to choose at higher price points. Keeping the Integra attainable is important.
2023 Acura Integra A-Spec - Where Is It Built?
The Integra is built in America's Heartland in Ohio, primarily from parts also built in America. It is one of the most American-made cars one can buy today.
2023 Acura Integra A-Spec - Conclusion
The all-new Acura Integra is perfect for those that want a fun-to-drive vehicle with a high level of refinement, premium features, and a stick shift you can actually get. The hatchback design adds real-world cargo capability that we think many buyers in its targeted age demographic will appreciate.
The Integra brings many pluses, with its price point being key. Can you find a car with similar performance for a few bucks less? Maybe. But it won't be an Acura, and it won't have the refinement and features that the Integra offers.
2023 Integra images courtesy of Acura.
John Goreham is a long-time New England Motor Press Association member and recovering engineer. John's interest in EVs goes back to 1990 when he designed the thermal control system for an EV battery as part of an academic team. After earning his mechanical engineering degree, John completed a marketing program at Northeastern University and worked with automotive component manufacturers, in the semiconductor industry, and in biotech. In addition to Torque News, John's work has appeared in print in dozens of American news outlets and he provides reviews to many vehicle shopping sites. You can follow John on TikTok @ToknCars, on Twitter, and view his credentials at Linkedin
Re-Publication. If you wish to re-use this content, please contact Torque News for terms and conditions.