Mitsubishi Outlander PHEV Offers Everything for Outdoorsy Families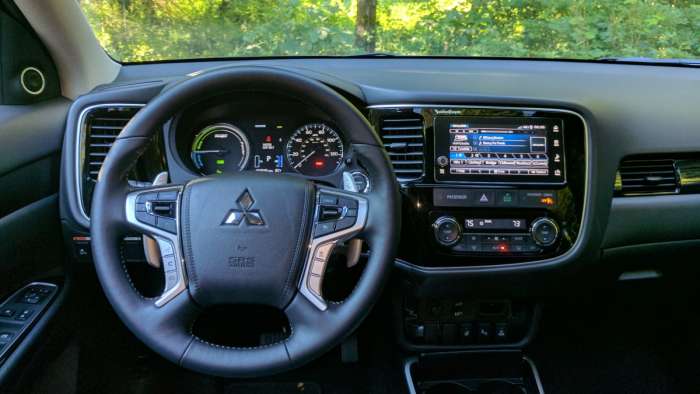 To hear electric-car advocates tell it, hybrids are wasteful. And plug-in hybrids are poseurs.
But millions of Americans are still buying big, gas-only crossovers and SUVs, because hardly any all-electric SUVs can meet their needs for family road trips, and heavy-duty runs to the dump and the hardware store. The only options so far, are the ultra-expensive, and not-so-practical Tesla Model X, the brand-new Model Y, and the short-range, car-like Jaguar I-Pace.
A plug-in hybrid SUV could bring the best of both worlds together. They can help a family meet most of their needs on electricity while still easily making it to the most unspoiled corners of America on vacation.
A visit to the New England Motor Press Association Winter Test Days gave us a chance to take another look at the most popular plug-in hybrid SUV in the world, the Mitsubishi Outlander PHEV. If they're such rare sightings on American roads that few Americans have any idea they exist, that's because Mitsubishi sells every one they can—at premium prices—in Europe and elsewhere overseas.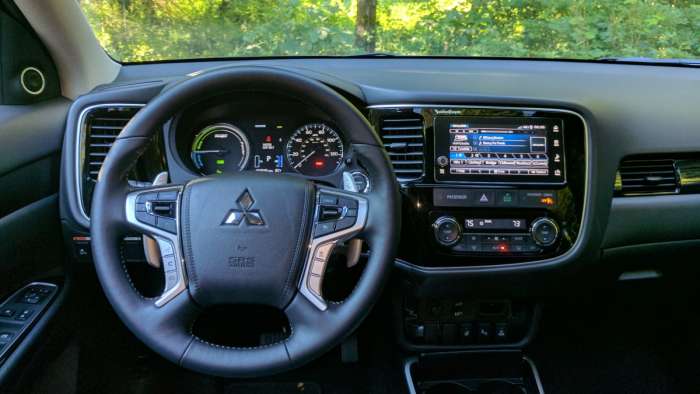 The Outlander Plug-in Hybrid delivers 22 miles of electric range on a charge, and has a gas engine that carry you, your family, and as much gear as you might want to bring along, anywhere you want on a family vacation.
It offers all-wheel drive, with an electric motor powering the rear wheels and a gas engine up front. It remains the only plug-in hybrid with a fast-charge port that can plug in to a widespread network of CHAdeMO fast chargers built for Nissan Leafs.
Mitsubishi has implemented one of the most versatile, logical control systems in a plug in hybrid, which allows drivers to choose between the greatest efficiency, most electric driving, or preserving the electric range for later. Unfortunately, the center screen that controls it, along with the radio and navigation systems, looks like a cheap aftermarket Android interface.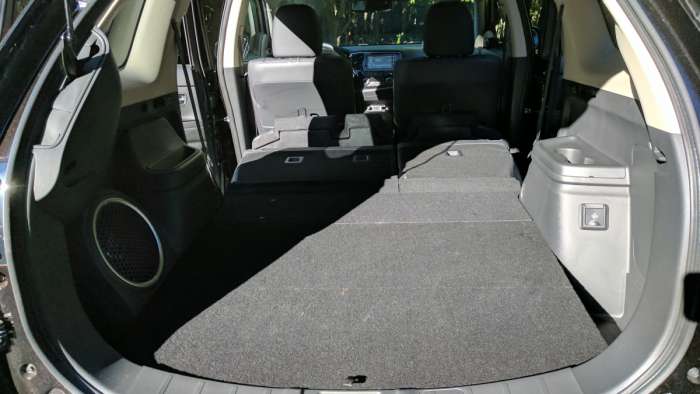 Like the Kia Niro EV, however, the Outlander PHEV drives a little like Mitsubishi slapped the electric battery pack into the car without revising the suspension to handle its weight. It rides and handles softly, and bumps can feel uncontrolled on the highway.
Mitsubishi sells the Outlander Hybrid only one way: loaded, for $37,490, and is eligible for a $5,836 federal tax credit. That makes an affordable alternative to the Tesla Model Y.
Eric Evarts has been bringing topical insight to readers on energy, the environment, technology, transportation, business, and consumer affairs for 25 years. He has spent most of that time in bustling newsrooms at The Christian Science Monitor and Consumer Reports, but his articles have appeared widely at outlets such as the journal Nature Outlook, Cars.com, US News & World Report, AAA, and TheWirecutter.com and Alternet. He can tell readers how to get the best deal and avoid buying a lemon, whether it's a used car or a bad mortgage. Along the way, he has driven more than 1,500 new cars of all types, but the most interesting ones are those that promise to reduce national dependence on oil, and those that improve the environment. At least compared to some old jalopy they might replace. Please, follow Evarts on Twitter, Facebook and Linkedin.