All-New 2023 Mitsubishi Outlander PHEV SEL S-AWC - Better In Every Possible Way
Mitsubishi has been offering a plug-in hybrid-electric vehicle (PHEV) Outlander SUV for many years in America. For 2023, the Outlander PHEV enters a new generation and is entirely a new vehicle. Mitsubishi has extended the all-electric range to a class-competitive 38 miles, improved driving satisfaction, and now provides a surprisingly luxurious vehicle. We tested a top-trim Outlander PHEV, the SEL S-AWC, with electric all-wheel drive and have come away mightily impressed.
Related Story: 5 Plug-in Hybrid EV Myths Battery-Electric Purists Wish Were True
2023 Mitsubishi Outlander PHEV SEL S-AWC - What Is It?
The Outlander is a seven-passenger SUV with all-wheel drive. SEL means it is a top trim. The PHEV part means the vehicle is equipped with a plug-in hybrid-electric powertrain, and the S-AWC part means it has all-wheel drive.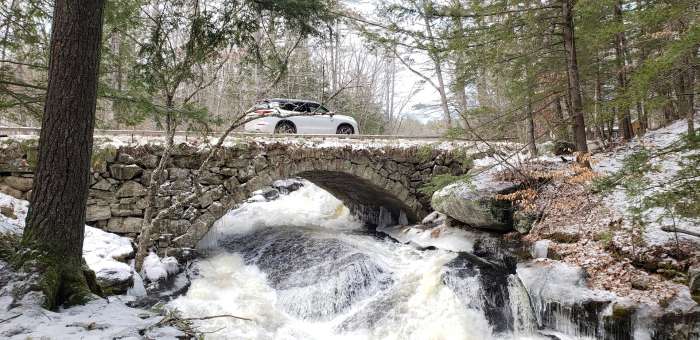 2023 Mitsubishi Outlander PHEV SEL S-AWC - Price and Warranty
The base (gas-only) 2023 Mitsubishi Outlander ES starts at just under $30K. However, the plug-in hybrid trims start at just over $40K, and they all include S-AWC all-wheel drive. Our top SEL trim cost $50,880 including destination charges of. With an assembly location in Osaka, Japan, we don't have much hope the Outlander PHEV will qualify for federal tax incentives, but local EV incentives may apply.
No brand we know of offers a longer warranty than Mitsubishi. The powertrain warranty includes the plug-in hybrid components and traction battery and lasts for 10 years or 100,000 miles, whichever comes first.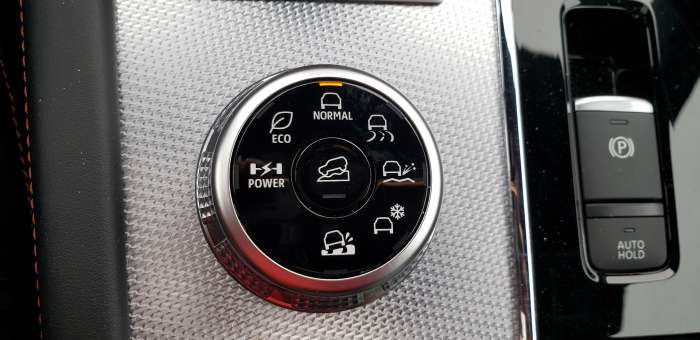 2023 Mitsubishi Outlander PHEV SEL S-AWC - What Powers It?
The Outlander PHEV uses both a gasoline engine and electric motors for power and torque. New for 2023 is a 2.4-liter gasoline engine which is quiet and feels more than adequate for its part of the job. There are electric motors that augment the gasoline engine and which can also propel the vehicle on their own. In combination, the engine and motors generate over 300 lb-ft of torque. That's a lot.
The all-wheel drive system is unusual in that it is all-electric in the rear. There is no driveshaft connecting the rear wheels to the gas engine at all. During our testing, the Outlander impressed us with more than ample power in all situations. The outlander also has multiple drive modes, including a Snow Mode we put to the test. Read more about this vehicle in snowy conditions here.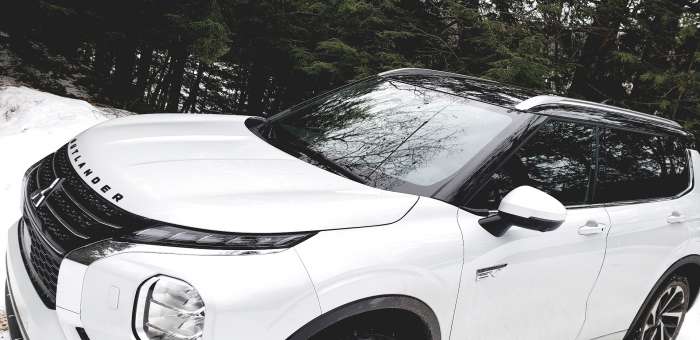 2023 Mitsubishi Outlander PHEV SEL S-AWC - The Drive
The new Outlander is nothing like the old one (which we found quirky and cool). In almost every way, the new vehicle is a leap ahead. The interior is plush, the drive is rewarding, and the vehicle is laid out in a way that makes it almost unique in its class.
The Outlander PHEV SEL S-AWC handles very well in consideration of its role as an SUV. It is not tippy in turns, there is no diving when you brake, and you always have a sense of confident control. Despite having 20" low-profile tires, it is smooth over almost all surfaces, including dirt roads.
Acceleration is very satisfying. The electric motors always help, and the gas engine is smooth and quiet. You can hardly tell if it is on unless you peek at the gauges, which give you an indication of which motors are active.
The highway ride is exemplary. The outlander tracks straight ahead, and the driver assist system is modern. We had zero false-positve safety nannie warnings during our week in the vehicle.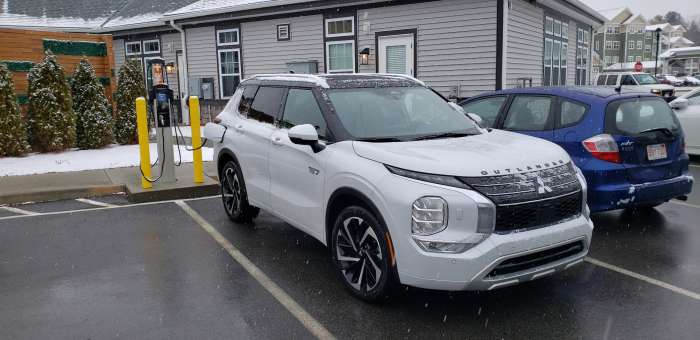 2023 Mitsubishi Outlander PHEV SEL S-AWC - Living Electric
The Outlander has a 20 kWh Lithium-ion (Li-ion) high-voltage battery. That is enough to provide up to 38 miles of EV range, according to the EPA. In our testing, the battery mileage indicator was much higher and seemed to jive with the miles we covered. Unlike many EVs we test, the Outlander PHEV seemed to exceed all of its EPA numbers. And we tested in winter.
We ran the battery down purposely, and then we zeroed the data and began recording the fuel economy. After 70 miles of suburban and highway driving, the mileage was 35.2 MPG. Remember, this is without the battery showing any EV charge remaining. During our driving, the hybrid system was robust. It shut off the gas engine whenever we were on a slight decline. We could even start off at a light with a normal pace on all-electric power.
There are the usual modes for the drive system:
Normal: A mix of electric-only and hybrid operation - By far our favorite.
EV - The vehicle does its best to only offer EV propulsion.
Save - You can save the EV-only range for when it makes sense in the city.
Charge - If you want to charge up the battery while you drive, you can.
In both Save and EV, the vehicle sort of does what it likes. EV is almost entirely EV, but not always. Save often adds a bit of EV thrust with the engine running. If you like absolutes, you are not reading this anyway, so we assume you may be open-minded to a vehicle mode that is not strictly a mandate, but a request. So, back to absolutes. Buy a BEV if you think gasoline is causing all of the world's problems. But no BEV can do some of the things this vehicle can.
The Outlander PHEV has four ways to charge. The first is the way you will almost never ever use. The Charge driving mode. The second is via a 115-volt outlet and a mobile charger. Figure on an overnight charge to add back 100% state of charge (SOC). The third way is via a Level 2 charger operating on 240 volts. In this scenario, the vehicle limits amperage to just 15. Figure on about 6 hours to add back 100% SOC. The last way is a DC fast charger. This is the only PHEV in America that can use a DC fast charger. It can add back 100% SOC in about 40 minutes.
We used Level 2 charging during our testing. The vehicle was pretty much always full. I have a home charger, and I can charge at the gym, the library where I often work, and in our local downtown area. In my typical driving, the Outlander PHEV is about 90% all-electric. When I opted to take the vehicle to my remote cabin - something I could not do in a BEV in winter, it was a nice luxury. I never needed to stop for energy or plug in. And it returned better than 35 MPG since the first 40 or so miles were all-electric.
The display is great in the Outlander PHEV too. It shows you when the electric motors are working and when the gas engine is doing its thing. There is also a meter that records your % EV driving.
There is a one-pedal driving mode you can toggle on and off to maximize regen braking, and there are also paddle shifters with five steps from "conventional" to firm regen braking.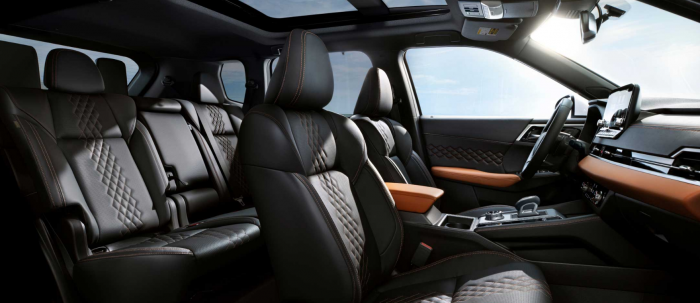 2023 Mitsubishi Outlander PHEV SEL S-AWC - Interior And Features
The interior of the Outlander PHEV SEL is among the nicest in its segment. Whatever "segment" means. One thing to know is that it is set up as a "five-plus-one" seating arrangement. The two rear seats are for kids only and are temporary. Think soccer carpooling. Or, if you own a minivan or glutton SUV, you could also own this one and get all of your brood home in a pinch. If you need an airport shuttle van, this is not your car. The Tesla Model Y has a very similarly-sized optional 7-passenger seating setup.
Up front, the passenger space is very generous. It feels way bigger than a RAV4 Prime, just as a point of comparison. It's more like a Highlander Hybrid or Hyundai Santa Fe in terms of front occupant space.
The infotainment system was great except for one thing. We needed to plug in our phone for Android Auto to work. Other than that, it was fantastic, Great audio, novel seat massage, and a very clear head-up display.
Related Story: Three Reasons To Cross-Shop The Mitsubishi Outlander With the Honda CR-V and Toyota RAV4
2023 Mitsubishi Outlander PHEV SEL S-AWC - Conclusion and Rating
If you read my work regularly (That's you, mom), you know I love plug-in hybrids because they suit my tastes and lifestyle perfectly. These vehicles offer freedom from range anxiety, all-wheel drive that really works in winter, SUV cargo capacity, long-range towing of modest weights, and a weekly drive that will be almost entirely electric.
The Outlander PHEV is so much better for 2023 it is hard to even compare the vehicle to the outgoing one (which I liked). It is rewarding to drive, intelligently set up for easy EV living, and very much the right size for those who want space, but do not want to tolerate an SUV too big for the garage.
If you want a vehicle you can drive electric almost all of the time but then take on a long journey without charger hassles, this is one of the best on the market. Call ahead to your local dealer if you opt to shop for one and ask about availability. We suspect that by late winter, the 2023 Outlander PHEV will be available for a reasonably quick and simple purchase experience.
John Goreham is a long-time New England Motor Press Association member and recovering engineer. John's interest in EVs goes back to 1990 when he designed the thermal control system for an EV battery as part of an academic team. After earning his mechanical engineering degree, John completed a marketing program at Northeastern University and worked with automotive component manufacturers, in the semiconductor industry, and in biotech. In addition to Torque News, John's work has appeared in print in dozens of American news outlets and he provides reviews to many vehicle shopping sites. You can follow John on TikTok @ToknCars, on Twitter, and view his credentials at Linkedin
Re-Publication. If you wish to re-use this content, please contact Torque News for terms and conditions.
Exterior images of the 2023 Mitsubishi Outlander PHEV by John Goreham.2023 Outlander PHEV interior image courtesy of Mitsubishi.