Last week we had a chance to test the new Kia Niro EV on winter roads in New England.
The Niro EV is the brand's larger, more upscale electric, above the Kia Soul EV. It is roomy inside, with a comfortable back seat, and a convenient space in front of the rotary shifter to put a purse or shopping bags.
Interior materials look and feel plush, and Kia's UVO center touch screen is convenient, versatile, and quick. (It's a near twin to sister Hyundai's Bluelink system.)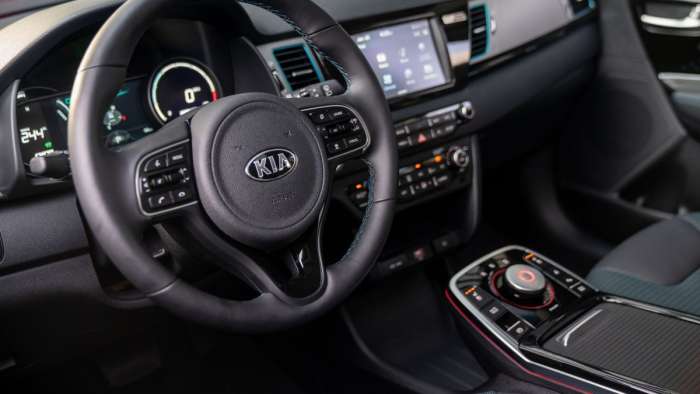 The 2019 Kia Niro EV has a big slot for a purse or groceries inside
The Niro is rated at 239 miles of range, and starts at $39,620, again, minus the $7,500 federal tax credit.
Where the Niro falls down, even compared with its plain hybrid and plug-in hybrid siblings is its ride. On big bumps it sometimes stumbles hard, yet on the highway, it can feel floaty and nausea inducing. It's as if Kia stuffed 1,000 pounds of batteries under the Niro EV and didn't modify the suspension to handle it. The truth may not be far from that assumption.
Eric Evarts has been bringing topical insight to readers on energy, the environment, technology, transportation, business, and consumer affairs for 25 years. He has spent most of that time in bustling newsrooms at The Christian Science Monitor and Consumer Reports, but his articles have appeared widely at outlets such as the journal Nature Outlook, Cars.com, US News & World Report, AAA, and TheWirecutter.com and Alternet. He can tell readers how to get the best deal and avoid buying a lemon, whether it's a used car or a bad mortgage. Along the way, he has driven more than 2,000 new cars of all types, but the most interesting ones are those that promise to reduce national dependence on oil, and those that improve the environment. At least compared to some old jalopy they might replace. Please, follow Evarts on Twitter, Facebook and Linkedin. Find more of Eric's stories at Torque News Ford coverage.