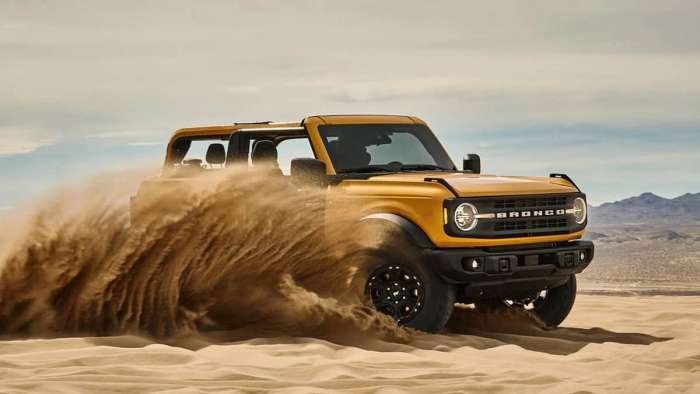 One of the most anticipated vehicles of the last 10 years has been the Ford Bronco. From the time it went out of production in 1996 until now, Bronco fans have hoped that Ford would renew the famed SUV.
Limited-Edition V-8-Powered Bronco Planned
That renewal occurred this year following six years of teasing by the manufacturer. Indeed, Ford announced plans to offer a renewed Bronco starting in 2014. At that time, clay models began appearing on Ford stands at auto shows as things began to heat up for the SUV.
By 2018, test mules regularly appeared on the roads around Dearborn as the model became real. Through 2019, spy photos in heavy camo made their appearances at online sites as the Bronco development team refined their concept. Enter 2020, and Ford announced plans to bring the Bronco back to the market. Before the automaker announced its goals, the development team produced the Bronco R. The Bronco R, which previewed the lines of the retro SUV brand, raced in the tough Baja 1000, though it DNF'd (did not finish) after about half as the Bronco R "ate" its front end.
With that said, Ford planned to introduced the Bronco as a 2021 model early this year. At the same time, the country closed down due to the coronavirus. The closing halted the introduction of the Bronco until early last summer.
At that time, Ford introduced the Bronco brand that consisted of two full-sized SUVs, a two-door and a four-door, and the Bronco Sport, a midsized SUV last summer. The full-sized Bronco's used the automaker's 2.7-liter EcoBoost Twin Turbo, while the Sport uses the 2.3-liter EcoBoost four. Nowhere is there a V-8 engine. It is a significant hole that will be filled by Hennessey Performance Engineering (HPE). The lack of V-8 seems to be one of the major themes in many Bronco supporter websites.
Meantime, my colleague Jimmy Dinsmore talks about a special wildlands fire model here.
Limited-Edition V-8-Powered Bronco's Key Feature
Indeed, the 5.0-liter V-8 is the critical feature of the upcoming Hennessey Velociraptor Bronco.
Says John Hennessey, principal of the Sealy, Texas tuning company:
"Over the past two years, we have built over 70 Gen 2 Ford Raptors for our customers by removing the EcoBoost V-6 and replacing it with the same 750 HP supercharged 5.0 V8 [that would be used in the Bronco]. I wanted to build the ultimate Ford Bronco for myself and our customers. The 2021 Bronco may be one of the most highly desired vehicles since the Ford GT introduction. We look forward to taking the new Bronco to the next level and beyond."
It certainly will be taken to the next level as the VelociRaptor V-8 Bronco uses a supercharged version of Ford's durable mill. The powerplant will turn out 750 horsepower. Taking that power and translating it into tire-smoking power will be Ford's 10-speed automatic transmission. HPE estimates that this powerful version of the Bronco will have a 0 to 60 time of 4.5 seconds.
One of the features that Ford has been pushing on the Bronco is its ability to go anywhere. However, it is more than likely that anyone who purchases this limited-edition version of Ford's iconic, retro model will be doubtful to take it very far offroad, if at all. HPE has put a price tag of $225,000, plus shipping, on its VelociRaptor Bronco.
Limited-Edition V-8-Powered Bronco Not Really Offroad SUV
More than likely, this type of investment is just a bit too pricey for real offroading. Still, to have one of 75 copies of a Bronco with a supercharged V-8 is enough incentive for a potential buyer to reach out to HPE for a copy.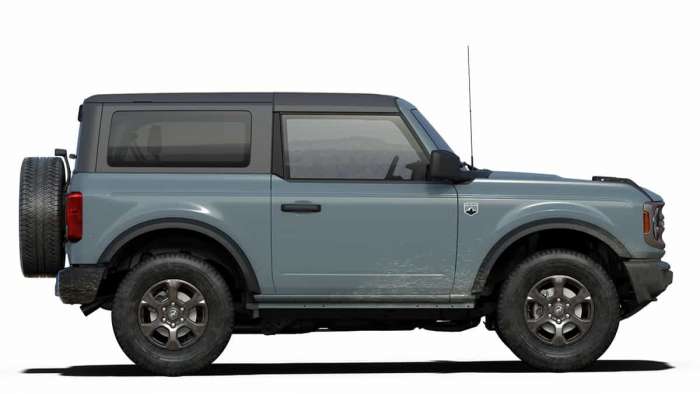 Among the many upgrades that one will find on the VelociRaptor V-8 Bronco are:
A custom hood with scoop

Larger wheels and tires

Upgraded suspension system
Upgraded stainless steel exhaust
VELOCIRAPTOR V-8 BRONCO SPECIFICATIONS:
New 2021 Ford Bronco
5.0L V-8 Ford Engine
Custom Hood with Scoop
10-Speed Ford Automatic Transmission
Ford Wiring Harnesses & ECU
3.0 Liter Supercharger System
Air-to-Water Intercooler
High-Flow Air Induction
Fuel Injector Upgrade
Fuel System Upgrade
Stainless Steel Cat-Back Exhaust
VelociRaptor Front & Rear Bumpers with LED Lights
Upgraded Aluminum Wheels
Upgraded Off-Road Suspension System
Upgraded Off-Road Tires
VelociRaptor V8 Custom Interior
Hennessey Exterior Badges
Hennessey Custom Front Grille
Hennessey Custom Livery
VelociRaptor V8 Exterior Badges
Hennessey Embroidered Headrests
Limited Edition 1 of 24
Serial Numbered Plaques
Professional Installation
HPE Engine Management Calibration
Chassis Dyno Tuning & Road Testing
3-year/36,000 Mile Limited Warranty
There are two versions of the HPE VelociRaptor V-8 Bronco, a two-door or a four-door. It comes with a three-year/36,000-mile warranty from HPE. You can order the HPE VelociRaptor V-8 Bronco from either HPE or an authorized Hennessey/Ford dealer.

Marc Stern has been an auto writer since 1971. It was a position that filled two boyhood dreams: One was that I would write, and two that I write about cars. When I took over as my newspaper's auto editor, I began a 32-year career as an automotive columnist. There isn't much on four wheels that I haven't driven or reviewed. My work has appeared in Popular Mechanics, Mechanix Illustrated, AutoWeek, SuperStock, Trailer Life, Old Cars Weekly, Special Interest Autos, and others. Today, I am the Ford F150 reporter for Torque News. I write how-to and help columns for online sites such as Fixya.com and others. You can follow me on Twitter or Facebook. Most of Marc's stories can be found at Torque News Ford coverage. Check back again and search for Torque News Ford F-150 news for more F-150 truck news coverage.