There used to be an old saying, to the effect that: "It's a jungle out there!" It is a saying that speaks to many things. Two that come to mind right now are the used-car market and the new-car market. A year ago, dealers had more than enough vehicles on their new-car and used-car lots because, well, the country was in semi-lockdown, and the coronavirus was sweeping its way across the state after state.
Dealers Made Outstanding Deals
That situation put buyers with money in charge, and it left dealers out there making outstanding deals. They had to move vehicles to bring in cash and went to whatever lengths needed to sell their products.
The situation changed as the industry began to open up a few months ago. The reason was the supply chain. As the industry began to reawaken from its coronavirus-induced slumber, it found there was a significant problem. The semiconductor industry suddenly found "excess capacity" – the auto manufacturers did not require chips for an extended period – that they quickly used up.
It might seem a bit weird that this happened. After all, one would think, the auto industry had traditionally been a significant semiconductor user, radically adding to the number it consumed every year. However, the industry's COVID-caused shutdown opened the door to others taking advantage of the "excess." This meant that when the industry came back online and started needing the semiconductors, they weren't there. Instead, there was a yawning empty facing the industry.
Some of its needs were indeed met. They did have supply contracts for a certain minimum number of chips, but that was it. Excess chips that might have been ordered and used by the industry were not available.
'Just-in-Time' Manufacturing
This was as much a result of its inventory and fabrication methods as anything else. The auto industry has relied on "just-in-time" inventory for many years. This meant that they ordered semiconductors, for example, by an estimated number of truckloads (or car-loads for rail hauling) that their computer software indicated they would need for a certain number of weeks or months. They expected delivery to their loading docks on specific dates.
When those dates were met by trucks carrying far fewer chips, the industry shook its collective head and complained of supply chain problems. In the "just-in-time" world, those complaints rang true. However, look at other industries with different inventory and building methods. You will find that those industries may use fewer semiconductors daily, but they tend to stockpile the chips.
It leaves the vehicle industry at odds with other industries because "just-in-time" works quite well when their supply chain is full because they have been able to order. Still, when the industry is light on its orders, it leaves vehicle makers scrambling to find the chips they need.
This accounts for a vehicle market that has seen new and used prices spiking because there aren't enough vehicles to go to the new influx of buyers seeking them. Of course, dealers like this situation because they can maximize – possibly over maximize – the pricing on deals as buyers want vehicles.
According to Automotive News television, it is a situation that may be turning around, which quoted the country's leading new/used auto auction, Mannheim, as saying that vehicle pricing has stopped spiking after a nearly 35 percent rise over the last few weeks. Indeed, the auction service has seen pricing backing off a tad as inventory is less constrained than it has been.
Two-Week Lag Time
There is about a two-week lag between the auction service and dealer lots, so it is more than likely that vehicle pricing will stabilize.
One issue that Automotive News also addressed was simply supply and demand. Though pricing may be stabilizing, dealers are also reporting that their inventories are beginning to dry up. There is still no definite news as to what this means for customers in the long run.
With this all as background, Autotrader has named its "10 Best Used Cars of 2021. Of the 10 positions available, Ford has filled two of the categories with its F-150 pickup and its Mustang.
Brian Moody, executive editor of Autotrader, noted that:
"Finding the right used car can be challenging - not only are some models in short supply, but the average age of a used car on the road today is about 12 years old. A lot has changed in terms of performance, technology, and safety in those 12 years. Savvy shoppers can use Autotrader's Best Used Cars list as a way to start the research process."
Ford Models Named
The 2017-2020 Ford Mustang, says Autotrader, "is an iconic car not only for its style and performance but also for its tremendous value. It's a modern muscle car within reach of many drivers, especially on the used market. We recommend the V-8-powered GT model if your budget allows it, but we also love the turbocharged EcoBoost models because they are good on gas and still a blast to drive."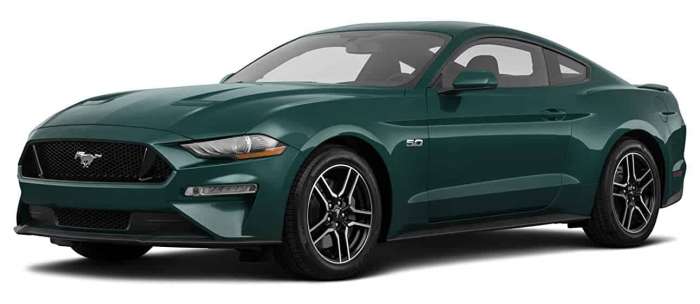 The 2016-2020 Ford F-150 has been "a consistent bestseller. This full-sized pickup captures everything that truck buyers want, with capabilities that are ready for everything from daily duty at the worksite to a weekend at the lake. A whole range of different models, from the humble XL to the ferocious Raptor to the luxurious Limited, means there's an F-150 for everyone in the market for a truck."
The other vehicles on the "10 Best" list include:
The Chevrolet Silverado 1500 is a staple of the American highway and worksite for its strong capability, famous dependability, and rugged aesthetic.
2017-2020 Honda CR-V Compact SUVs are popular for combining the efficiency and drivability of a compact car with the versatility of an SUV. The Honda CR-V is a consistent class leader in this competitive segment.
2015-2020 Jeep WranglerThe Jeep Wrangler is a legend for staying true to its roots as a rugged off-roader. It has off-road capabilities to back up its military-inspired styling. An all-new "JL" generation was introduced in 2018, making it more modern and road-friendly without sacrificing its off-road chops.
2020-2021 Kia Telluride The Kia Telluride hasn't been around for very long. But, it's so good that it's worth keeping an eye out for it on the used market. Kia also has an excellent Certified Pre-Owned program.
2016-2020 Lexus IS A used or Certified Pre-Owned Lexus IS is a great way to get behind the wheel of a compact luxury car without breaking the bank. It has a nice interior, engaging driving dynamics, and the safety and reliability for which Lexus is famous
2018-2020 Nissan Leaf The Nissan Leaf was the original mass-market electric car. It entered its second generation in the 2018 model year. In 2019 Nissan introduced a new Leaf Plus. The standard second-generation Leaf has a range of up to 150 miles, making it a good city car, but the Leaf Plus manages up to 226 miles.

My colleague Denis Flierli wrote an analysis of the Subaru offering which was included on the 10 Best list.

2016-2020 Subaru Outback If you need something practical but want something a little quirky, then a used Subaru Outback could be just right. The Outback has the benefits of a roomy midsize wagon while also being a pretty capable, safe off-roader.
2016-2020 Toyota Highlander The Toyota Highlander is a top choice in midsize three-row crossovers. The Highlander offers minivan-like practicality in the form of an SUV with available all-wheel drive.
To learn more about Autotrader's 10 Best Used Cars of 2021, including photos, vehicle information, and available inventory, visit hthe Autotrader site for more information and photos of all the models on the list.
Marc Stern has been an automotive writer since 1971 when an otherwise normal news editor said, "You're our new car editor," and dumped about 27 pounds of auto stuff on my desk. I was in heaven as I have been a gearhead from my early days. As a teen, I spent the usual number of misspent hours hanging out at gas stations Shell and Texaco (a big thing in my youth) and working on cars. From there on, it was a straight line to my first column for the paper, "You Auto Know," an enterprise that I handled faithfully for 32 years. Not too many people know that I also handled computer documentation for a good part of my living while writing YAN. My best writing, though, was always in cars. My work has appeared in venues including Popular Mechanics, Mechanix Illustrated, AutoWeek, SuperStock, Trailer Life, Old Cars Weekly, Special Interest Autos, and others. You can follow me on: Twitter or Facebook.