Lucid's teasers and Twitter hints reached fever pitch today with the company's official account revealing the word "Sapphire" in the Air's typeface before marketing VP Jeff Curry tweeted the pictures below showing the much anticipated car heading out for its big reveal.
Introducing an entirely new shade of speed. Tomorrow at The Quail. #BlueMeansGo #DreamAhead pic.twitter.com/CQO0w5STWD— Lucid Motors (@LucidMotors) August 18, 2022
Rumors of a range-topping performance version of the Lucid Air have been circulating for months and tomorrow we'll finally get to see the car that hopes to dethrone the Tesla Model S Plaid as the world's fastest electric sedan.
Lucid tested prototype versions of the Sapphire are Laguna Seca and other locations, providing us with pictures that show changes made to go along with the increase in power such as a much wider track, fender flares and a rear spoiler.
26 hours will @LucidMotors unveil this #LucidTrimotor BEAST at @TheQuailEvents #TheQuail? This is not your father's gentrified & well mannered #Lucid! Nor is this the #LucidAir that you bring home to meet mom! This is the rock star from #LucidMotors! #MeanLucid! #BlueMeansGo #MCW pic.twitter.com/aYzAWTlTUp— Tesla2Lucid (@Tesla2Lucid) August 18, 2022
Mr. Curry's tweet shows us that all those features likely made it onto the launch version of the Air Sapphire with the cover clearly showing an extended spoiler underneath.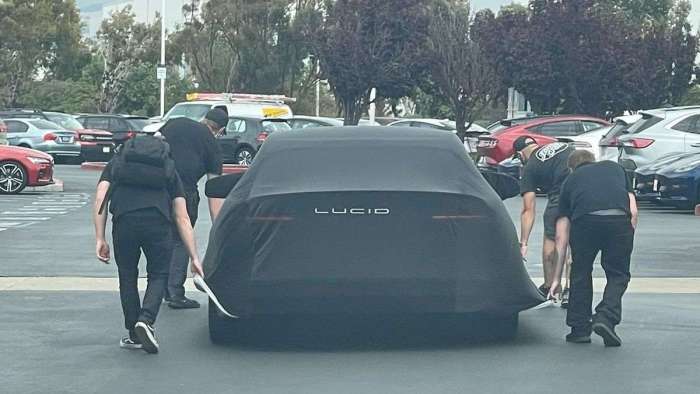 To keep the cat at least somewhat in the bag Lucid has an employee at each corner pulling the cover away from the car so its flared arches aren't blatantly obvious, while a unique wheel can be seen underneath. These could just be wheels fitted for transit but they certainly look more sport-focused than the Air's existing efficiency-minded offerings.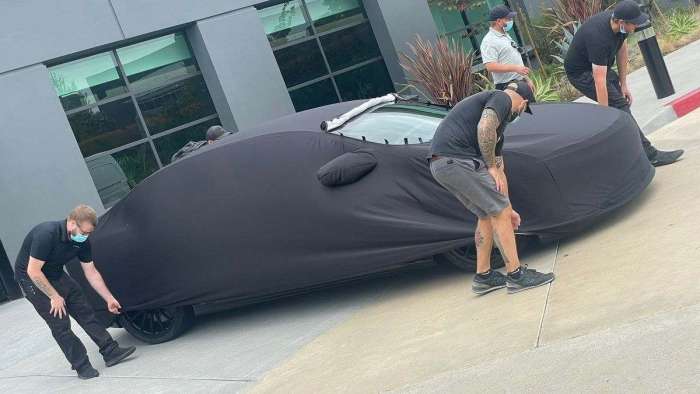 Something very special and heading out of the shadows and into the light…next stop = The Quail. #BlueMeansGo pic.twitter.com/ozhubrIzf0— Jeff Curry (@jcurry) August 17, 2022
We'll find out all the details of the Lucid Air Sapphire tomorrow with its official launch and have all the stats for you here at Torque News.
Update: Here it is folks, in all its Sapphire Blue glory: Lucid Air Sapphire Launches Performance Sub-Brand
Images by Jeff Curry on Twitter licensed by CC BY 2.0.
James Walker is an Automotive Journalist at Torque News focusing on Lucid Motors. If it's got wheels he's interested, and he's looking forward to seeing what kind of cars the EV revolution brings us. Whether it's fast, slow, new, or old, James wants to have a look around it and share it in print and on video, ideally with some twisty roads involved. You can connect with James on Twitter, Instagram, and LinkedIn.