The Meyers Manx, king of the no-frills-all-thrills dune buggies, is set to return in 2023 and looks to bring all the charm of the original in a modern EV package. Details aren't exactly plentiful, but here's what we know so far.
Gone is the shortened VW Bug platform of the original, replaced with an aluminum monocoque chassis covered with a body made from a mysterious unspecified material. There'll be a choice of two battery packs, 20 kWh and 40 kWh with weight estimated at 1500 lbs. for the former and 1650 lbs. for the latter.
Extended adventures in dune bashing shouldn't be a problem with disc brakes at all four corners, independent rear suspension, and a pair of rear motors that neatly combine brakes, inverter, and motor into single units.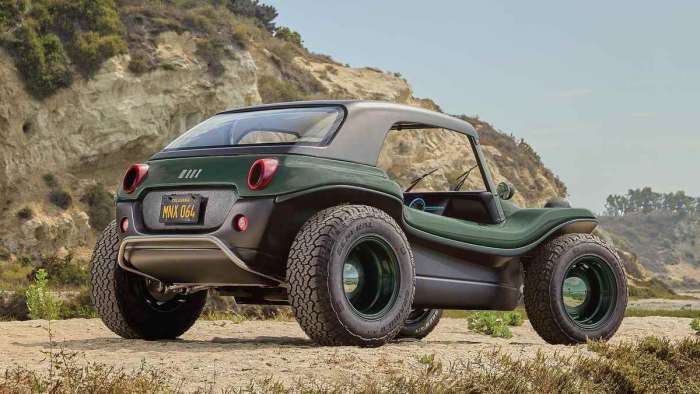 Performance
Thanks to its compact dimensions Manx is estimating the buggy will go 150 miles on a charge with the smaller battery and up to 300 miles with the larger, despite the fact that both of them are comparatively tiny against other EVs. A 6 kW onboard charger comes standard with a 60kW DC fast charger optional; again not huge numbers but the smaller batteries will be quicker to top up so mega-power charging's not a necessity. Manx's testing reports a 0-60 time of 4.5 seconds for the 40 kWh battery version.
Design
Manx founder Bruce Meyers passed away at the ripe old age of 94 last year, but not before he found some like-minded enthusiasts to sell his company to. Philip Sarofim met with Meyers and was offered the chance to purchase the company eventually doing so through his Trousdale venture capital firm. Mr. Sarofim's car collection includes the recently restored Aston Martin Bulldog so it's safe to say the company's in good hands with a true connoisseur of the wild and wonderful.
Freeman Thomas, who counts the original Audi TT, Volkswagen New Beetle, and the Viper V10-engined Dodge Tomahawk motorcycle among his portfolio was given the job of touching up the classic Manx design for the EV era while keeping the same footprint as the original. While the result is instantly recognizable as a Meyers Manx buggy it turns out that the only carry-over parts from the original are the headlight housings. Talk about a faithful reproduction.
Related Story: Hispano-Suiza H6C "Tulipwood" Torpedo: Wooden Car Worth Much Paper
The Manx 2.0 will be built in California in partnership with an unspecified "US-based manufacturing entity," possibly another of the companies under the Trousdale umbrella. The plan is to build an initial run of 50 vehicles with over-the-air updates to come once customers give their feedback.
Pricing's yet to be announced but doing a little TN math we'd bet that Nostalgia + Exclusivity = Expensive. We'll get more details when the Manx 2.0 makes its full debut on August 19th as part of Monterey Car Week.
Related Story: DeLorean's Alternate Timeline Produced Some Amazing Cars
Images by Meyers Manx licensed by CC BY 2.0.
James Walker is an Automotive Journalist at Torque News focusing on Lucid Motors. If it's got wheels he's interested, and he's looking forward to seeing what kind of cars the EV revolution brings us. Whether it's fast, slow, new, or old, James wants to have a look around it and share it in print and on video, ideally with some twisty roads involved. You can connect with James on Twitter, Instagram, and LinkedIn.