Bruce Meyers, Renaissance Car Guy; Creator Of Dune Buggy, Meyers Manx
Life is indeed ironic. Why do I say that? Last week, one of the leading lights of the 1960s West Coast car culture passed away. His name was Bruce Meyers, a Renaissance car guy, creator of the original "dune buggy," the Meyers Manx, and one of the creators of the Baja 1000, among other things.
Ford Bronco Was A Big Winner
Meyers was a VW guy. He based the tiny fiberglass Manx on the VW Beetle frame and running gear. The irony was that though he was a leader in bringing something other than motorcycles to the Baja, Ford's Bronco, reintroduced this year, was the big early winner of the desert classic, taking the first race in 1969. The Bronco later collected class victories in Class II and III. Meanwhile, the Manx and similar vehicles, based on the Manx pattern, racked up their share of wins. It proved Meyers' concept of a lightweight buggy that could run up and over dunes.
Bruce Meyers was a thinker, an inventor, a hero, a racing driver, car designer, artist, and one of the leading lights of the 1960s West Coast car world.
Mr. Meyers passed away last week at the age of 94 following a full life that included a stint in the Navy where his aircraft carrier, Bunker Hill, was hit twice by kamikaze suicide planes. After the ship went down, Meyers swam through the wreckage to help save his shipmates. Unfortunately, the attack did claim 400 U.S. sailors.
Bruce Meyers lived a life most of us could only read about. He was a surfer, inventor, artist, racecar driver, and, of course, a war hero. He distilled the essence of the 1960s Southern California car culture with the Meyers Manx's invention, a VW Beetle-based buggy that went where the pavement ended.
"My life has been full of adventures," he said in 2017. "I want people to have an adventure in life."
Creator Of Iconic Desert Race
Last week, Meyers passed away at the age of 94. He was the creator of the race that would come to be known as the iconic Baja 1000. He was the energizing soul of the car culture until the end, living and celebrating the freedom that off-roading creates. His firm only built about 7,000 of the original fiberglass-bodied Manx vehicles. The design became synonymous with the idea of the "dune buggy" and driving in the surf and sand.
Meyers was born in Los Angeles and grew up around beaches, surfing, and vehicles. His father was a prominent car dealer. When World War II called a generation to duty, Meyers first enlisted in the Merchant Marine, later joining the Navy. As noted, in 1945, his carrier, the USS Bunker Hill, was attacked and hit by two kamikaze suicide planes. The kamikaze or "divine wind" was Japan's last gasp as it hoped to use the planes, whose pilots could barely take off and only knew how to crash, to snatch victory from impending defeat.
Following the war, Meyers returned home and entered art school. During that time, he spent lots of time on a surfboard. He also learned how to build sailboats, using what was, at that time, a new material called fiberglass. At the same time, Meyers spent lots of time off the beaten path. He noticed many Californians using VW Beetles – minus many of their body panels – to traverse the dunes. He also noted that traditional four-wheel-drive vehicles usually bogged down due to their added weight.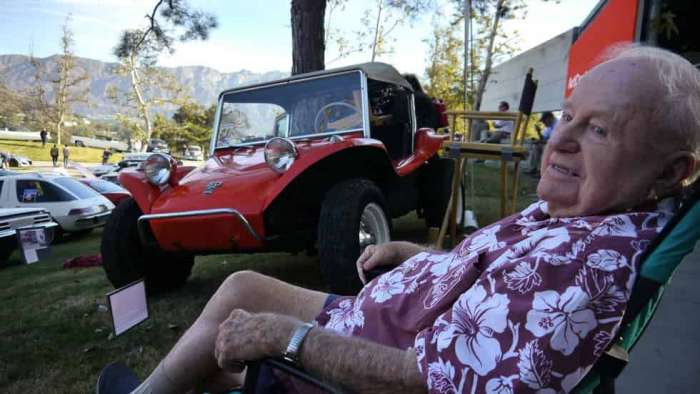 Meyers turned to this problem and looked for a better way to maneuver in the sand. He used VW's Beetle floor pan and running gear and hand-built a fiberglass tub on top with chrome surrounded "bug-eye" style round headlights. The vehicle was the original Meyers Manx. It was much more than just a cobbled-together vehicle. Meyers wanted to be sure that his vision was fun and artistic, with a touch of hotrod-inspired flare. The vehicle which resulted was called "Old Red." Its unique look would spark a slew of affordable, lightweight Beetle-based buggies.
Buggy Was 'Phenomenal Success'
An awe-struck Meyers called it a "phenomenal success." Suddenly, "everybody wanted this happy little car," which he called a "visualization of friendship and love."
Several years later, Meyers and other Manx-racers decided to take their buggies to Mexico, where bikers had been running long distances through the rough, often trackless terrain. With only a few days' prep, Meyers and his co-driver won the race, which would later become the Baja 1000, which is still one of the world's leading off-road races.
On the strength of "Old Reds" success, Meyers founded his buggy-building operation, which turned out the 7,000 original copies of the Manx. There was a problem with this; little control in the final product. Many copycat versions of the Manx flooded the market. Ultimately, Meyers' Manx shut down. He, in fact, recently sold the company. Those who follow such things have estimated that more than 250,000 Manx-inspired buggies have appeared worldwide.
'Old Red' Goes Into National Historic Register
Recently, the Manx factory started production of a new, two-seat buggy. Older versions were four-place units. "Old Red" itself was placed in the National Historic Vehicle Register in 2014.
In looking back over his life, Meyers called himself "just a character who lived a lifestyle of breaking traditions … the dune buggy did that."
Marc Stern has been an auto writer since 1971. It was a position that filled two boyhood dreams: One that I would write, and two that I write about cars. When I took over as my newspaper's auto editor, I began a 32-year career as an automotive columnist. There isn't much on four wheels that I haven't driven or reviewed. My work has appeared in Popular Mechanics, Mechanix Illustrated, AutoWeek, SuperStock, Trailer Life, Old Cars Weekly, Special Interest Autos, etc. Today, I am the Ford F150 reporter for Torque News. I write how-to and help columns for online sites such as Fixya.com and others. You can follow me on Twitter or Facebook. Most of Marc's stories are part of Torque News Ford coverage. Check back again and search for Torque News Ford F-150 news for more F-150 truck news coverage.