Lucid is back with another commercial just in time for the Oscars. The Californian automaker has previously used the awards ceremony as a vehicle to get its products in front of new eyes, and this year is no different.
The ad shows a white Lucid Air driving on snowy mountain roads and doing big drifts on a dry lakebed with the tagline "experience the best." It goes on to name some areas in which Lucid believe the Air trounces its competition, but how accurate is it?
Range
This one's certainly a given, as range is one of the central pillars of the Lucid Air's value proposition. The Air Grand Touring is rated for 516 miles to each charge, while the GT Performance comes in with 446, the Touring with 425, and the entry level Pure puts up a very respectable 410 miles.
Engineering
Another strong case here, Lucid achieves its range by designing and building its own motors which are extremely efficient. They're so good that they're used in top-flight electric motorsports.
Design/Styling
The Lucid Air's design and styling have won it much praise, with handsome and dramatic looks that have been compared to large French sedans from the likes of Citroen. Anyone who's ever seen a DS or C6 will know what an accolade that is, and the refined design continues on the inside with real buttons to control the stereo and HVAC system.
Aerodynamics
That design not only looks good, but helps the Air achieve its big range numbers by being very slippery as it moves through the air. The Lucid Air has a drag coefficient of .200, narrowly beating the Tesla Model S Plaid which has a CD of .208.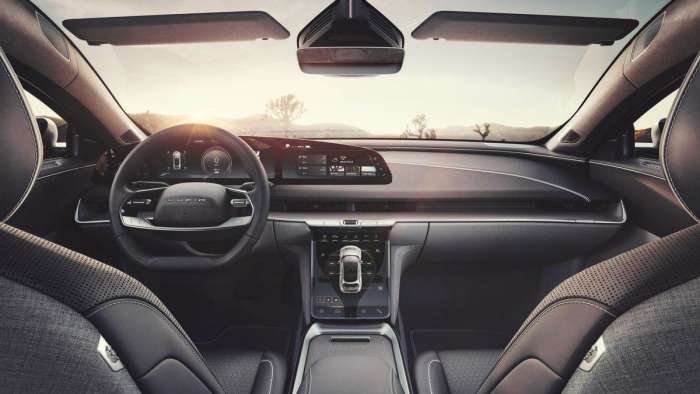 Luxury
While the Lucid's interior design draws praise for its looks, some reviewers have found a couple of the interior materials to be a little less nice than perhaps they should be in a car costing this much money. We wouldn't be surprised to see things improve in the future, and maybe even the emergence of a tailor-made custom service for Lucid customers who want to make their cars more unique.
Comfort/Cabin/Interior
I've been to the Lucid Studio in Toronto and can confirm that the Air's seats are extremely comfortable. There's plenty of leg and headroom in the back for taller passengers and closing the doors turned a noisy mall into a silent sanctuary. I'm pretty sure I could hear my hair growing. No arguments here.
Technology/Interface
In terms of powertrain and charging technology the Lucid is up there with, or beyond, the best of them. In terms of interface... not yet. Software bugs and infotainment glitches have been the Achilles's heel for the Air, but with OTA updates and constant attention this should become less of an issue in the future.
The Best EV?
That's subjective, and of course Lucid's going to say the Air is the best on the market. Whether it's the best or not depends on what you're looking for, but the Lucid Air's powertrain, range and styling certainly make it a strong contended for the crown.
The new ad will air during the Oscars tomorrow night from 8.00 pm.
Related Story: Lucid Air Touring Review: A Great Luxury Sedan
Images and video by Lucid Motors licensed by CC BY 4.0.
James Walker is an Automotive Journalist at Torque News focusing on Lucid Motors. If it's got wheels he's interested, and he's looking forward to seeing what kind of cars the EV revolution brings us. Whether it's fast, slow, new, or old, James wants to have a look around it and share it in print and on video, ideally with some twisty roads involved. You can connect with James on Twitter, Instagram, and LinkedIn.