Lucid's CEO Made $260 Million In Performance Awards Before The Stock Slid
Lucid CEO and Chief Technical Officer Peter Rawlinson was awarded $263 million in performance-based awards before the company's stock went into a protracted fall, according to a recent filing. Scott Carpenter writing for Bloomberg reports that Lucid's board awarded Rawlinson "one of the largest compensation packages for any executive last year" with the March 2021 package consisting of performance and time-based stock rewards totaling $556 million.
The deal breaks down to 13.8 million time-based units with a further 16 million awarded based on Lucid Motors meeting certain targets such as share price and market capitalization.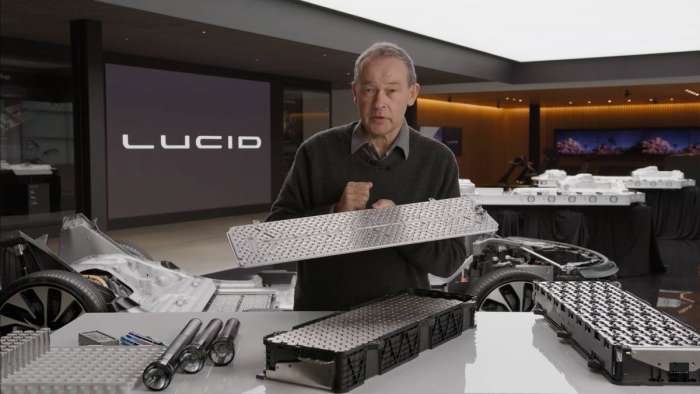 Engineer and Executive: Lucid's CEO explains the Air's battery technology during a Lucid Tech Talk video.
Highs and Lows
Lucid began trading publicly in July of 2021, with the high watermark in terms of market cap being realized in November 2021 with a valuation of $91 billion seeing it overtake car makers that have been around for decades. These were the initial boom days of Lucid; customer deliveries had just begun with the inaugural Lucid Rally, the company had (and still has, let's be clear) some of, if not the most innovative and efficient EV tech the world has ever seen, and investor enthusiasm was at fever pitch. LCID share prices have fallen by 67% in the months following the November peak.
What Caused The Drop?
Once the initial thrill of customer deliveries subsided it became clear that Lucid really had its work cut out for it in terms of scaling production. The target of delivering all 520 Lucid Air Dream Editions by December 31st 2021 came and went, and then came the supply chain woes experienced by car manufacturers the world over as a result of the pandemic.
Bad enough at the best of times, for a new company like Lucid they could have spelled disaster. Luckily, customer sentiment seems to overwhelmingly favor waiting for a properly finished product over receiving a rushed one that needs fixing later. Nevertheless, in the fickle world of investment zealots (believe us, we've seen too many Twitter threads) uncertainty began to grow. A general downturn in the wider EV market and the uncertainty we're witnessing as a result of Russia's invasion of Ukraine compounded LCID's woes, and it sits now as a shadow of its former self.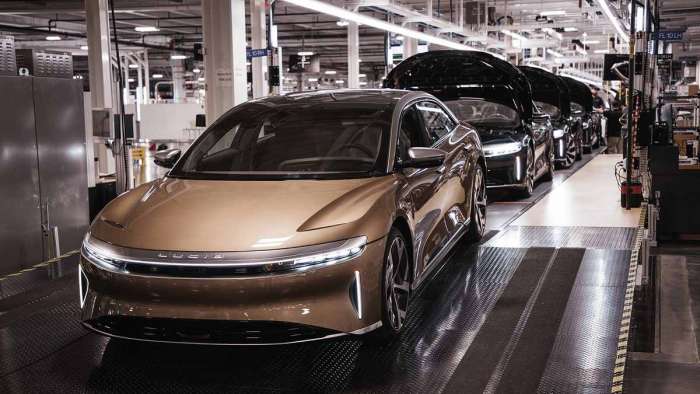 LCID's Future
Enough doom and gloom. These are the lean times for LCID, but the tech is there, the marketing's good, and there's a definite hunger for the brand's products. With backing from the Saudi PIF along with the recent 100,000 vehicle order from the Saudi government, we'd say Lucid's not going anywhere. That's good news for investors, and also for Rawlinson as he still has money to make from staying at the helm of Lucid Motors.
The performance-based arm of the Lucid CEO's awards package features five separate chunks and so far only four of them have been realized. For the fifth, Lucid's market cap needs to rise to $70.5 billion and stay there for six months. On top of this, says Carpenter, are the time-based awards from which Rawlinson stands to make far more than the one remaining chunk of performance awards. The Lucid CEO needs to keep his steady hand on the rudder for a further four years for those to come good.
Related: NASA Selects Canoo To Build Ground Transport For Its Next Lunar Mission
Images by Lucid Motors licensed by CC BY 2.0.
James Walker is an Automotive Journalist at Torque News focusing on Lucid Motors. If it's got wheels he's interested, and he's looking forward to seeing what kind of cars the EV revolution brings us. Whether it's fast, slow, new, or old, James wants to have a look around it and share it in print and on video, ideally with some twisty roads involved. You can connect with James on Twitter, Instagram, and LinkedIn.