Lucid's next production facility will be located in the King Abdullah Economic City in Saudi Arabia and the government's doing everything it can to help the process along promising some juicy loans and incentives to the EV manufacturer. The factory will be known as AMP-2 signifying its position as the next step in Lucid's global expansion.
At its planned peak AMP-2 will produce around 155,000 vehicles a year with Lucid aiming for a global total of 500,000 vehicles each year by the mid-2020s. Initially the facility will reassemble kits produced at AMP-1 in Arizona before moving to full-bore production once it comes fully online. The vehicles it produces will initially supply demand within Saudi Arabia with exports to follow once things are up and running at full speed.
Signing Ceremony
Lucid and its Saudi partners held a signing ceremony to celebrate the signing of deals related to financing and incentives that could total as much as $3.4 billion over the next 15 years. In attendance were officials from the Saudi Ministry of Investment, Industrial Development Fund, Gulf International Bank, and King Abdullah Economic City.
"This signing ceremony marks yet another step forward in the realization of Lucid's mission to inspire the adoption of sustainable energy, and I'm delighted this brand-new manufacturing facility will come to fruition here in Saudi Arabia. I am truly delighted to partner with PIF, our signing partners, and the Government of Saudi Arabia in advancing our shared vision of global sustainability." - Peter Rawlinson, Lucid CEO and CTO.
Rawlinson also said that Lucid is delighted to play such a major role in Saudi Arabia's economic diversification and push towards sustainability.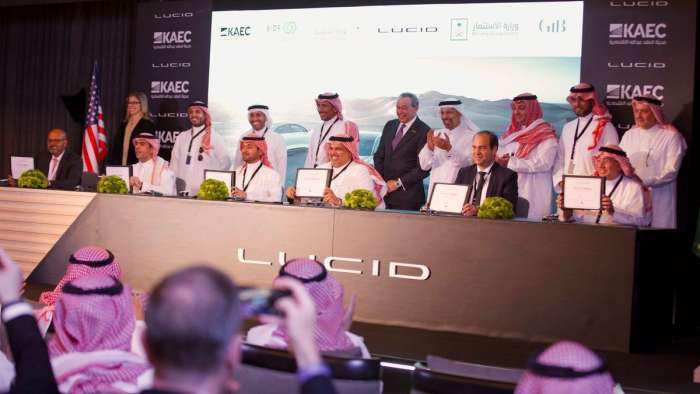 Among the other attendees were Lucid's CFO Sherry House, General Counsel Johnathan Butler, and Managing Director for the Middle East Faisal Sultan. Senior representatives from the Ministry of Industry and Mineral Resources as well as the Public Investment Fund which has invested so heavily in Lucid up to this point.
King Abdullah Economic City
The site of Lucid's AMP-2 production facility sits in the King Abdullah Economic City on Saudi Arabia's west coast. First announced in 2005, the city has been designed from the ground up to bolster the Saudi economy with the King Abdullah Port located on the main Red Sea trading corridor. Lucid and the Saudi government expect AMP-2 to create around 4,500 jobs in the area.
Lucid's first deliveries to the Kingdom are expected to take place later this year while the AMP-2 facility is scheduled to open by 2026.
Related Story: Lucid Tripled Deliveries In April As Manufacturing Speeds Up At AMP-1
Images by Lucid Motors licensed by CC BY 2.0.
James Walker is an Automotive Journalist at Torque News focusing on Lucid Motors. If it's got wheels he's interested, and he's looking forward to seeing what kind of cars the EV revolution brings us. Whether it's fast, slow, new, or old, James wants to have a look around it and share it in print and on video, ideally with some twisty roads involved. You can connect with James on Twitter, Instagram, and LinkedIn.