2018 Acura RLX Sport Hybrid tames the streets of Los Angeles
Let's get down to it: 2018 Acura RLX brings a very unique look to the executive class sedan segment. Either you'll appreciate Acura's new found Precision Performance Grill or you won't. Me, I like the new look, especially the very cool headlight and taillight design. Previously, I'd experienced Acura RLX on the roads of San Francisco and on an extended road trip to the California Redwoods. Yet there it sat in front of me at L.A.X., a brand new 2018 RLX Sport Hybrid, and it was ours for the week.
The roads and freeways of Los Angeles is no place for the timid driver. Well advised caution, and at times, unbridled drive aggression, is called for as the nation's worst traffic snarl unfolds in the windshield and rearview mirror of 2018 Acura RLX Sport Hybrid.
RLX represents the pinnacle of what Acura refers to as Precision Performance Engineering. On more than one occasion, the exceptional maneuverability and instant-on acceleration that is RLX would prove invaluable in dealing with the mayhem that is driving from Los Angeles International to Downtown Los Angeles at midday. We would experience no fewer than 6 "close calls!" The near autonomous driver assist systems standard equipped in RLX saved my proverbial ass, to the point of self applying the brakes at one juncture.
An RLX retrospective
RLX was the car that began the mainstream integration of near autonomous driver assist technologies for Honda, a company that pioneered many active safety features through road and track testing in Japan, and real-world trials here in the United States. 4 years prior, while transitioning Bay Area Traffic north of San Francisco, an earlier generation equipped RLX worked it's accident avoidance magic in heavy work day traffic, I was sold on RLX.
Acura RLX was the first car to demonstrate full autonomy on an 8 mile beltway loop around urban Detroit back in 2014 -- that was a lifetime ago in auto -tech development years. Today, RLX remains the primary hands-free guinea pig conveyance for autonomous drive and accident avoidance technology at Honda's east Bay Area GoMentum testing station, a former 5,000 acre military base.
Yet as good as RLX was back in the day, consumers wanted more, they got it
The early rendition of Acura's flagship RLX was and remains a formidable 4 door sedan of near full size car stature. Yet consumers have been slow in embracing Acura's approach to minimalist, yet premium design cues as presented in Acura RLX. Despite what I consider to be a tech-rich, measurable drive performance bargain, RLX hasn't sold well in the United States. Granted, there had been an availability issue in the past, more specifically, the manufactured in Japan RLX Sport Hybrid largely vanished from production in 2015.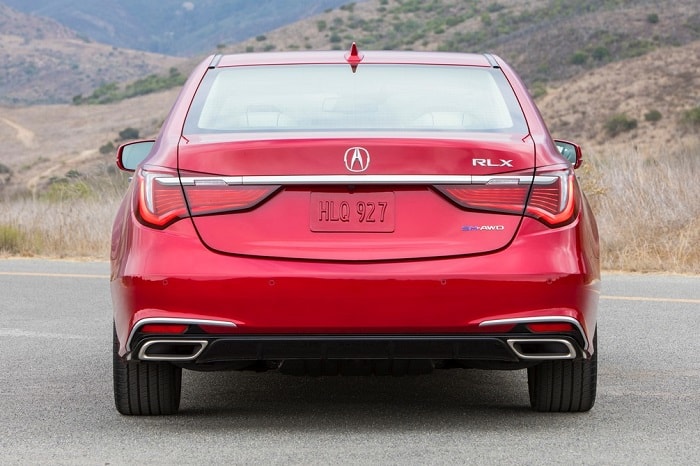 Japan's Tsunami and subsequent nuclear disaster took its toll on Honda production, and, according to my insider sources, the availability of battery modules further impacted the manufacturing and availability of RLX Sport Hybrids. That scenario took a turn sometime in 2016 -- although RLX Sport Hybrid remains a rarity at most Acura dealerships. Acura intends to change that scenario in 2018.
2018 Acura RLX is an exceptionally comfortable, stellar performance executive sedan
As Acura detractors argue the market viability of a 4 door premium executive car in today's crossover, SUV dominated new car market, I'm reminded by Honda's Jeff Conrad and other major brand auto executives that America's sedan segment still accounts for no less than 44% of new car sales. With the resurgence of Lincoln Continental, the reinvented Honda Accord, and Toyota Camry, earning press and consumer accolaids, near full size sedans are a hotter commodity than one might think.
Not every new car buyer or Acura fan wants or needs an Acura MDX Sport Hybrid SUV, or can justify the price-point and limitations of Acura NSX, a supercar that shares technology and several drivetrain components with the visually redesigned and mechanically, tech-improved Acura RLX. This is where Acura's flagship answers the call for a premium sedan offering with sport-driving-attitude. Living large, while maneuvering through inner city and freeway traffic with ease and agility is what RLX does best.
Its Milano leather trimmed infinitely adjustable driver's seat is perhaps the best in the class, and yes, that's real wood, accenting the well proportioned, ergonomically correct cabin. Bringing a unique 2-screen center stack to a segment dominated by i-Pad like color touch monitors, Acura RLX is largely push button activated, shifted, and toggle parking brake activated.
RLX no nonsense driver to car connectivity becomes rather intuitive within minutes of entering the quietest cabin in the segment. Finding that perfect seating position takes seconds on the path to a very invigorating, yet controlled launch, followed by ease of steering wheel control, and a natural break feel and road to steering wheel feedback.
It's those little details that set Acura RLX styling apart from the mainstream premium segment sedan. I appreciate the auto-artistic meld of wood grained inlays meet brushed metals and supple leather surfaces throughout. The RLX visual is inspiring and measurably impressive. Personal electronic connectivity and hands free phone pairing is effortlessly accommodated with RLX, complete with a handy between the front seat bin storage, charging and connectivity ports.
Featuring ELS, or Krell 14 speaker stereo systems, specifically sound engineered to the RLX cab, makes for an exceptional rolling concert-hall-like music experience, complete with accent, and exit lighting. Check out the comprehensive list of specifications and available features here.
Cool, RLX rolls, how's the drive performance?
Here's the thing: Acura RLX like most Honda brand cars and light trucks come to market with a split personality. I could write volumes as to RLX refinement, quiet, and civilized road manors -- what you see with RLX is what you get. A non-nonsense executive car carrying its own, very unique brand of posh to a segment dominated by Acura, BMW, Mercedes and a handful of domestic brands.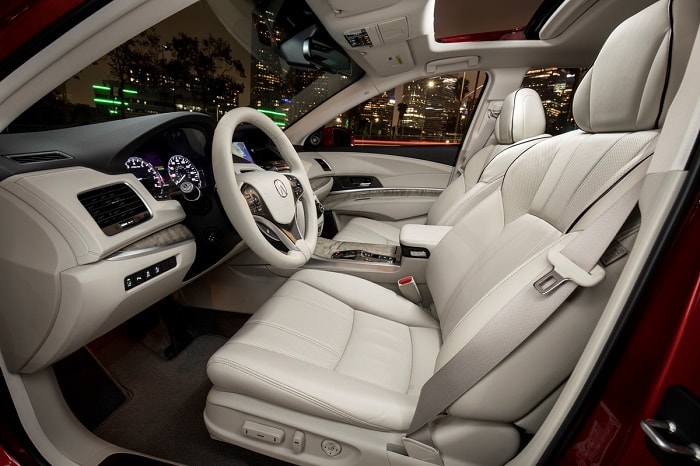 Yet none of the aforementioned beat RLX value when weighing fuel efficiency, pricepoint, and driveline technology.
Keeping it simple: With 2018 Acura RLX buyers find a two-trim level buying platform, that's it! Both offerings, the I.C. motivated 3.5 Liter 24 valve V6 with power activated all-wheel-steer, or the state of the auto art gasoline/electric sport hybrid, with smart handling all-wheel-drive, bring exceptional road handling and instant on throttle-by wire performance to a car segment dominated by $70K, and $80K Euro cruisers. Both hybrid, and conventional I.C engine motivated offerings feature exceptional active dampened suspensions, select drive modes, and peppy-performance engine to transmission combinations, yet preserve best in class fuel efficiency.
Acura RLX has the price advantage over the Europeans with a beginning MSRP of $54,900 to $64,900 * Sport Hybrid w/Advance Package. Furthermore, I'd venture to say after maneuvering RLX Sport Hybrid through the snarled, stop and go mess that is L.A. traffic, RLX maneuvers in and out of traffic, into tight parking spots, while avoiding cross-traffic, jackass's more like a midsize sport sedan than an executive class limousine .RLX is slippery -- it's ride dynamic, pot hole absorbing, soft, yet controlled. I like RLX, and recommend a trest drive to anyone considering the lease or purchase of a premium, full size 4 door sedan.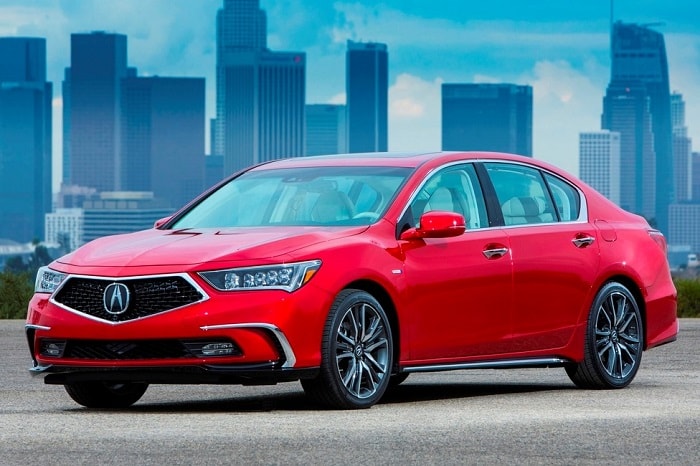 Long a pioneer in gasoline /electric automotive hybrid technology and mainstream applications of accident avoidance and electronic driver assist. Acura's RLX Sport Hybrid epitomizes the future-forward positioning of electrification in the reinvention of the personal conveyance. Me, I'll take my RLX electrified thank you.
Parks McCants is featured internationally through Green Car Journal and Torque News. He welcomes your thought provoking comments here. Please comment down bellow and share this article to your favorite social media outlet.
Photo Attributions Acura Division 2017