Acura NSX Supercar achieves record sales momentum in October
Reality check: As far as supercars go, Acura NSX is a relative bargain. NSX completes a very successful premier 2017 two campaign racing season with the factory specification derived NSX GT3 car, effectively placing the production NSX hybrid electrified supercar back in the collective intent of America's well heeled sporting class. And then there's racing.
That's where the money is, and Acura, with a bit of help from our friends at the purpose built Honda Performance Manufacturing Center in Marysville Ohio, make the NSX build and buy experience a unique one; complete with a walk through preview of your car being hand assembled in real time.
When I walked through PMC back in 2016, I was immediately sold on NSX quality
When touring the eat-off-the-floor clean production facility that is home to the mostly hand assembled Acura NSX supercar, Acura's message of "Precision Performance" becomes a reality.Think of the best equipped, high tech, computerized, robotized welding, custom fabrication and painting hot rod specialty shop in existence today -- now supersize it, make it dust free, and weatherproof, that's PMC. It's those little things that make the difference. Your custom ordered 2017 NSX is not exposed to the elements prior to your personal receipt of the car.
At PMC you'll find an assigned team specific to your one-off, personalized, next generation Acura NSX electrified hybrid supercar. Looking to Acura's NSX build tool, this supercar comes to a very rarefied auto segment with a price advantage. Its beginning MSRP of $157,800, is a relative bargain in a rarefied segment dominated by high 6-figure priced, mechanically finicky, and generally uncomfortable supercars. Check out the short video bellow recorded at the home of Acura NSX.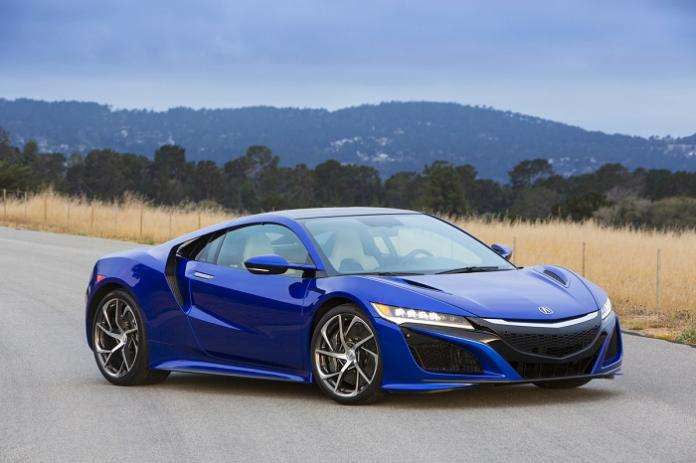 Acura's approach to NSX development is "one with the car." Sitting in the leather glove soft confines of NSX is not only awe inspiring, it's a bit indulgent, as it should be. I've driven NSX on the race track and street, this supercar performs exceptionally well on both, and is mechanically bulletproof.
I'll take my NSX in white pearl on red leather please
Granted, today's supercar, albeit Bugatti, Ferrari,Ford GT, Mclaren, or Porsche, electrified, or not, is a rarefied form of personal conveyance, an auto-indulgence if you will -- generally reserved for the well to do; or those individuals possessing an exceptional credit score, willing and able to make a financial budgetary adjustment or two. I'm up for it, my smarter, better half says no! But then again, she's never driven or ridden in an Acura NSX. Quiet, civilized and powerful, NSX is the perfect melding of track proven race car meets daily driver.
There's nothing painful in owning or driving NSX, and there lies its success. NSX is financially doable and daily drivable. As of this writing 600 NSX supercars have been delivered to most likely ecstatic, and elated. new and return NSX owners in the U.S., 87 for the month of October, a record for NSX, more worldwide of course, putting NSX on path to being the best selling electrified supercar in the world.
Watch my Acura NSX supercar Dyno test live at PMC
Thanks for reading Torque News. Please take a moment to share this article and video to your preferred social media outlet. Thank you.