2017 Acura RDX Advance is maker's performance crossover sleeper
While it's not the fanciest or most refined 2 row in the luxury crossover segment, this no nonsense compact premium utility brings something to the segment that's becoming a rarity these days, V6 power. Still smiling!
Admittedly, I love to drive. That's what initially hooked me on drive-review-journalism, no regrets, I'm a full blown auto-junky at this point, and have the notches on my flight book to prove it. Last week our friends at Acura placed a Lunar Steel Metallic 2017 Acura RDX AWD (all-wheel-drive) Advance in my driveway.
Good looking. But, I'd spent much seat time in the 2016 offering on the road to Phoenix, and this year is a "carry over," I wasn't expecting to gain much if any new insight as to what pushed RDX sales past the mighty MDX earlier in the year. None the less, like I said before, I love to drive, and I enjoy driving Acura's only 2-row crossover offering.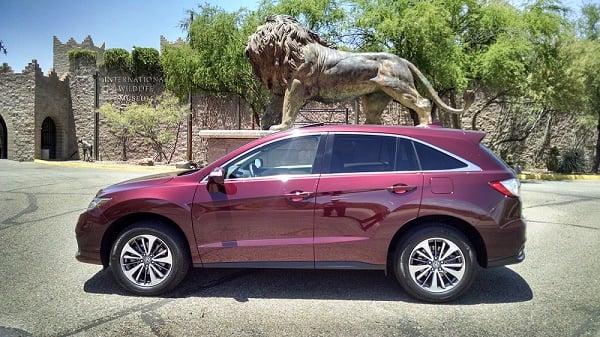 A factoid or two

For 2017 Acura returns to market as a mostly unchanged Honda CR-V platformed compact crossover. Featuring V6 power and a 6 speed automatic transmission across all trim levels, RDX delivers torque to the road through either FWD (front-wheel-drive) or optional AWD. (all-wheel-drive)
Priced from MSRP $36,870 *RDX basic, to $43,720 *RDX Advanced AWD, when weighed against the competition, Acura RDX remains a purchase and lease bargain in the ever growing luxury compact SUV and crossover segments.
I truly enjoy the performance characteristics and surprising fuel efficiency of Acura's 279 horsepower/252 lb-ft torque 3.5 Liter i-VTEC port fuel injected V6, and consider it to be the best built, trouble free, normally aspirated (non turbocharged) gasoline V6 engine available in the auto industry today.
Surprising to me is how fuel efficient this V6 powered crossover is under mixed driving conditions. I discovered a real-world 31 MPG highway, and a 7 day 24.6 MPG combination driving fuel efficiency average -- while driving the roads of western Oregon.
RealTime Racing takes Acura's V6 engine technology to the next level in performance.

Arguably, Acura RDX may not be for everyone seeking the ultimate in comfort, accommodation, and personal electronic connectivity in a premium crossover. But for its price point, RDX remains not only a measurable value when directly compared to Audi, BMW, Lexus and Infiniti. At it's performance core, RDX is the "daily commute" driving man or woman's compact crossover. Sure, a turbocharged 4 cylinder can do it, but form me, I'll take the V6. Read my extended drive review of 2017 Acura RDX here.