RealTime Racing's Acura TLX-GT finally gets its groove on
Back in the fall of 2014, RealTime Racing with team owner and driver Peter (PD) Cunningham had just introduced an all new 4-wheel-drive TLX-GT to the world of Pirelli World Challenge racing. It was a tough weekend for P.D. and company in Sonoma.
And frankly, the team was struggling with TLX-GT, the only mechanical 4-wheel-drive car in a field of high output rear live axle competitors -- something that P.D. had informed Torque News would most likely take a race season or two to refine. While TLX-GT did have an advantage on a wet track, dry track time was questionable. Rear ended in Sonoma
Configuration change, added driver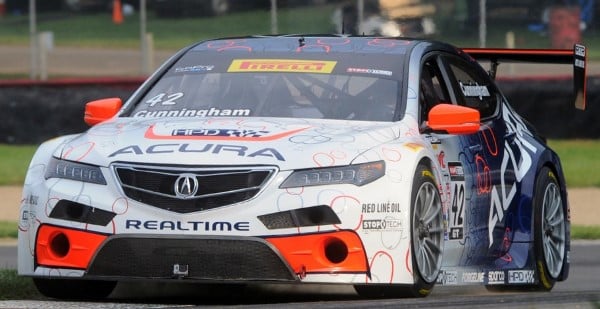 It turned out that the G.T. competitors didn't appreciate the full time four wheel drive configured TLX-GT, and on more than one occasion executed a NASCAR style team block and "fender rub" or two. Perhaps, these close encounters of the fender and tire kind, may of backed off a bit, perhaps! It's tough to tell at times in this world of multiple class standing start mayhem.
Yet, just as Peter predicted back in the fall of 2016 at Sonoma's Mazda Raceway, RealTime Racing with Ryan Eversley and Peter Cunningham at the wheel just " got their groove on," at Road America, Peter's home track, 2 years into the game.
G.T. Round 12 and 13 goes to RealTime Racing
As Ryan and Peter are always more than willing to acknowledge, it takes a devoted team to run one of the most competitive and underappreciated race series in North America. I've meet a handful of P.D.'s crew, they're dedicated!
After winning Round 12 with a one, two punch, coming off of the pole, Ryan won Sunday's round 13 with Peter, after a friendly rub from a very pushy Adderly Fong going into turn 1, pulling off a very respectable 4th place finish.
Ryan hands his win to Art St Syre and the engine builders at HPD ( honda Performance Development. Well done gentleman.
As Ryan puts it
"I can't say 'thanks' enough to everyone at Acura, RealTime Racing and Honda Performance Development," Eversley said at the end of Sunday's race. "This has been an unbelievable weekend, unreal. Brian [Heitkotter] had a great start and beat me into Turn One. Fortunately, I was able to get a run on him going into [Turn] Three and pass him back. He had another good run at me going into Turn Five, but I was able to out-brake him there, and eventually he dropped back.
This track really suits the TLX GT, but we've had to work hard. We found some setup things in a test here a couple of weeks ago that I think made the difference for us this weekend. I race for the best team, and the best company, in the world." Ryan's having a good race season.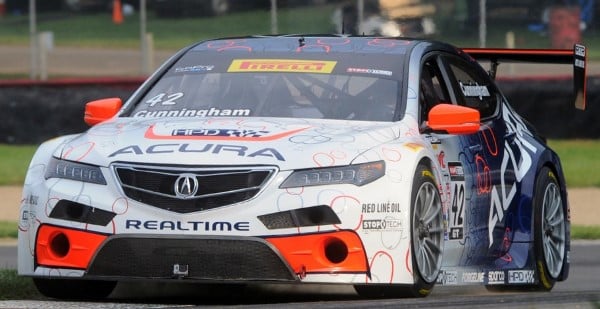 A word or two from PD Cunningham
"To finish fourth today is a good effort. Obviously, would have preferred to be on the podium, but we didn't have quite as good a run as yesterday," Cunningham recounted. "At the start, I had to lift to make room for [Adderly[ Fong going into Turn One, and we still made some light contact. After that, the car was a little nervous entering Turn One and the [Turn 9-10] Carousel, and we just didn't have quite enough to run at the front. Still, it's a great day for Acura, HPD and RealTime, and to cheer on Ryan [Eversley] for his win."
Without Honda Performance Development and Acura Racing, there would be no TLX-GT. HPD's lead Art St Syre is dedicated to the world of Honda powered racing, and continues to be implemented in the evolution of near friction free, mechanically bulletproof, Honda production engine block derived race engines.
A racing world according to Art St Syre
"Our results this weekend reinforce the image of Acura as a performance brand, against the likes of Audi, Ferrari, and Mercedes," said Art St. Cyr, president of Honda Performance Development. "Congratulations to Ryan, Peter, everyone at RealTime Racing and HPD for a dominating performance. Ryan's victory sweep this weekend and Peter's second and fourth-place finishes, at their home track, was a definite 'feel good' story. We look forward to our own 'home track' appearance next month at Mid-Ohio, where we hope to build on these results."
Looking to the last 3 race weekends for RealTime Racing, I believe that Acura Racing and TLX may be set on a winning trajectory. It appears that reconfiguring the car's driveline back to rear live axle is paying off! Best of luck to RealTime Racing and Acura TLX-GT at Mid Ohio.
*Quotes attributed to Honda News 2016