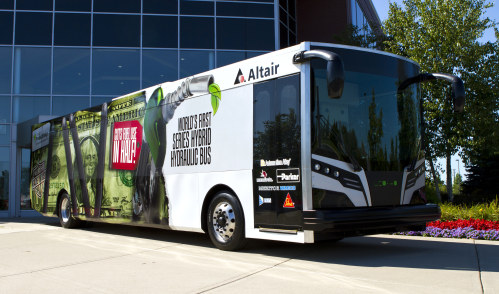 Altair unveils world's first hydraulic-hybrid transit bus
Please
SHARE
with friends and include TorqueNews in
Google Alerts
for tomorrow's interesting stories.
The LCO-140H which stands for "Low-Cost of Ownership-1st 40-foot Hybrid" was developed under the BUSolutions program in partnership with Automation Alley, in an effort to revitalize public bus transportation in America.
On the MPG criteria, the LCO-140 achieved an industry high fuel economy of 6.9 mpg when tested using the downtown "stop-and-go" duty cycles and test protocol established by the Federal Transit Administration (FTA) for transit bus certification testing.
Now before you think that MPG is low, consider that compared to the database of buses tested at Altoona, where the FTA certification program is conducted, the LCO-140H fuel economy results are rather impressive at 110 percent better than conventional diesel buses and 30 percent better than the leading diesel-electric hybrid buses available today.
From an economic perspective, it's the total cost that has to be considered. On that front, BUSolutions is projected to lower the cost of ownership by $170,000 per bus as compared to a conventional diesel bus. With the average local transit authority operating approximately 300 buses, the savings could reduce a city's cost of transit bus operation by approximately $50 million.
When compared to an estimated $27 million increase in operational costs for a similar electric hybrid fleet, it is clear the LCO-140H could revolutionize the transit industry by providing reduced fuel consumption and emissions while improving the fiscal performance of a regional transit authority.
Media Day
I was fortunate, thanks to Jenn Korail of airfoil.com , to have met and interviewed Jeff Brennan, Chief Marketing Officer for Altair at the MBS 2011 in Traverse City last month. His offer to attend the BUSsolutions event was immediately accepted by me because of my technical interest, and it was in Troy, MI not far from my home. Win-win!
Speakers at the event included, James Scapa, Chairman and CEO of Altair; Jeffrey Brennan, CMO, Altair; Mike Heskitt, COO, Altair; Martin Dober, Mich Econ Dec Corp.; Maureen stood in for L. Brook Patterson, Oakland County Exec (who had a death in the family); Walter Kulyk, Federal Transit Administration; Ken Rogers, Automation Alley; and Louise Schilling, Mayor, city of Troy.
When finished, all were given a ride in the bus where we received the same experience as though we were ferried along city streets as any other bus, along Big Beaver, south on John-R, and a some avenue I failed to note because I was more interested in the ride itself.
My own perceptions were one of immediate acceptance that the serial hydraulic hybrid technology is no longer a test bed in a lab, but a real, drivable vehicle. That alone is a significant win for Altair and its team of engineers and partners. Furthermore, it proves that hydraulics can compete on a functional and performance scale as any other bus and at a considerable cost savings to transit authorities.
Frankly, I always suspected that, having worked in hydraulics in the Navy and afterward for a few fluid power companies, but couldn't prove it by building a bus.
My only negative on the ride was the noise. However, ALL busses are noisy, bar none. But this one has a different noise in that you hear the charging of the hydraulic pressure tanks by the engine.
Pages
Please
SHARE
with friends and include TorqueNews in
Google Alerts
for tomorrow's interesting stories.