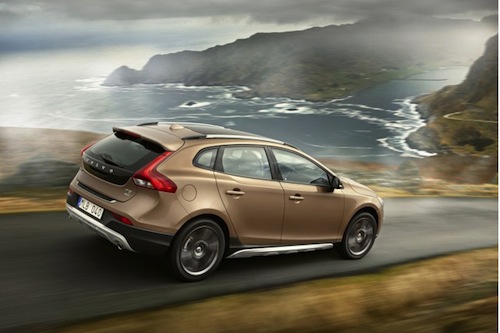 Volvo launches capable 2013 V40 Cross Country all-roader
In 1997, Volvo brought out the V70 Cross Country that started a whole new segment. Now the new 2013 V40 Cross Country continues in that tradition and features an off-road capable vehicle that is rugged enough for some extreme adventures. The V40 Cross Country is different than the XC models in that the XC models offer a crossover body style with an elevated seating position. The new V40 Cross Country is an all-road version closer to the wagons and hatchbacks from which they are based.
All-wheel drive capability
But the biggest difference is the V40 Cross Country comes with all-wheel-drive and rides 40 mm higher than the standard V40. The Cross Country models also get some other unique features like larger wheels up to 19-inch, a dark contrasting front bumper, honeycomb mesh grille and upright DRL-lights and a contrasting rear bumper with integrated skid plate.
The new crossover V40 is certainly off-road and all-weather capable and features a number of engines from a gasoline high-performance turbo producing 254 horsepower, to a fuel-efficient 1.6-liter diesel. Powerplants are mated to either a six-speed manual or a six-speed Powershift automatic transmission. Volvo says all engine and transmission versions will feature start-stop and braking energy regeneration.
Making the V40 Cross Country even more capable off-road, the crossover features Hill Descent Control on the T5 version with All Wheel Drive, which controls the car's speed automatically when traversing steep inclines. The V40 Cross Country also has a Hill Hold function that makes starting on a hill easy.
Smart interior features
The five-door all-road crossover offers seating for five and also comes with anodized, black high-gloss frame around the greenhouse, black rear-view mirror housings and roof rails for extra cargo carrying ability. Inside, the V40 Cross Country gets contrasting stitching to match the Raw Copper exterior launch color. The leather upholstery comes in five different versions, including the Espresso Brown accent.
The V40 Cross Country features extra storage for those weekend adventures. It gets two cup-holders and an integrated 12V power outlet in the console in front of the armrest. The glove compartment includes space for two soft-drinks cans or bottles that are kept cool with cold air from the cars Climate Control system.
Other convenient features include, a sunglass compartment above the driver's door, an integrated cup holder in the rear seat, and extra storage under the instrument panel, on the front seat cushions, on the front seat backrests and on the outside of the rear seats. For winter driving, a specially designed, drained storage unit for an ice scraper in both front door panels is included.
Initially, the 2013 Volvo V40 Cross Country will only be offered in Europe and China. Volvo has not announced when the V40 all-roader will be offered in the U.S. Production will begin in November 2012.
Source: Volvo
Please
SHARE
with friends and include TorqueNews in
Google Alerts
for tomorrow's interesting stories.