The new 2016 BMW M2 Coupe doesn't need any modifications to its drivetrain to take on race tracks around the globe. The performance coupe has been in the paint booth and detail shop getting its new exterior livery for the upcoming MotoGP season. It's ready to take its turn as a MotoGP safety car like its high-performance stable mates before it. BMW M has been the "Official Car of MotoGP" for eighteen seasons and M2 is the latest example. What special effects does the M2 MotoGP Safety Car come with?
M2 gets special upgrades
The new M2 was in the detail shop and gets a number of upgrades to get it ready for the race season. The high-performance coupe gets gold wheels, a gold roll cage, new front air foil, light bar and special tail lights. The back seat has been removed to make way for the roll bar, and performance Recaro seats installed up front.
Special Moto GP Safety Car livery
Carbon fiber trim is installed in the rear exhaust panel, front lip spoiler and on the sides of M2. A performance wing has been addd to the rear trunk for high-speed stability on the race track. To finish out the details, the special Moto GP Safety Car livery is added with the distinguishable BMW red, dark blue and light blue stripes on the front sides and rear of the coupe.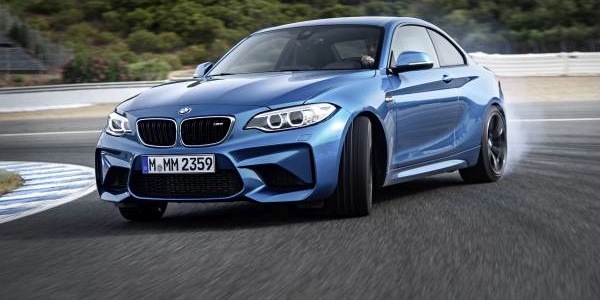 The new 2016 BMW M2 Coupe will be ready to roll if needed to guarantee safety at the race tracks around Europe. The M2 powertrain remains untouched and this model will use the M2 DCT automatic transmission to transfer power to the rear wheels. The 365 bhp 3.0-liter inline six will launch the M2 from 0-60 in just 4.2 seconds. The M2 comes ready for any race track in the world right from the factory in Leipzig.
Source: BMW