Subaru of America announced an "all-new fully redesigned vehicle" will make its global debut at 9:40 a.m. Pacific time (12:40 p.m. Eastern) on November 16 at the 2023 Los Angeles Auto Show. I wanted to have a little fun, so I came up with my own teaser image above. Can you guess what the model is? 
Subaru says "There's a new kind of legend just waiting to be discovered. The newly redesigned Subaru vehicle is on its way to the Los Angeles Auto show, featuring new technology, upgraded safety, and more. Sign up now to get more information."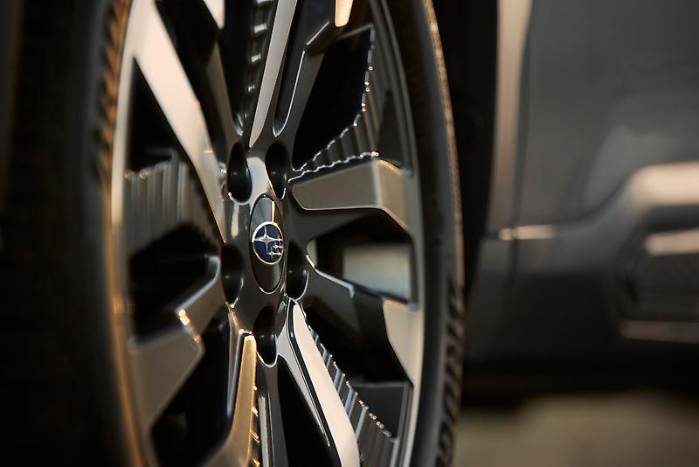 Subaru of America teaser image
I've covered the new model before and I know what it is. Subaru only has one legend, and it's the top selling Outback midsize SUV. This is the all-new 2025 Outback that customers and Subaru of America retailers have been waiting for.
I covered the 2025 Outback earlier this year.
I reported that in a private meeting with its U.S. dealers in January, Subaru of America revealed the next-generation 2025 Outback to the group. Here's a sneak peek at what's coming for U.S. customers.
In the report I said that the Camden, N.J. automaker gave its U.S. retailers a "peek behind the curtain" at the next-generation Outback midsize SUV. Significant changes are coming for the 2025 model year when the Outback gets a complete redesign.
Jeff Williams, owner of Williams Subaru in Lansing, Michigan, told Automotive News while attending Subaru's Auto Team America Dealer/CEO/CFO Forum that the U.S. Subaru retailers are excited about the sneak peek they had of the redesigned 2025 Outback.
"That's the most excited I've been about a vehicle heading here in a long time," said Williams, who declined to reveal any specifics about the new model. "I will say that Subaru engineers and designers seemed to have addressed every issue we've brought up with the Outback. They seemed to listen to us, which gives me confidence in how the next-generation Outback will perform in the marketplace."
The Subaru dealers would not reveal any specifics about the 2025 Outback. I am speculating as Subaru of America has not revealed any information about the next-generation Outback. 
The Outback needs a hybrid powertrain to compete with the Toyota Highlander Hybrid, Ford Explorer Hybrid, and Jeep Grand Cherokee Hybrid. Could the new Outback get hybrid power?
Subaru already offers a 1.8-liter turbocharged direct-injection (DIT) engine in the Japanese-specification 2024 Outback. Subaru could couple the small turbocharged engine with the hybrid technology they are now developing with Toyota. 
Subaru has not confirmed the 2025 Outback information, but it fits with their goals and the Japanese automaker's revamped vision plan they announced earlier. 
As I've reported before, a fuel-stingy 2025 Subaru Outback Hybrid could be the model to propel the vehicle upward again. Williams predicted that if production constraints fade away by the redesigned Outback's introduction, the new midsize SUV will return to its dominance in SOA's all-wheel-drive lineup as the automaker's top-selling model again.
There's only one Legend that Subaru would bring to the 2023 Los Angeles Auto Show. It's the all-new 2025 Outback midsize SUV. Stay tuned to see if my prediction is accurate. 
It's your turn. What is your prediction of what the new model is?
Thanks for reading, everyone. I hope you enjoyed this Subaru Outback story. See you tomorrow for my latest Subaru Report.
For additional articles related to new Subaru models, here are a few of my top stories you may enjoy. 
My Must-Read Top Picks
I am Denis Flierl, a 12-year Torque News senior writer with 20+ years of Subaru and automotive journalism experience. I enjoy bringing you, the Subaru fans and customers, the most up-to-date Subaru news, reviews, and new model information. You'll find the latest Subaru stories on the Subaru page. Follow me on my The Dirty Subaru website, Dirty Subaru blog, SubaruReport, All Subaru, WRXSTI, @DenisFlierl, Facebook, and Instagram.
I've got you covered! - I cover all Subaru all the time - It's called the "Subaru Report." Check back daily for my expert Subaru analysis!
Please leave your comments below, share the article with friends, and post X to your followers! 
photo credit: Subaru