Is the MINI Cooper Countryman a compact hatch or is it a station wagon? It won't matter to most consumers if you need utility and want a sporty compact car that's loads of fun to drive. The PHEV model gives this sporty model even more fuel-efficiency for urban dwellers. You won't need to fill up as much leaving more money for other fun activities.
This week we drive the 2019 MINI Cooper SE Countryman ALL4 PHEV
What's new for 2019?
The 2019 MINI Cooper SE Countryman has a revamped trim structure, altered standard, and optional equipment availability.
Features & Options
You get a lot of features with the 2019 MINI Cooper SE Countryman ALL4 PHEV ($36,900), including summer performance run-flat tires, automatic headlights, foglights, automatic wipers, heated mirrors, a heated windshield wiper system, roof rails, a panoramic sunroof, a rearview camera, rear parking sensors, push-button ignition, a leather-wrapped steering wheel, height-adjustable front seats, 40/20/40-split rear seats, simulated leather upholstery, ambient lighting, Bluetooth, a 6.5-inch display screen, and a six-speaker audio system with a USB port.
This Countryman tester came with options like PHEV Sport Edition ($2,900), Navigation ($1,700), and JCW Appearance package ($2,000). Total MSRP including Destination: $45,750.
Interior Highlights
The Countryman cabin is well laid-out, comfortable, and it's bigger than the previous-generation model. The extra length makes it easy for four adults to ride comfortably, but three in the back will be tight. The first thing we noticed was the tall windows and narrow pillars making it easy to see out of the compact Countryman. There are lots of soft-touch plastic surfaces and materials excel in quality, in a cabin that's carefully furnished and finished.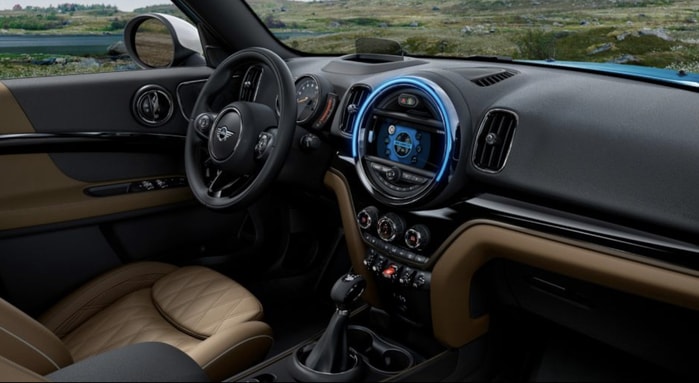 The dash is typically MINI featuring a large circular panel in the center that functions as a hub for most operations, though several, like the engine start, are controlled by toggle switches. The 8.8-inch touchscreen displays maps and the navigation which came standard on this tester.
The MINI cabin is geared towards a youthful audience and comes with overblown instruments and disco-like lighting effects around the center panel. But the cabin is cleaner than previous models and the panoramic sunroof opens up the interior and gives it an airy feeling. The leather sports seats are comfortable enough and supportive for spirited driving.
Engine & Fuel Mileage Specs
The Cooper SE Countryman is different from the rest of the lineup because of its Plug-In hybrid system. It's powered by a turbocharged three-cylinder engine that drives the front wheels to send power through a six-speed automatic transmission. In back, is an electric motor, driving the rear wheels, powered by a rechargeable 7.6-kWh battery pack. Mini says total combined output for the PHEV is 221 horsepower and 284 lb-ft of torque. The EPA-estimated all-electric driving range is 12 miles, with an estimated 65 MPGe and 27 combined city/highway mpg.
Driving Dynamics
The reason to buy a MINI is it's superior driving dynamics, and the Cooper SE Countryman is a driving enthusiasts dream if you are looking for a small hatch. This vehicle handles like its siblings and is high on the fun-to-drive meter for sure. It features a relatively stiff chassis and a sport-tuned suspension that translates to a superior driving experience. Even though this model has grown in size, it still offers up a satisfying dish of fun for driving enthusiasts.
We pushed the Countryman PHEV hard through repeated curves in the tight mountain curves west of Denver, and the small crossover stayed firmly planted without much body lean. The 1.5-liter turbo engine and the electric motor has plenty of power to have some fun at altitude in the mountains. With the 6-speed automatic, there is some lag when you stand on the gas, but it soon gathers momentum with a rewarding power surge.
The more sophisticated suspension offers up a ride that's relatively smooth on the dirt roads leading to our house, and it has a less choppy ride on the highway. In the city, the Countryman SE PHEV is a joy to drive as it's small size made it easy to navigate narrow streets in The Highlands in west Denver and it's easy to fit in a small parking space. We wished we had the 6-speed manual gearbox, but the 6-speed automatic makes it easy to run in heavy traffic.
Conclusion
The 2019 MINI Cooper SE Countryman ALL4 PHEV is bigger, but it doesn't hurt the vehicle's driving dynamics. It's still a good choice for those looking for a more dynamic driving experience. MINI is all about having more fun while you go about your daily commute or hauling groceries and this model delivers it. The interior is larger and the roomy feeling will surprise you when you sit inside. The cabin offers plenty of flexibility and utility for carrying extra cargo when you need it. With the ALL4 all-wheel-drive system, the Countryman becomes an all-weather vehicle and is a must for those living in cold climates.
You May Also Like: Looking For The Best Car Value? Subaru Beats Toyota And Honda
Leave your comments below, share the article with friends and tweet it out to your followers!
Follow us on Facebook, Twitter, Instagram, YouTube, Google
Photo Credit: MINI USA