If you think plug-in hybrids have to be slow and boring, the Mercedes-Benz GLE 550e will help change your opinion quickly. With one hard stomp on the gas pedal, the SUV threw us back in the seat and put a grin on our face. You can also travel 12 miles on electric-only power, for a unique mix of power and fuel economy offering the best of both worlds.
This week we drive the 2018 Mercedes-Benz GLE 550e 4-Matic Plug-In-Hybrid
What's new for 2018?
The Mercedes-Benz GLE-Class is unchanged for 2018.
Features and options
The 2018 Mercedes-Benz GLE 550e 4-Matic Plug-In-Hybrid ($66,700) comes standard with dual-zone automatic climate control, a power-adjustable steering wheel, heated front seats, a 10-way power driver seat (with four-way power lumbar adjustment and memory functions), simulated leather upholstery, Mercedes' COMAND electronics interface (with an 8-inch display) and two USB ports. Standard advanced safety features include a rearview camera, a forward collision warning system, and Mercedes' Mbrace telematics system.
Upgrading to the GLE 550e adds leather upholstery, keyless ignition and entry, a navigation system, a touchpad controller for the central display, satellite radio, Android Auto and Apple CarPlay smartphone integration, a 14-speaker premium Harman Kardon audio system, a 115-volt household-style power outlet, a blind-spot monitoring system and a lane departure warning system.
This tester came with the Premium 3 pack ($4,890) featuring a 360-degree parking camera, adaptive cruise control, an automated steering system, a collision avoidance system, lane departure intervention and an automated parking system. The AirMatic air suspension ($1,610) with adaptive damping was also included. It also featured massaging front seats, ventilated front seats, heated rear seats and soft close doors. Total MSRP including destination: $79,840.
Interior highlights
From the list of features and options, you can see the high-class interior of the GLE 550e is the bright spot for this luxury SUV. The fit and finish and quality of materials is top-notch in the plug-in-hybrid. The front seats are nicely-contoured, satisfying in comfort and the cabin of the SUV feels sportier in nature than Mercedes-Benz sedans.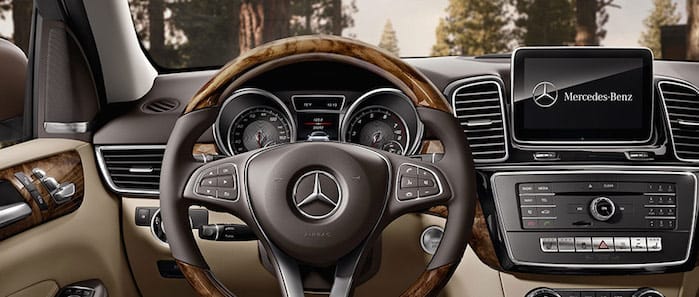 The central 8.0-inch infotainment screen is freestanding and looks smart sitting alone. The center console holds the COMAND controller, below a touchpad that's within easy reach of the driver's hand. we didn't appreciate the screen-based COMAND interface as it took us 30 minutes to change the radio from Sirius XM to FM. We probably could have used a 15-year-old to show us how.
In the back, rear passengers have plenty of space and it will accommodate three adults for short jaunts through the city. With back seats up, the luxury SUV offers up 44.5 cubic feet of cargo volume.
Engine and fuel mileage specs
Beneath the hood of the plug-in GLE550e is a Bi-turbo 3.0-liter V6 gas engine rated at 329 horsepower, coupled to an 85kW electric motor that develops 114 horsepower. Total hybrid-system output comes to 436 horsepower and 479 pound-feet of torque. Yes, we had to double check those hp and torque numbers too.
The GLE550e can travel up to 12 miles on electricity alone. Four driving modes are available. Recharging of the 8.8-kWh battery, using a 220-volt charger, takes just under two hours. EPA fuel mileage estimates come in at 21 combined city/highway mpg gasoline only and 43 MPGe combined city/highway.
Driving dynamics
We drove the GLE 550e in both city and mountain environments and found the luxury SUV to be capable in both settings. If you want to conserve fuel, this family hauler will accommodate the economy-minded. We were able to run on all-electric power through parking lots and in stop-and-go city driving in downtown Denver.
If you need power and performance, the 550e is impressive when you stand on the gas pedal. The 3.0-liter V6 mated with the electric motor is fast enough for the performance enthusiasts in the family. We stood on the gas from a standing stop and the 550e pushed the upper limits on the fun-to-drive meter. Power is also plentiful for driving at altitude and mountain driving. We had no problem passing slower traffic heading up I-70 into the mountains.
The GLE 550e with the optional AirMatic air suspension offered up a smooth ride regardless of the rough pavement and even on dirt roads leading to our mountain house. The interior is quiet and a comfortable place to spend time commuting or traveling on the highway to your favorite holiday retreat. The 4-MATIC all-wheel-drive makes this luxury SUV a capable all-weather family hauler.
Conclusion
If you are looking for a luxury SUV, that's fuel efficiency, but also offers up impressive performance, the GLE 550e is a unique blend of both worlds. It offers a quiet, upscale and well-built interior with a roomy backseat and a long list of standard safety and technology features. If it's comfort, ample cargo space and an abundance of available options, the 2018 Mercedes-Benz GLE 550e could be for you.