Study: Ford Maverick Now Costs More Used Than It Does New
A new study done by the hard-working research team at the respected outlet iSeeCars says that the Ford Maverick tops the list of vehicles that now cost more lightly used than they do new. This is not an entirely new trend. It has been happening here and there over the course of our three-year vehicle shortage. However, the cost gap between a used Maverick and a new one is now rather shocking.
Related Story: Ten Reasons I Want a Base Ford Maverick Hybrid
This news is particularly heartbreaking for Maverick fans because Maverick counts value among its many important attributes. Better trucks in its segment do exist. The Ford Ranger, Honda Ridgeline, and Hyundai Santa Cruz are all viable alternatives to the Maverick, but at a higher price point. With the shortage of Mavericks coming from Ford's factory in Mexico, the value proposition is starting to shift.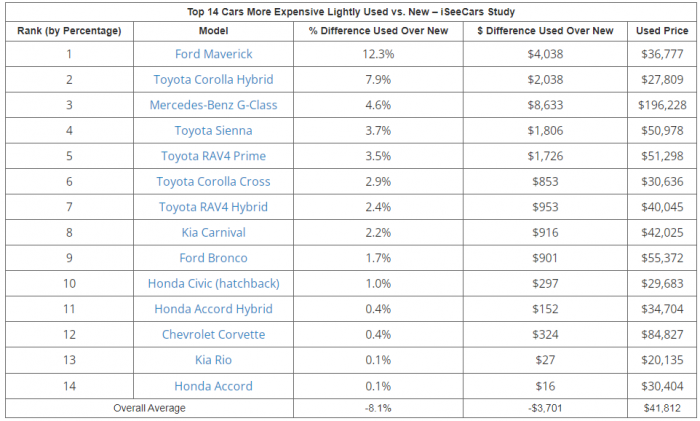 The study data indicate that shoppers of a Ford Maverick will find that a lightly used one costs, on average, $4,000 more than a new Maverick's listing price. This may seem crazy, but perhaps if we look deeper, there are a few easy-to-understand reasons for this apparent contradiction.
The first reason is that you simply cannot walk into a Ford dealership and buy a Maverick. There are none to be had. The available inventory for model year 2023 sold out in advance long ago. When we contacted dealers on multiple occasions, they would not even accept a pre-order for a Maverick, saying there were none coming to allocate to us as a shopper.
When we asked to be on a list of buyers who would be ready with cash in hand if a Maverick came in on a pre-existing order, we were unable to get a feel for whether or not the vehicle would be sold at MSRP or at a dealer markup over MSRP. If you visit any social media club dedicated to Maverick, such as the Facebook Ford Maverick Pickup Truck Owners and Enthusiasts club, you will see that many owners posting up images of their New Maverick fall into one of two groups. Those who ordered many months ago, and those who found an orphaned Maverick from a canceled pre-order.
Given the fact that new ones are not really available, a lightly used Maverick is a vehicle many buyers seek. And are willing to pay top dollar for.
There is another reason why the lightly used Mavericks may be higher in cost for many buyers. Ford's generosity is the reason. You see, Ford is among the most generous of all manufacturers when it comes to employee, and special group discounting such as veterans. These discounts can add up to thousands of dollars on a new vehicle. Used vehicles are sold private party or by independent dealers, and thus, the Ford programs are not applicable.
The Ford Maverick remains a hot vehicle. The primary reason it finds itself on this list is that extremely high demand far exceeds limited production capability. If you have purchased a Ford Maverick, please feel free to tell us a bit about your buying experience in the comments below.
Check out the full iSeeCars study summary here.
John Goreham is an experienced New England Motor Press Association member and expert vehicle tester. John completed an engineering program with a focus on electric vehicles, followed by two decades of work in high-tech, biopharma, and the automotive supply chain before becoming a news contributor. In addition to his ten years of work at Torque News, John has published thousands of articles and reviews at American news outlets. He is known for offering unfiltered opinions on vehicle topics. You can follow John on Twitter, and TikTok @ToknCars, and view his credentials at Linkedin
Image of Ford Maverick Hybrid by John Goreham. Chart of cars costing more used than new by iSeeCars.