Cabriolet, convertible, coupe. Call it what you prefer. The soft-top Mercedes-Benz AMG E53 Cabriolet is among the finest in grand touring vehicles today. We had a chance to sample the AMG E53 Cabriolet during an event sponsored by the New England Motor Press Association. While experiencing this vehicle in coastal New England, we fell in love.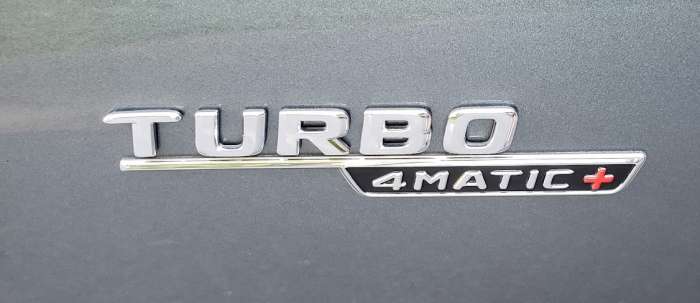 And it wasn't just your Torque News scribe. The event was attended by about 40 journalists from the Northeast. The AMG E53 Cabriolet was the unofficial grand touring favorite, with the new Chevrolet Corvette and the Mazda Miata Roadster also in attendance.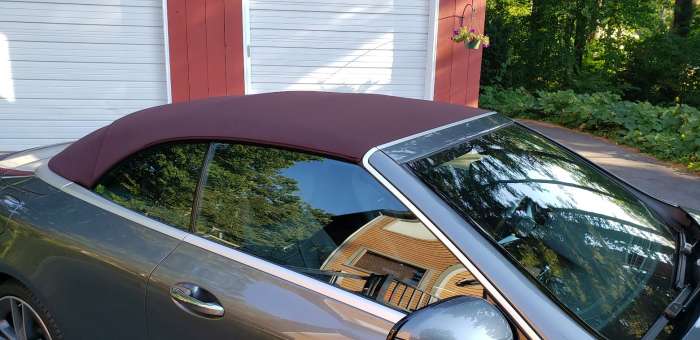 Many of the attendees photographed the AMG E53 Cabriolet with its top up. The Merlot-colored soft top is constructed using premium materials sourced from New England-based Haartz corporation, makers of the finest soft top textiles in the world. The top is ideal for this car. The soundproofing is superb, and the top folds in a more compact space than could a retractable hard-top.
Well-balanced is the way I would describe this outstanding vehicle. It offers more than ample performance but without sacrificing comfort and convenience. It can transport four comfortably on short trips, but the front two passengers enjoy the experience best.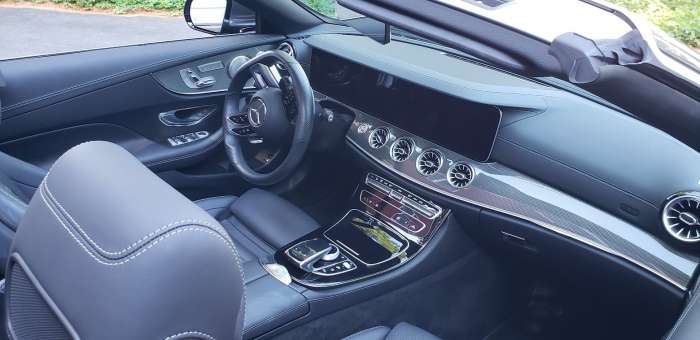 Features include an intuitive infotainment system, driver-assist automation that helps you enjoy the highway stretches without bugging you, and optional massage seats. The interior is richly-appointed but not over the top. The E series is a luxury car for those that plan to use the car daily. Function and form are in a perfect partnership.
The AMG E53 Cabriolet handles well. Steering is crisp, and the low-profile tires make for a very quick turning response. However, real-world pavement with broken-up sections doesn't spoil the fun. Thrust from the torquey inline turbocharged six-cylinder engine is delicious. When you have room to run, the 429 hp are there to make it exciting. The mild-hybrid drive is the green icing on the cake.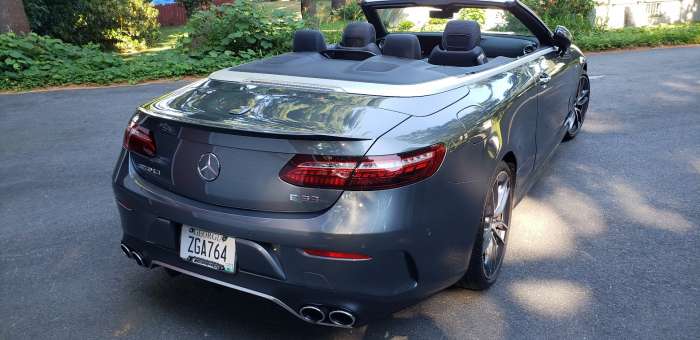 Those who appreciate a vehicle that does everything not just right but well will find the AMG E53 Cabriolet an excellent choice. The AMG E53 Cabriolet starts at about $75K. Our fully-equipped media test vehicle had a price including destination charges, of $97,250.
Images of 2022 AMG E53 convertible by John Goreham.
John Goreham is a long-time New England Motor Press Association member and recovering engineer. John's interest in EVs goes back to 1990 when he designed the thermal control system for an EV battery as part of an academic team. After earning his mechanical engineering degree, John completed a marketing program at Northeastern University and worked with automotive component manufacturers, in the semiconductor industry, and in biotech. In addition to Torque News, John's work has appeared in print in dozens of American news outlets and he provides reviews to many vehicle shopping sites. You can follow John on TikTok @ToknCars, on Twitter, and view his credentials at Linkedin
Re-Publication. If you wish to re-use this content, please contact Torque News for terms and conditions.