Mazda's CX-30 remains a popular compact crossover that straddles the line between premium and mainstream. The CX-30 Turbo Premium Plus is the top trim of the CX-30 line. Coincidental to the announcement by Mazda of the 2024 price increase, we have a 2023 CX-30 Turbo Premium Plus media vehicle, complete with its window sticker, in our driveway.
For 2024, the price of the CX-30 Premium Plus will rise from $37,270 to $38,770. These prices include the $595 up-charge Mazda applies to most colors and also includes the Destination and Handling charge that Mazda applies to the sale. Not included are dealer documentation fees, added dealer markups, or dealer-added content.
The percent increase in the cost of a top-trim CX-30 rises about 3.9% for 2024. That number is almost exactly in line with the recent 12-month 3.7% decline in the value of the American dollar due to inflation. Of course, that is the official inflation number. Take a look at your electric bill, your home heating costs, the cost for real estate, or the cost of healthcare, and decide if you think that 3.7% is the true representation of the rising cost of living in your area. 
Part of the added cost of the Mazda CX-30 is an increase from $1,275 to $1,375 of the cost of Destination and Handling. This is a fee that automakers successfully apply on top of the Manufacturer's Suggested Retail Prices that they advertise. The net effect is that automakers can advertise artificially lower costs for the products they provide without being in violation of any false advertisement laws. Mazda is not unusual in its fees in this regard. The CX-30 is imported from Mexico, the CX-5 from Japan, and the CX-50 is produced inside America's borders. All have a destination and delivery fee. 
Our Take
Our opinion (and yours is certainly just as valid) is that Mazda has not actually increased its prices for model year 2024. Rather, the American public has instead opted to devalue its dollar through deficit spending, loan forgiveness programs such as the COVID-era PPP program, and other types of dollar-value-reducing policies. That Mazda can remain at the same price point once adjusted for inflation for the same product means that Mazda is not contributing to inflation but instead just trying to live with its reality. You may view things differently.
Here is a complete breakdown of Mazda's pricing for 2024 for the CX-30. Be sure that you apply the $1,375 Destination and Handling charge, and don't forget to budget about $500 for your local dealer's documentation fees. The total of these is the price you will pay when you purchase your vehicle and should not be confused with DMV fees or state taxes, which are added on top of this price from Mazda.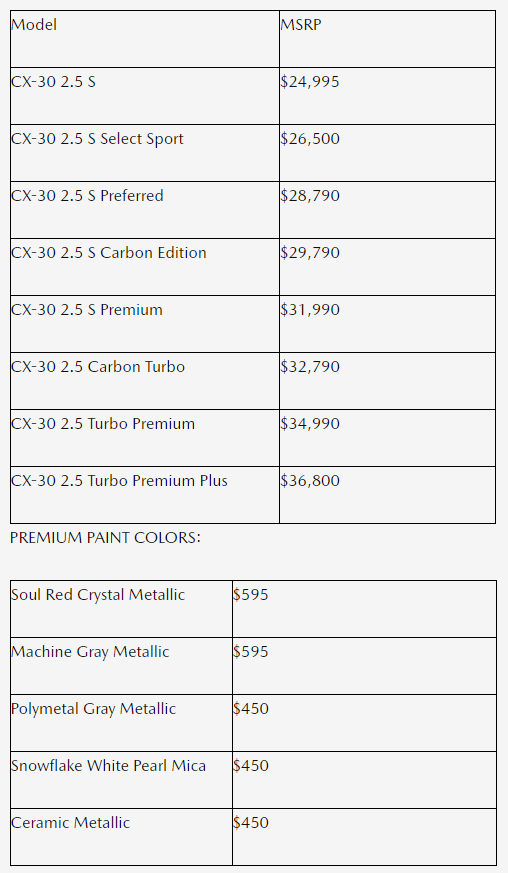 Image by John Goreham. Chart Courtesy of Mazda. 
John Goreham is an experienced New England Motor Press Association member and expert vehicle tester. John completed an engineering program with a focus on electric vehicles, followed by two decades of work in high-tech, biopharma, and the automotive supply chain before becoming a news contributor. In addition to his eleven years of work at Torque News, John has published thousands of articles and reviews at American news outlets. He is known for offering unfiltered opinions on vehicle topics. You can follow John on Twitter, and connect with him at Linkedin.