It was only a month ago that we reported many owners reporting MSRP-level pricing for the hot Toyota RAV4 Prime plug-in hybrid electric vehicle. Some new owners had even reported slightly lower than MSRP final sale prices. However, if social media posts by frustrated shoppers are any indication, popular new electric vehicles are again seeing higher than MSRP prices. The shortages of microprocessor chips reported by our own Jeff Teague along with ongoing EV battery production constraints no doubt play a role in this.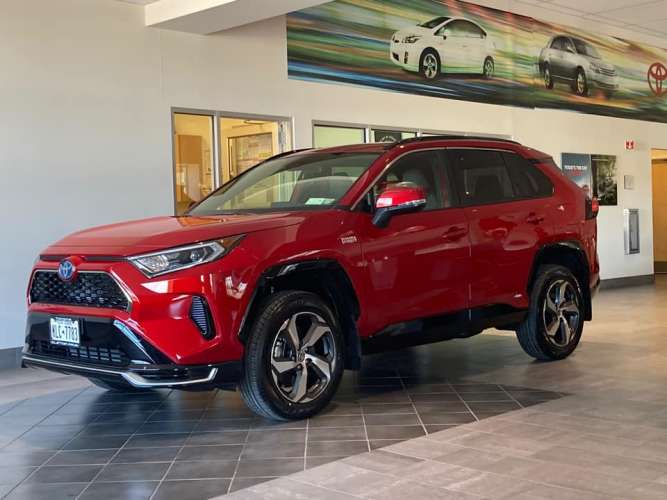 RAV4 Prime Priced $20K Above MSRP By Toyota Dealer
The first post that caught our eye was a California Toyota dealer asking $20K over the manufacturer's suggested retail price (MSRP) for a RAV4 SE. This particular posting from May 16th took the form of a photo showing the pricing on the vehicle window.
The location of this vehicle for sale is right in Tesla's backyard, Fremont California. Join the Facebook Official Toyota RAV4 Prime Group to see the post yourself. Following the original post, one of the group's local moderators drove over to see if the markup was still in effect and grabbed the image above for Torque News to use in this story.
We were easily able to find examples like the one shown above on other Toyota dealer sites showing $10K markups over MSRP. Owners report that these high extra fees are primarily located in California. The EVs Californians demanded through CARB mandates have arrived and they are not cheap.
Related Story: Toyota RAV4 Prime Is 2nd-Fastest-Selling Vehicle In America
Ford Mustang Mach-E Dealer Markups
Although posts showing above MSRP pricing draw many angry-face emojis and vows in comments by some formerly loyal owners of the brand to never buy another, Toyota isn't alone in experiencing an unprecedented demand for its new electric crossovers. Ford's amazing Mustang Mach-E continues to demand an MSRP or higher price in many areas according to shopper posts shown in online vehicle forums.
One online post from Reddit shows a $20K markup on a Mustang Mach-E. Another from the Mustang Mach-E Nation on Facebook shows a disturbing practice. One Ford dealer appears to list the Mach-E as having an MSRP of $61,440 on its website price list. However, the actual window sticker shows the MSRP as $56,440. This seems deceptive to us. We have alerted Ford's PR group to this example. Ford has been very proactive about dissuading its independent dealer partners from engaging in this sort of practice in the past.
No Outrage Over Discounts
When dealers offer new vehicle discounts, many as high as $10K on trucks, nobody accuses them of being unfair. When manufacturers offer incentives in the form of zero-percent financing or "cash on the dash" for models they wish to move off lots nobody cries "foul!" There are certainly two sides to this story, and Toyota's RAV4 Prime and Ford's Mustang Mach-E are absolutely not the first vehicles that dealers chose to sell above the manufacturers' "suggested retail price." However, we find this news timely given that Tesla, Ford, and Toyota cannot keep pace with the strong demand for crossover EVs while Congress and the President are concurrently crafting added EV tax incentives to "spur sales."
Are Dealer Markups Unethical or Illegal?
What say you? Is it unethical, unlawful, or unkind for dealers to mark up popular electric vehicles well above the suggested price of the manufacturers? Or should the best vehicles of any type sell at whatever price consumers are willing to shell out? Tell us your opinion in the comments below.
Image Notes:
Top of Page image courtesy of Christopher Davis. Red RAV4 Prime image by Beverly Hackett. Markup sticker of RAV4 Prime courtesy of Noe Arribas.
John Goreham is a long-time New England Motor Press Association member and recovering engineer. John's interest in EVs goes back to 1990 when he designed the thermal control system for an EV battery as part of an academic team. After earning his mechanical engineering degree, John completed a marketing program at Northeastern University and worked with automotive component manufacturers, in the semiconductor industry, and in biotech. In addition to Torque News, John's work has appeared in print in dozens of American newspapers and he provides reviews to many vehicle shopping sites. You can follow John on TikTok @ToknCars, on Twitter, and view his credentials at Linkedin