During a recent test to see how much range we could add to an electric vehicle using a public Level 2 charger (EVSE) in the time it takes to "grab a coffee and use a bathroom," we added just 7 miles of range in 25 minutes. Based on this result, the myth that one can pull off the highway, use the most common type of public charger, and quickly regain meaningful range is busted.
Related Story: DC Fast Charging Can Cost Triple What Fueling A Gas Guzzler Can
Charging an EV can happen at varying rates. Charge rates vary depending on the vehicle's state of charge when you begin charging, the ability of the charger to deliver charge, your vehicle's ability to accept a charge, and finally, weather. On most Level 2 EV chargers, the rate of charging is slow. Of course, the term slow is relative, so we tried an experiment to see if we could add a meaningful charge to a vehicle with the ability to accept charging very rapidly. We wanted to test the often-cited example of "A quick stop for a coffee and a bathroom break." What we proved, at least to ourselves, is that this is a myth.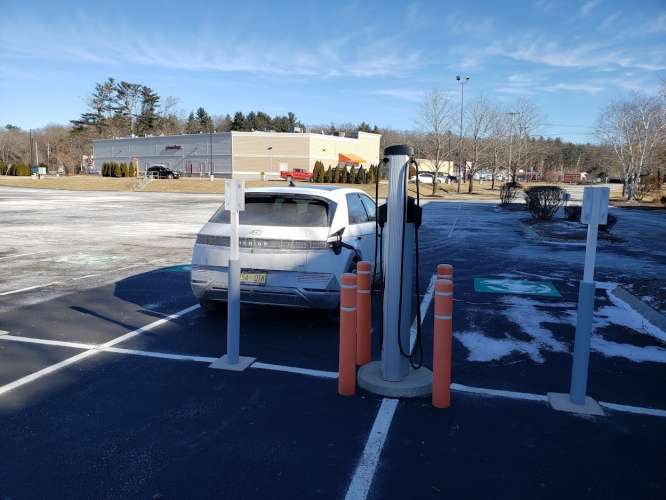 Related Story: ChargerHelp! Is Taking Away the Worry Over Broken Public EV Chargers
The EV Charging Scenario
We wanted to be fair to the scenario, so we exaggerated the time it takes to "grab a coffee and use the bathroom." We have not added the time it would take to exit the highway and drive to the charger. Also, we didn't really just grab a coffee and use the bathroom. That only took us about six minutes. To help the test seem more valid, here are all the things we did during our 25-minute charging stop:
- Ordered two complicated drinks. Lattes of varying sizes and with varying ingredients. Plus a sandwich.
- Used the bathroom (Spotless, by the way).
- Recited the alphabet while washing hands like a surgeon in pre-op.
- Drank the large latte and ate the sandwich while seated in the coffee shop.
- Checked email.
- Read a human interest story.
- Read a global news story about Ukraine.
- Read a story about a local commuter rail mishap.
- Played with TikTok for a few minutes.
- Counted my blessings which include having such a great job.
- Walked the entire outer perimeter of the huge parking lot to simulate walking a dog.
- Took a dozen images of the car, the charger, and the surroundings.
- Recorded our test facts
To state it simply, we hung around well after the point that our stomachs were full, our bathroom needs dealt with, our phones had been given ample attention, and we had a good long walk. We were bored and just killing time about halfway through the charging time of 25 minutes.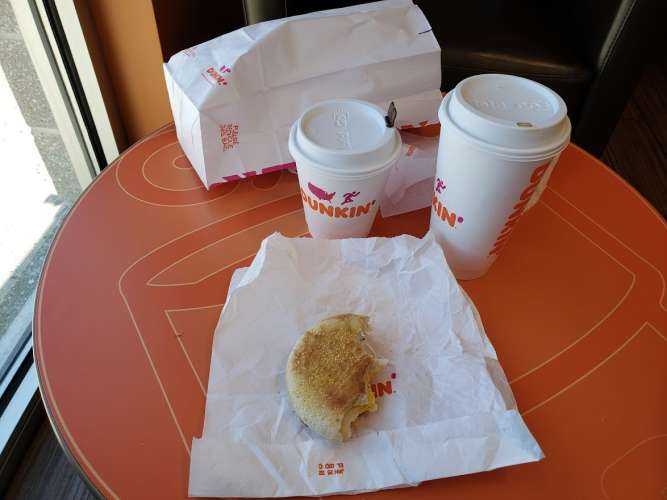 Here's the crux of the matter. We charged a modern EV for 25 minutes on the most likely type of public EV charger you will find when you exit a highway in America and want to add some juice during a road trip. It was a normal Level 2 public charger and free to use. What did we add back in terms of usable range? Basically nothing. 7 miles of range rounding up.
The car's state of charge rose from 58% to 61%. With a maximum range of about 220 miles in the temps we were testing, 3% of 220 miles is 6.6 miles. We could have fueled a gas-powered Toyota RAV4 Hybrid AWD about four times and added roughly 2,000 miles of range in this same amount of time. Or "got a coffee and used the bathroom" four times.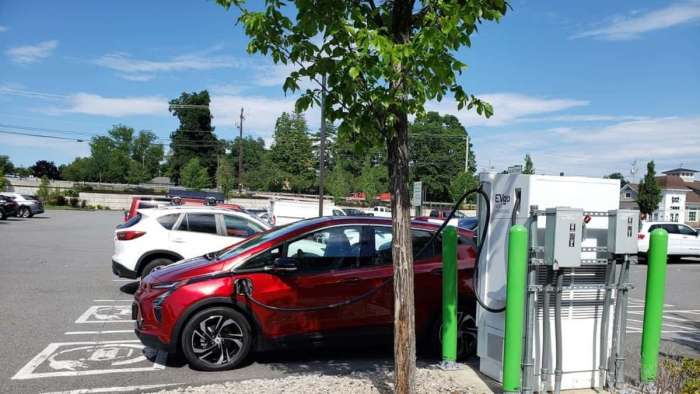 DC Fast Chargers
We understand that Level 2 chargers are not the fastest way to charge up an EV. The quicker way is to use a DC fast charger. Some of those can add a lot more range miles over the same period of time. We polled Ioniq 5 owners and asked them how long it would take to charge their EV on a DC fast charger, and one owner explained that it takes about 25 minutes to add about 70% state of charge under the best of circumstances (Charging from 10% to about 80% in warm temps). However, that charge rate is with an almost impossible to find DC fast charger with a rate of over 300 kw. How fast is a DC fast charger with a 50 kw rating? Not very fast at all.
Fun Fact: Researchers Say Average Time People Use the Toilet is Less Than 90 Seconds
However, DC fast chargers are far less common. And more often occupied. We used an app to search for all of the public EV chargers in an area 20-miles in diameter encompassing the Metro North West section of the Boston area. It's helpful to keep in mind that Massachusetts has about three times as many public EV chargers per EV registered in the state than does California. The target area has the busiest highway in our state running straight through the middle, plus two other major highways inside the circle. There are a total of 64 public chargers inside that circle. Of these, only 7 are DC fast chargers. Metro Boston, Massachusetts has one the highest rates of chargers per registered EVs in America.
Related Story: How One EV Owner Relies On Urban Public Charging - Yes It's Possible
Manufacturers also warn not to use DC Fast chargers too often. In Hyundai's Ioniq 5 manual on page 34, it states, "Use of DC charge should be minimized in order to help prolong high voltage battery life." Ford's Mustang Mach-E manual has a similar warning.
Related Story: 5 Reasons Battery-Electric Vehicle Road Trip Range Stinks
Tesla! Tesla! Tesla!
No EV story is complete without mentioning Tesla, so here is the paragraph where most EV writers would pander to Tesla owners. We can't because Tesla has no unique part in this story. Tesla's U.S. Supercharger network is private, not public. It is equivalent to a DC FC charger, not an L2 charger, so Tesla has no special place in this story. Yes, we all know Superchargers and Tesla cars are the cat's pajamas. We also know that the least expensive Tesla crossover costs over $60K.

Related Story: How To Use An Adapter To Connect Your Non-Tesla EV To A Tesla Charger
Not Our First Public Level 2 Charge
We test EVs most weeks and charge them most days that we have them using Level 2 chargers. Usually at home, like almost all EV owners. During tests of EVs such as the Ford Mustang Mach-e, and PHEVs like the Toyota RAV4 Prime, we have used public Level 2 chargers and we carefully note how well they work (if they work). The findings in this test match up well with testing of those other EVs at other public L2 charging locations. In other words, the L2 we used this time was not unusual in any way based on our experience. Other than being free. Its rating is the same as most we find using our search app.
Related Topic: 3 Reasons Charging At Home Is a Must For Electric Vehicle Owners
Conclusion: Level 2 Public Charging While On the Go Is A Waste of Time
Most EV owners charge at home most of the time. However, when using your EV beyond its range, which in winter can often be less than 200 miles, charging in public is often required. If you can charge at home or work on a Level 2 charger, by all means, do so. The car charges at a rate that makes good sense. Even Level 1 charging at work is logical. If you have the opportunity and the money to charge at a DC FC charger, go for it if the EV you have is compatible with DC charging. It is worth the time. However, using a Level 2 charger to try to add range during a stop of 25 minutes is a waste of time. The idea that one can add any meaningful range at a Level 2 charger during a "Coffee and bathroom break" is simply not true and simple to disprove.
Please feel free to add your own comments below about the feasibility of adding meaningful range to an electric vehicle using a public L2 charger during a "coffee and bathroom break."
Story Facts:
Some EVangelists have a passion for EV charging mathematics. They enjoy talking about charging rates, charging times, charging profiles, energy consumption, charger (EVSE) capacity, charger delivery rates, and many other topics many folks who own cars would be bored to tears by. We respect the importance of these many factors to such EV advocates. For that group, we gathered all the facts we could, and we have posted them below.
The Electric Vehicle: The vehicle used in this story was a new Hyundai Ioniq 5 AWD Limited (Long Range). This particular EV has a reputation for having one of the fastest charging profiles on the market. The Ioniq 5 has an EPA-Estimated maximum range of 256 miles. Our observed in-vehicle range estimate in the normal winter weather we experienced was about 220 miles at 100% SOC. The EPA-estimated consumption is 34 kWh/100 mi. The Ioniq 5 trim we tested has a battery capacity of 77.4 kilowatt-hours (kWh).
States of Charge: We began with a state of charge of 58%. We ended with a state of charge of 61%. Thus, about 3% state of charge was added to the vehicle during our 25-minute charging event. Based on the vehicle's estimated range in these temps of 220 miles, we calculate we added about 7 miles of range during this 25-minute charge event. Rounding up.
Time On Charger: The vehicle was on the charger for 25 minutes, from 9:18 am until 9:43 am.
The Charger: The charger (EVSE) used was a ChargePoint charger. The location has 2 rows of chargers, and during our charging, none of the other bays were occupied. The location was Greater Boston, just off Interstate 93, in the shared parking lot of an Osram office building, Target, Starbucks, Dunkin Donuts, and Pizza Place. The charger was labeled OSRAM US HQ/A Charger #1 with the noted delivery rate of 6.2kW AC. Osram is kind enough to provide six Level 2 charging bays in this lot free of charge.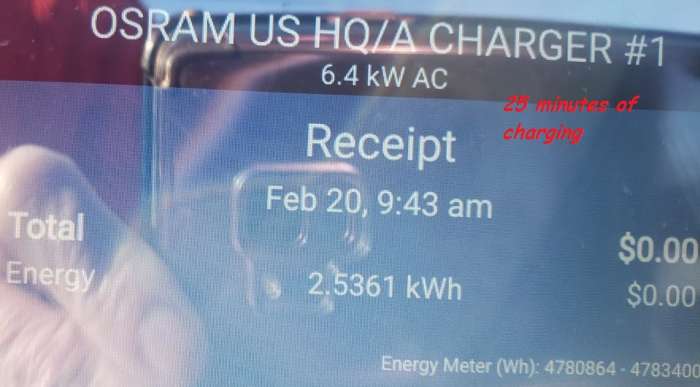 Energy Added: The Chargepoint receipt says that we added 2.5361 kWh of energy during the charge. This jives with the percentage SOC we added back.
The Cost: The cost of the charge was covered by Osram. It is free to all users who have an active ChargePoint account. (We used our account on our mobile app.) So the cost for this charge event was zero to us. To initiate charging one must have a ChargePoint mobile app ready, or a ChargePoint RFID card.
Weather: It was a sunny February morning in New England with temps about 20F.
Prior Driving: The vehicle was not charged cold. We had driven it for a while prior. The cabin was warmed prior to charging. The vehicle was "Off" when charged.
Story Images by John Goreham.
John Goreham is a long-time New England Motor Press Association member and recovering engineer. John's interest in EVs goes back to 1990 when he designed the thermal control system for an EV battery as part of an academic team. After earning his mechanical engineering degree, John completed a marketing program at Northeastern University and worked with automotive component manufacturers, in the semiconductor industry, and in biotech. In addition to Torque News, John's work has appeared in print in dozens of American news outlets and he provides reviews to many vehicle shopping sites. You can follow John on TikTok @ToknCars, on Twitter, and view his credentials at Linkedin
Re-Publication. If you wish to re-use this content, please contact Torque News for terms and conditions.