The Acura TLX has always been a favorite of Torque News testers. The new 2021 Type S version of the TLX is a perfect example of why we like this vehicle. If you are a driver who likes precise steering, brakes that respond instantly and can bring the car down from scary speeds to speeds more manageable in an instant, and handling that is sharp, but also compliant over real-world roads, Acura has had many choices for you over the past decade. However, this new TLX also offers 354 lb-ft of torque at a very low 1,400 RPMs.
Finally, Torque Combined With Acura's Personality
Honda products in general, and Acura's, in particular, tend to be revvers. Cars that you need to wind up in order to tap into the engine's thrust. This new Type S TLX changes that formula for the better. Now, you have instant, abundant torque from pretty much idle. Start off from your first stop sign on your test drive, and the feeling is so satisfying you won't go back to a revver.
Acura uses a turbocharged V6 engine to achieve its satisfying torque. The turbo adds over 15 psi of boost to work this magic. Acura builds this engine in Ohio. "While I was in Ohio, I was involved in the strategy development phase of this Type S Turbo V6 engine," said Akio Matsuda, TLX Type S Powertrain Development Leader. "I remember how excited I was, along with the rest of the Acura engine development team, when it was decided to start developing this high-performance, environmentally responsible engine that we had proposed with our North American associates." "The associates at the Anna Engine Plant put a lot of pride into producing this very special Type S Turbo V6 engine," said Tim Pohlman, Type S Turbo V6 Manufacturing Project Leader.
Real-World MPG Is Impressive
The new Type S TLX with its upgraded wheel and tire package earns a 21 MPG Combined EPA Estimate. However, we drove the car all over rural New England. On some of America's best mountain roads and lonely two-lane highways, the mileage we observed was 25 MPG. Not very different from the underpowered four-cylinder compact crossovers we often test on these roads.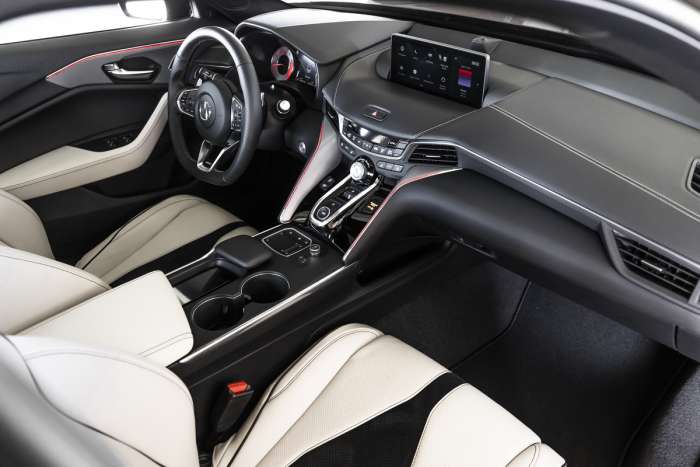 TLX Type S Interior and Handling - Why Not a Tesla Model 3
The interior of the TLX is typical Acura. Sumptuous is one word to describe the microfiber-trimmed sport seats. Sharp is one way to describe the dash, center console, and other interior bits. The contrast with that other made-in-America sports sedan is striking.
The feeling of lightness is also unique to Acura. The TLX Type S is just shy of 4,000 pounds in curb weight. Not unusual for a large four-door sedan. However, it feels much lighter than that on the road. Credit the suspension tuning and high-performance wheels with summer-only performance rubber.
TLX Type S - Infotainment
Acura uses a touch-pad-operated infotainment system. If you prefer such systems, this is the one for you. What we are sure everyone will like is the ELS STUDIO 3D premium audio with 17 speakers including 4 Highline overhead speakers. There is no better system on the market at this price point that we have tested. The sound is incredible.
TLX Type S - Pricing
The 2021 TLX Type S with SH-AWD and the high-performance wheel and tire package has a price including destination and handling of $54,645. To its credit, Acura does not hide its destination fee. At this price point, there are many good options including the Genesis G70, and for some who don't value what makes the TLX Type S special, the Tesla Model 3 Dual Motor, Long Range. Bear in mind that a Model 3 Performance with no options is still meaningfully higher in purchase price than this fully-loaded Acura. We used Tesla's online configurator to price out a Model 3 Performance with similar content to our test Acura and fund its price to be $71,190 with FSD or $61,190 without.
Related Story: 2021 Acura TLX Advance SH-AWD Review – You Won't Miss The Six
TLX Type S - Conclusion
The Acura TLX Type S is a well-executed sports sedan for those with discerning taste. In addition to outstanding real-world driving satisfaction, the Type S also brings a segment-best interior and audio package to the mix. If you are a fan of the sports sedans from Acura, don't hesitate to pull the trigger. This is the best one we have tested. And we've tested many.
John Goreham is a long-time New England Motor Press Association member and recovering engineer. John's interest in EVs goes back to 1990 when he designed the thermal control system for an EV battery as part of an academic team. After earning his mechanical engineering degree, John completed a marketing program at Northeastern University and worked with automotive component manufacturers, in the semiconductor industry, and in biotech. In addition to Torque News, John's work has appeared in print in dozens of American news outlets and he provides reviews to many vehicle shopping sites. You can follow John on TikTok @ToknCars, on Twitter, and view his credentials at Linkedin