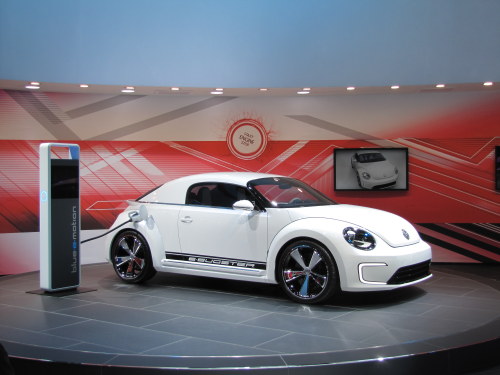 Volkwsagen E-Bugster makes debut at North American International Auto Show
The name E-Bugster is fairly straightforward. The is for "E" for electric, and "Bug" is the American nickname for the Beetle. Then Volkswagen threw in "speedster," which typically describes an open-top two-seater and also because that sounds a lot cooler. However, the E-Bugster concept is not a convertible, it sports the typical speedster profile of shallow windows and a low, dramatic roofline.
What's under the hood of the E-Bugster? Well you won't find any gas powered engine, that's for sure. What you will find is an all-electric motor producing 114 horsepower (85 kW) and 199 pound-feet of torque. It is equipped with A lithium-ion battery that enables the car to go more than 100 miles on a charge. The battery is stored under the trunk floor and rear seat and weighs around 695 pounds.
The battery is recharged via a plug interface located underneath the hood's VW logo and can accommodate all three types of available chargers: Level 1 (120V), Level 2 (240V), and, where available, Level 3 (quick charge, 80 percent charge in 30 minutes).
The catchy name for this E-Bugster electric setup is "Blue-e-motion," and it will be found in future products such as the Golf Blue-e-Motion.
Volkswagen is hoping that this new E-Bugster will not only help it gain green cred, but some design cred as well. The E-Bugster sports a flat and wide windshield which is distinctive. Then from the side, the E-Bugster's low, flat roof serves to frame the rest of the vehicle's distinctive features. Between its flared fenders and 20-inch wheels, there's a distinctive Beetle "V" which runs along the side of the vehicle. Decals with the "E-Bugster" signature can be seen on the side sills. Just above this point, the chrome has been lengthened from the lower window border towards the rear of the car. The top of the E-Bugster extends in a flat arch over this chrome line and borders the vehicle's side windows. The height between the chrome lower edge of these windows and the uppermost roof line is tight, like a chopped-down speedster. The Bugster is nearly three inches lower than a Beetle, conveying speed and sportiness. (Whether it has that is yet to be determined.)
Also the E-Bugster utilizes LED Daytime Running Lights, just like the production Beetle, except that here they form a distinctive graphic on either side of the lower air intake in the front bumper. This LED graphic is mirrored by reflectors in the rear bumper. These unique DRLs have become a signature feature on Volkswagen electric vehicle studies.
Not only is the exterior different than a Beetle but the interior it fitted with EV-specific gauge. The tachometer has been replaced with an energy consumption display. This consumption gauge will fluctuate with vehicle acceleration. Other instrumentation includes a driving range indicator, a display showing the battery's charge state, and a display that shows the driver the intensity of battery regeneration.
This Beetle surely will have to make it into production. Then Aging hippies and flower children can rejoice.
Please contact Adam Yamada-Hanff – [email protected] – for comments, questions, or topics. You can also follow him on Twitter @AdamsAutoAdvice
Photo & Video Credit: Frank Sherosky
North American International Auto Show
2012 NAIAS rumored display of smaller cars, not what public wants or needs
Focus heavy on design and technology during NAIAS 2012 press days
Hyundai vs Ford: Hyundai Elantra Takes Car of the Year in Detroit
Fun Auto News
British couple completes Around-the-World roadtrip
Men find it easier to maintain Car, than Girlfriend
Porsche 928 influenced Steve Jobs Mac design
Please
SHARE
with friends and include TorqueNews in
Google Alerts
for tomorrow's interesting stories.