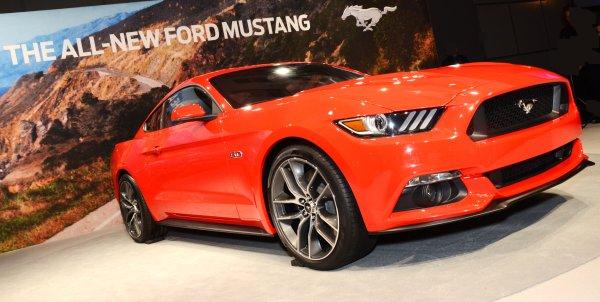 The Very 1st 2015 Ford Mustang to be Auctioned for Children's Diabetes Research
Please
SHARE
with friends and include TorqueNews in
Google Alerts
for tomorrow's interesting stories.
While the 2015 Ford Mustang has hit the industry with mixed reviews, there is no question that there will be plenty of prospective buyers who would love nothing more than to own the first 2015 Mustang built for retail sale. Thanks to the good people at the Barrett Jackson Auto Auctions, all of those hopeful S550 owners have a somewhat equal chance of buying 2015 Mustang #1 but it will require them to make a trip to Scottsdale Arizona in January – and to write what we expect will be a very, very big check. The dollar value on that very (very) big check will go to the JDRF; the charity formerly known as the Juvenile Diabetes Research Foundation.
"JDRF is very grateful for the generous and steadfast support from Ford and its employees over the years. It is an incredible honor to be a part of Mustang's 50th celebration and we are so thankful for the donation of the auction proceeds which will go directly to JDRF's type 1 diabetes research programs," says Jeffrey Brewer, president and CEO of JDRF. "Ford's charitable vehicle sales at Barrett-Jackson have raised more than $3 million for JDRF through the years, and these funds are helping us make tremendous progress towards therapies and treatments that will make life better for people with type 1 diabetes today as we work to find a cure for this terrible disease."
As has been the case so often with the recent popularity of these high profile vehicle auctions, the first 2015 Ford Mustang GT will be auctioned off in a public format rather than allowing a dealership to make a mint off of unit #1 as they jack up the sticker price. Since the 2015 Mustang will not have gone into production when the auction for the first retail unit begins, we can expect to see one of the Race Red 2015 Mustang fastbacks from one of the global debuts roll across the Barrett Jackson block but that won't be the actual car that is being bid on by the crowd. After the auction closes, the winner will contact Ford to design their ideal 2015 Mustang GT including either an automatic or manual transmission along with any interior, exterior, color or striping option available for the next generation Mustang in addition to all of the standard features of the new pony car.
Pages
Please
SHARE
with friends and include TorqueNews in
Google Alerts
for tomorrow's interesting stories.