While Ford Motor Company will have a spread of customized vehicles at the 2015 SEMA Show in Las Vegas, the mighty Mustang will surely be the most popular vehicle on display. In the past, the Mustang GT with a V8 engine has been the more prevalent model in the Ford display, but for the 2015 show, it looks like the Motor Company is putting more emphasis on the new turbocharged 4-cylinder EcoBoost model.
Last week, we looked at the first image and some information on one new Mustang EcoBoost coming to the SEMA Show with 900 horsepower and while the others don't have the same massive power output – these other four EcoBoost Mustangs might have more importance to owners, since the features of these vehicles are likely to be more common than a 900hp engine build.
Bojix Design Mustang EcoBoost Fastback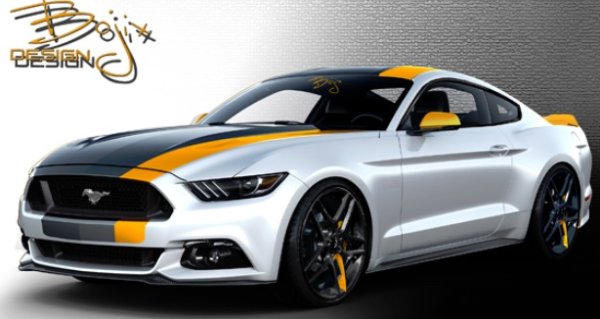 First up, we have this white, black and yellow Mustang EcoBoost fastback, courtesy of Bojix Design.
On the outside, this EcoBoost Mustang features a carbon fiber front splitter, rocker extensions, a rear fascia package and a carbon fiber splitter, along with 4.5 inch exhaust tips and 20 inch wheels that have been painted to match the unique paint scheme.
Inside, the Bojix Mustang adds custom floor mats, the Ford Performance GT350R rear seat delete package, custom painted dash, console and door panels, Recaro sport seats, lighted door sills and a massive Kicker Audio sound system.
Finally, this Mustang EcoBoost Fastback has a long list of performance modifications, and while we don't get any power figures – this pony car should pack far more than the 310 stock horsepower. Bojix has added an intercooler, charging pipe setup, an upgraded turbo, a new turbo downpipe and an intake setup to the 2.3L engine, along with a custom Magnaflow exhaust system. Next, a Cortex front and rear coilover suspension setup, adjustable front and rear sway bar end links, 3.73 rear gears, Eibach sway bars and a Brembo front and rear braking package help to ensure that this Mustang brakes and corners just as well as it accelerates.
DRAGG Mustang EcoBoost Fastback


This Ford Mustang EcoBoost Fastback has clearly been designed to look like a police car for the "Drag Racing Against Gangs and Graffiti" program – or DRAGG.
The performance of this Mustang EcoBoost has been improved a bit with a Vortech Engineering intercooler, a Borla cat-back exhaust system, and AIRAID cold air intake, a BAMA performance tuning package, an Air Lift performance air suspension setup from American Muscle, a Wilwood front and rear big brake setup and 20 inch wheels wrapped in Nitto Invo tires.
Since this is a car designed to catch the attention at racing events, it has been clad in the livery of every racers' biggest enemy – Johnny Law. This Mustang features a carbon fiber body kit and rear spoiler from Air Design USA, a custom push bar from the City of Oxnard (seriously!), a full police lighting package, new headlights, 3M police graphics and the "Thin Blue Line" stripe from JN Designs.
Ice 9 Mustang EcoBoost Mustang


If you were to glance at this new Ford Mustang EcoBoost fastback, you might mistake it for a new Shelby GT350R, with a custom widebody kit with help from the folks at RTR giving it a very similar look to that of the new GT350R. The front end of this Mustang and the rear spoiler appear to be nearly identical to the new Shelby Mustang, while the widebody kit and the huge 20 inch bright blue wheels wrapped in Nitto tires give this EcoBoost Mustang an even more aggressive stance than the GT350R.
Since Ice 9 wanted this Mustang to be more than just a looker, they performed a serious build-up of the 2.3L EcoBoost engine, adding a Garrett GTX3076% turbo, a Vortech front mount intercooler and blow-off valve, a TIAL wastegate, a Corza prototype exhaust system with Ice 9 exhaust tips and tuning help from COBB and Dead Hook Motorsports. The result of this build is a 4-cylinder mill that puts 475 horsepower to the ground and when coupled with the Air Lift performance suspension setup, the Watson Racing roll cage and some interior bits from the GT350R – this 4-cylinder Mustang is ready to tackle any road course.
TS Designs Mustang EcoBoost Convertible


Last and most certainly not least is the Ford Mustang EcoBoost Convertible by TS Designs.
This Mustang Convertible features a TS Designs widebody kit that makes room for the Forgiato 22 by 13 inch wheels out back, along with a striking black and red paint job that makes this one sexy looking Stang. To improve the handling, TS Designs added a Steeda stage 3 handling package along with Steeda front and rear lowering springs, front and rear sway bars, front and rear billet sway bar mounts and IRS subframe braces.
There is no power estimate on the TS Designs Mustang Convertible, but with a RaceTec intercooler, a K&N intake setup and a Maganflow exhaust system – this pony like packs more than the standard 310hp as well.