XPeng showed the prototype of its crossover during the Fall of 2016. Probably not many people believed that it would ever reach the assembly line. It's because the people who had started XPeng didn't have any slightest relation to the country's car industry. Moreover, apparently XPeng initially didn't intend to become an automaker. It's a big undertaking to get the documents ready, get a land, searching for investors and building an automobile plant. However, by the end of the year the first serial electric crossover XPeng Identity X will go to customers.
This was made possible by an agreement between XPeng and FAW Group Corporation that became interested in this crossover and will begin its production at the facilities of its subsidiary Haima. Thus, XPeng will give all the documentation to the partners, get the status of the automaker, but, as before, will not have its own automobile production. Such an approach, in the opinion of the Chinese, will become widespread in the future and will benefit both the car-building firms and the companies that are assembling them.
XPeng Identity X vs Tesla Model 3
XPeng plans to sell the Identity X only in China, at least for now. According to some reports and expectations Tesla Model 3 is expected to be available in China during the third quarter of 2018. XPeng Identity X will be launched at the end of 2017. Tesla Model 3 is expected to cost $45,000 in China, which is 10,000 dollars more expensive than in the United States because of the import tariffs. Yet, Identity X is expected to cost about $30,000.
But Tesla's plan to open a production plant in China may help some. Last yea Business Insider reported that "Tesla is opening a new factory to meet the massive demand for the Model 3, Jon McNeill, Tesla Motors' president of global sales, said in an interview with CCTV News." However, there are no reports of Tesla having a local partner in China. If the company is going to start from the scratch this means the production of Model 3 in China is at least 2-3 years away. I wonder if Tesla may have any Model 3 reservation holders from China.
If you look at Tesla Model 3 specs, it has 215 miles of range per full charge and goes from 0 to 60 mph under 6 seconds. Identity X has 186 miles per full charge (300 km more precisely) and goes from 0 to 60 mph under 7.9 seconds in 2WD mode and 5.8 seconds in 4WD mode.
Look at the Identity X's interior. Does it remind you of Tesla Model 3's single screen dashboard? Except that here you have two screens.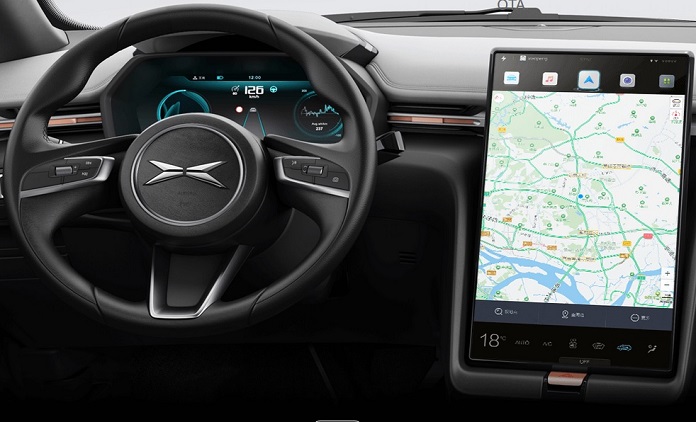 Also Identity X has another cool feature. It has a camera on its roof. While in many new US-made cars the cameras are built on the dashboard, XPeng has decided to put its cameras on the roof. Because of its suitable position it gives the HD camera a good angle for photography and video recording. I like the camera on the roof as it has better angle when you see a beautiful scenery than a camera on the dashboard.