The style of the 2023 Mercedes GLC 300 SUV, adopted by this 2nd intervention, is very continuous, with improvements in the interior and safety equipment, without fanfare in its design, and with cutting-edge engineering incorporated to compete with the current positioning of all "premium" brands.
In addition to the C-Class, the GLC has a very high likelihood of success for Daimler. On the outside, the SUV has grown noticeably with the third generation, there is more connectivity, but above all more comfort.
What's New in 2023?
The 2023 Mercedes-Benz GLC 300 is all-new for this year, and it's a significant improvement over the previous model. The new GLC is more stylish, more luxurious, and more technologically advanced. It also gets better fuel economy and offers more cargo space.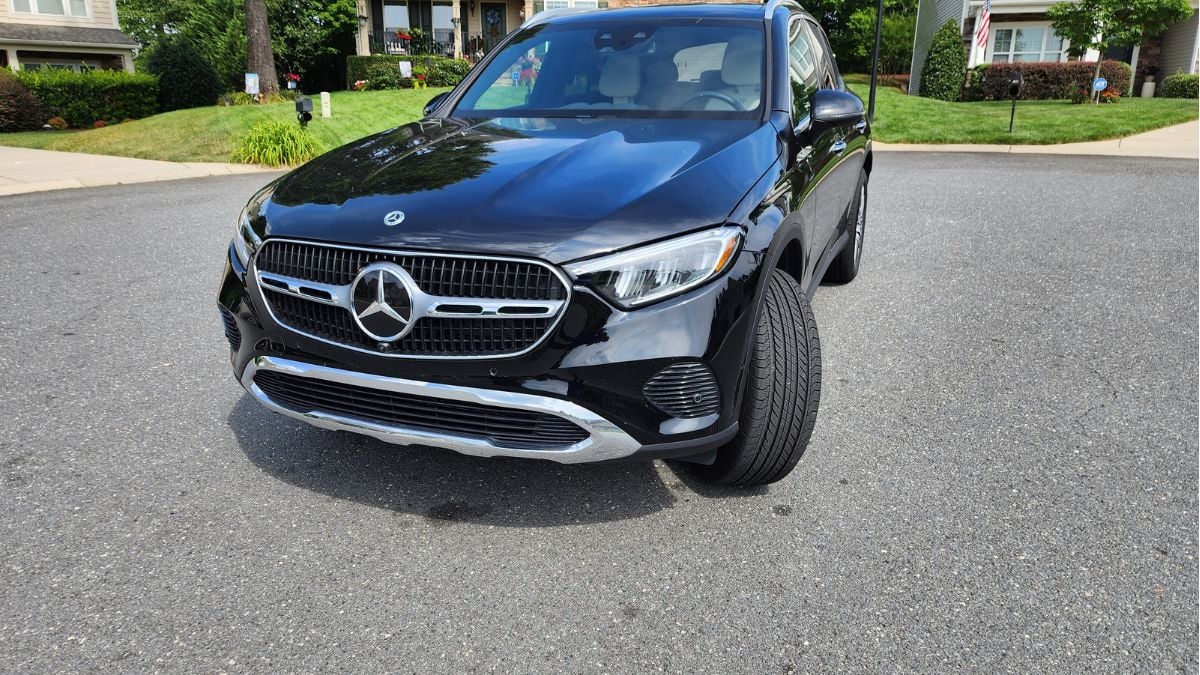 While the outgoing model was available in both a squareback and "coupe" body style, the updated version of the fastback model will be introduced in the 2024 model year.
2023 GLC 300 SUV's Trims and Pricing
The GLC 300 SUV is available in three trim levels: Premium, Exclusive, and Pinnacle. Each trim level offers its own set of features and upgrades to cater to different preferences and budgets. Here's an overview of the pricing for each trim:
Premium: Starting at $48,250
Exclusive: Starting at $50,500
Pinnacle: Starting at $52,600
When considering which trim to choose, I have seen at least one reviewer recommending going with the mid-range Exclusive trim. Despite a slightly higher price tag, it offers several additional features that make it worthwhile. These features include in-dash navigation, a 360-degree exterior camera system, a multi-colored interior ambient lighting system, and a premium Burmester stereo system.
Engine and Performance
The 2023 Mercedes-Benz GLC 300 is powered by a smooth-running turbocharged 2.0-liter four-cylinder engine that's augmented by a 48-volt hybrid system. This powertrain produces 255 horsepower and 295 pound-feet of torque, which is enough to propel the GLC from 0 to 60 mph in a respectable 5.6 seconds.
The GLC 300's engine is paired with a nine-speed automatic transmission that shifts smoothly and responsively. This nine-speed automatic transmission comes as standard, providing seamless and responsive shifts.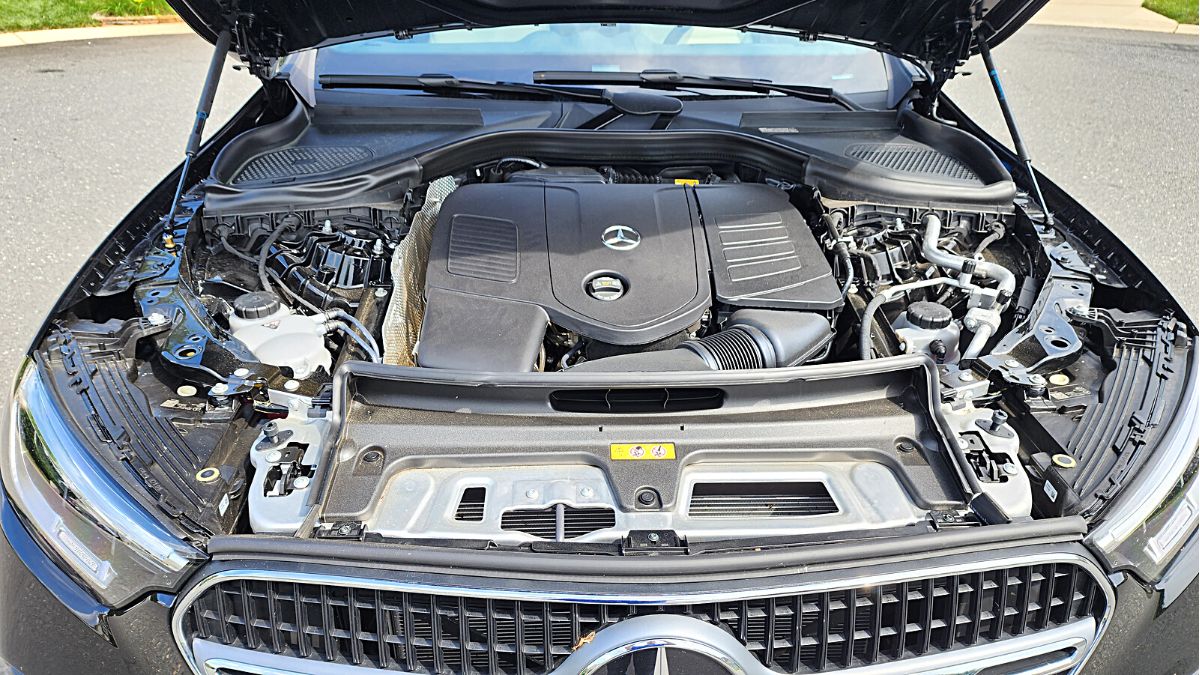 In terms of performance, the all-wheel drive GLC 300 variant we tested demonstrated impressive acceleration. While the GLC prioritizes a smooth and comfortable ride over sporty dynamics, it still handles corners with competence. I am not complaining about the steering and the GLC 300 remains composed when pushed through turns.
While it may not deliver the same level of engagement as some of its rivals, the GLC 300 ensures a comfortable and refined driving experience with a focus on luxury and isolation.
Fuel Economy
The 2023 Mercedes GLC 300 is EPA-rated to get 25 mpg in the city and 32 mpg on the highway. All-wheel drive reduces fuel economy by about 1 mpg.
These fuel economy estimates are based on the EPA's combined city/highway driving cycle. In real-world driving, you may get slightly better or worse fuel economy depending on your driving habits and the conditions.
For example, if you do a lot of city driving, you'll likely get closer to the 25 mpg city rating. If you do a lot of highway driving, you'll likely get closer to the 32 mpg highway rating.
The GLC 300's fuel economy is comparable to other luxury SUVs in its class. The BMW X3 is EPA-rated to get 24 mpg city and 32 mpg highway, and the Audi Q5 is EPA-rated to get 23 mpg city and 30 mpg highway.
Exterior Design
Aesthetically the generational change at GLC is significant. It has a new front stamp, with a polygonal grill, with a three-dimensional framework, with small stars in aluminum tone. This is complemented by LED lights and a bumper with piano black, aluminum appliqués and air inlets for the brakes.
Laterally, the appearance is robust and sporty, with wheel arches in the same color as the bodywork and matt black underbody. 
At the rear, the aesthetic renovation is obvious, with a new design in the LED taillights, with fog lights, joined with a glossy black appliqué. The bumper has fake air and exhaust vents, with a chrome-toned diffuser. Towards the roof there is a two-tone spoiler with integrated third Stop.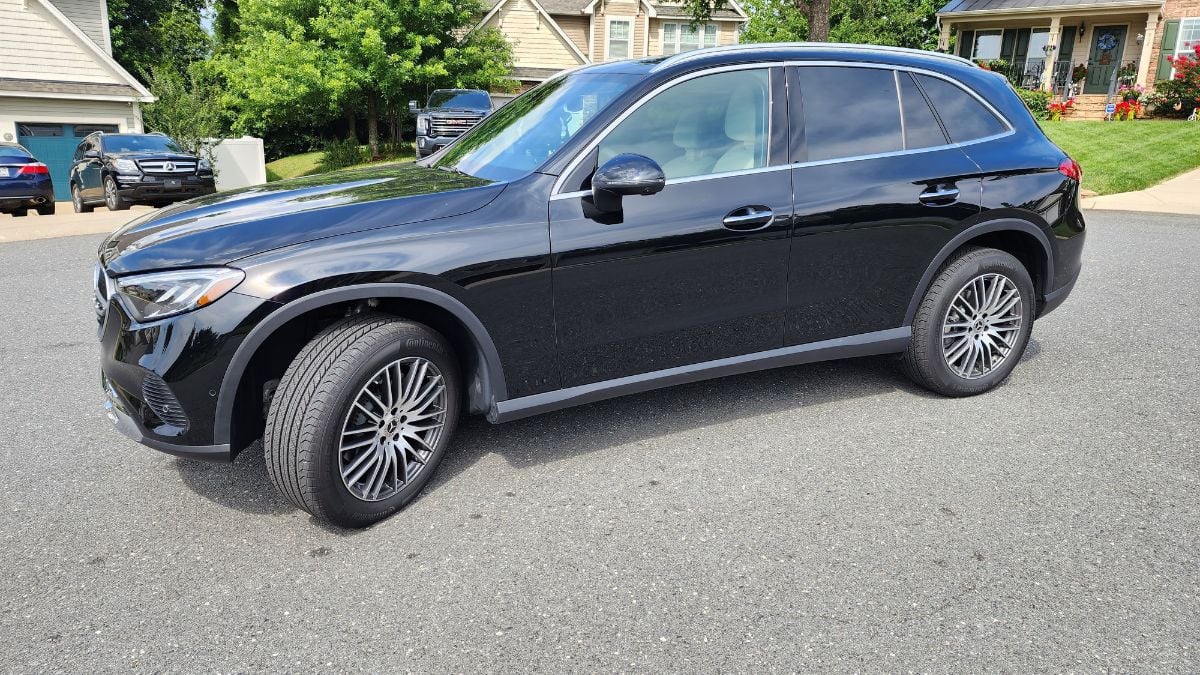 Compared to its predecessor, the body has grown by 2.36 inches to approximately 185.83 inches in length. This increase in size primarily benefits the trunk space, which has grown by 27.56 gallons to approximately 21.87 cubic feet. When the rear seat bench is folded down, the GLC 300 offers up to 57.87 cubic feet of storage space. The 259-horsepower GLC 300 can tow trailers with a braked maximum weight of up to 5,291 pounds.
Interior
Access to the cabin is easy and comfortable, with an element to improve is that since the vehicle is dirty in the lower parts, it is recurring to dirty the pants in this area, since the door does not reach the bottom. On the other hand, it has semi-electric adjustment of the front seats and manual adjustment of the steering wheel in height and depth.
Accessibility to the hands is good and intuitive, clearly, with a gear selector on the steering column. The steering wheel has haptic or tactile controls with sometimes sensitive and sometimes unresponsive operation for cruise control, multimedia and digital Cluster. Behind this are paddles for sequential mode.
Towards the front is a digital and adaptable Cluster on a 12.3″ display. There is information on assistance, vehicle status, routes, multimedia, and measurement of the direction of the wheels. A Head-Up Display is missed.
The 2023 GLC 300 SUV offers a modern and advanced infotainment and connectivity system, mirroring the features found in the new C-class sedan. At the heart of the system is Mercedes-Benz's latest MBUX (Mercedes-Benz User Experience) setup. The driver is greeted by a 12.3-inch digital gauge display, which provides important mechanical and speed information in a clear and visually appealing manner.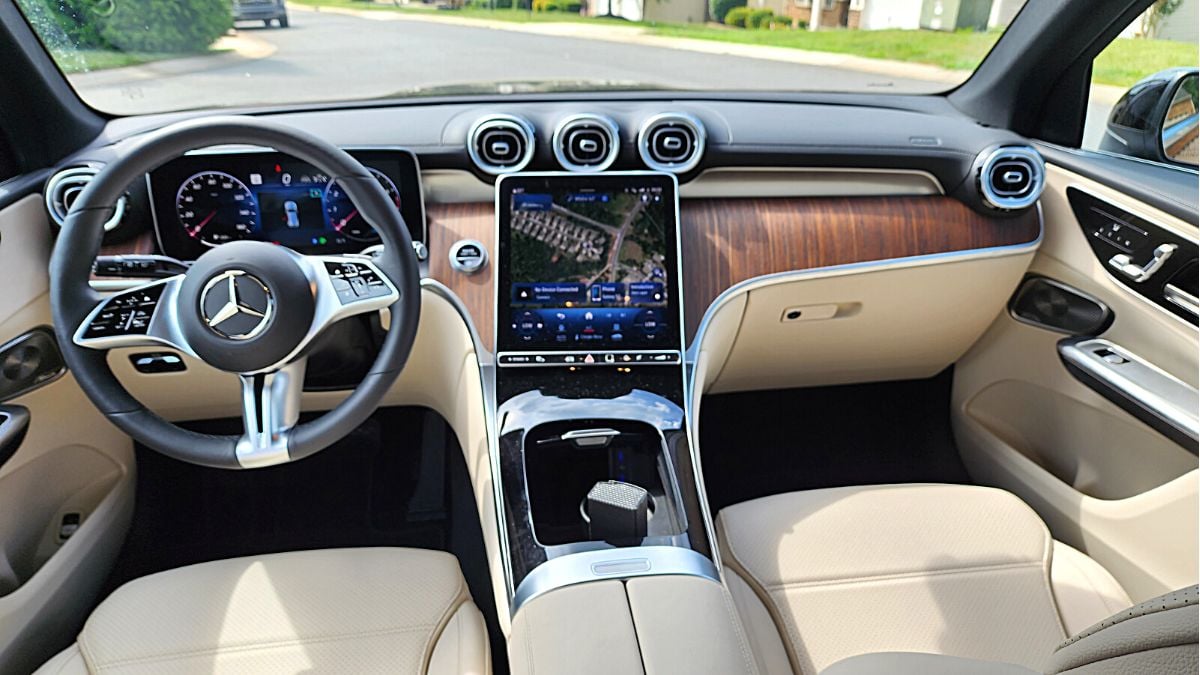 The centerpiece of the infotainment system is the 11.9-inch touchscreen, elegantly rising from the center console and slightly tilted towards the driver for easy reach and visibility. This intuitive system supports voice commands, allowing drivers to control various functions without taking their hands off the steering wheel. Additionally, the GLC 300 comes standard with wireless Apple CarPlay and Android Auto, enabling seamless integration with your smartphone for music streaming, messaging, and navigation.
While the base setup is impressive, there are optional features that enhance the infotainment experience even further. One notable option is the in-dash navigation system, which includes an augmented reality feature. This feature overlays directions on the display using an image of the road ahead, making it easier for drivers to follow instructions and navigate their surroundings. Other optional features include a head-up display, projecting key information onto the windshield, and a premium Burmester stereo system, ensuring a top-notch audio experience.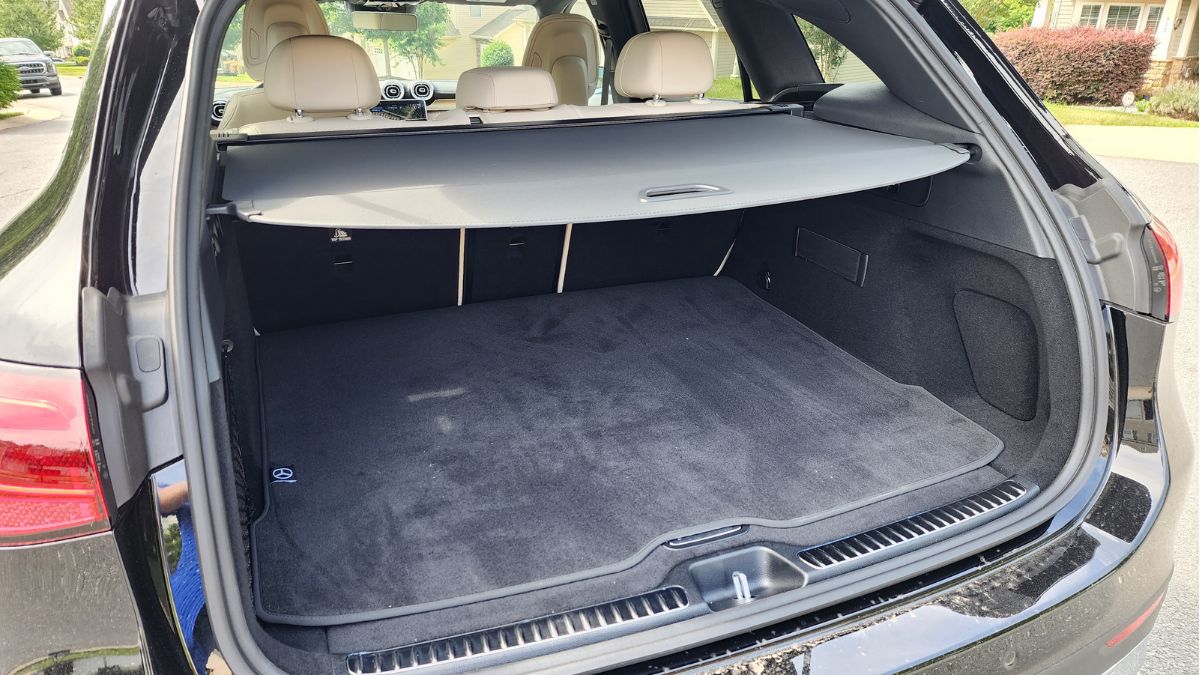 It's important to note that the GLC 300's infotainment system relies solely on the touchscreen for controlling the HVAC system and audio volume. The absence of physical buttons and knobs for these functions may be perceived as a step backward in terms of user-friendliness. However, the system's overall functionality and advanced features compensate for this minor drawback, delivering a connected and immersive driving experience.
The Drive
The driving experience is well balanced. When it comes to steering, there is nothing to complain about either. The GLC quickly and precisely follows the maneuvers on the thickly foamed valance, and anyone who has previously activated the dynamic mode only reaps subtle rolling movements.
Comfort and connectivity are more than ever the focus of the Mercedes GLC.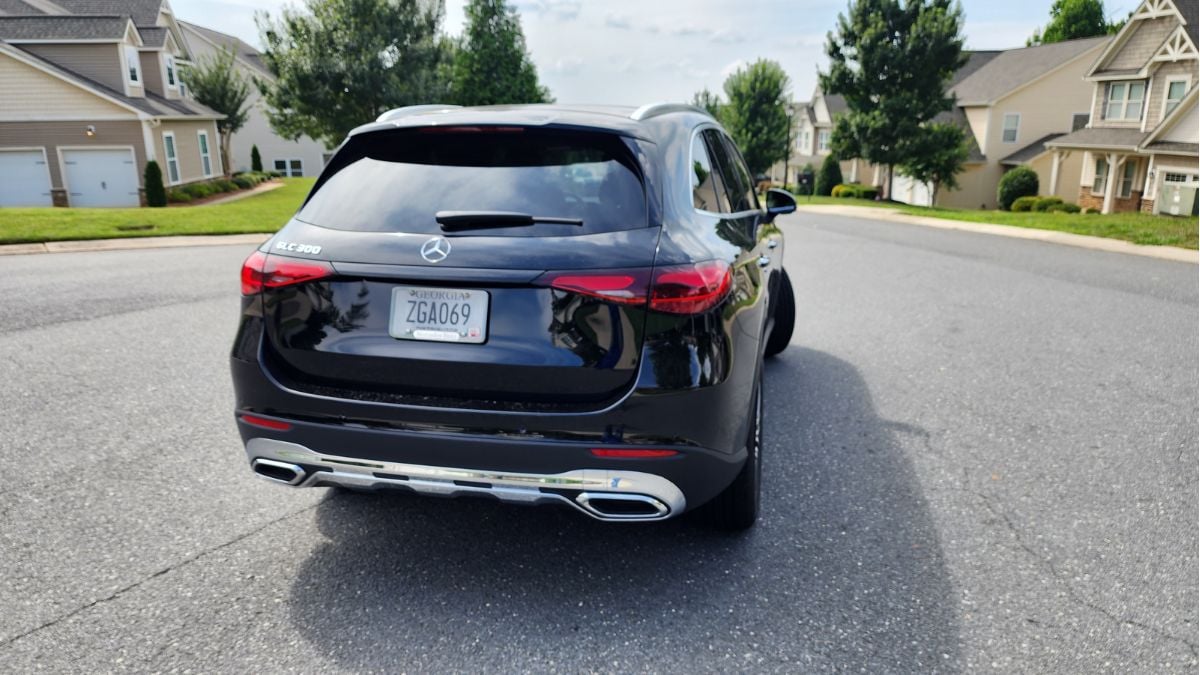 The GLC's road manners are more focused on smoothness and isolation than athleticism. The steering lacks feel, but the suspension does a good job of soaking up bumps and providing a comfortable ride. The GLC is also reasonably agile for its size, and it can handle corners with confidence. However, it's not as engaging to drive as some of its rivals, such as the BMW X3 or the Audi Q5.
In conclusion of this review, I would say that the 2023 GLC 300 is a well-rounded luxury SUV that offers a good balance of performance, comfort, and refinement. It's not the most engaging SUV to drive, but it's a comfortable and luxurious way to get around.
Armen Hareyan is the founder and the Editor in Chief of Torque News. He founded TorqueNews.com in 2010, which since then has been publishing expert news and analysis about the automotive industry. He can be reached at Torque News Twitter, Facebok, Linkedin and Youtube.
Reference: AutoScout24, ElCarroColombiano, Car and Driver.