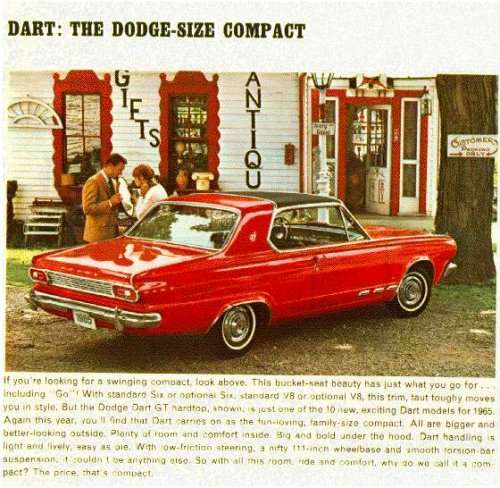 1965 Dodge Dart advertisement (half page)
Another typical advertisement for the 1965 Dodge Dart, again for a 2-door coupe. This ad reads:
If you're looking for a swinging compact, look above. This bucket-seat beauty has just what you go for . . . including "Go"! With standard Six or optional Six, standard V8 or optional V8, this trim, taut toughy moves you in style. But the Dodge Dart GT hardtop, shown, is just one of the 10 new, exciting Dart models for 1965. Again this year, you'll find that Dart carries on as the fun-loving, family-size compact. All are bigger and better-looking outside. Plenty of room and comfort inside. Big and bold under the hood. Dart handling is light and lively, easy as pie. With low-friction steering, a nifty 111-inch wheelbase and smooth torsion-bar suspension, it couldn't be anything else. So with all this room, ride and comfort, why do we call it a compact? The price, that's compact.
Find out more about this game-changing car in Looking Forward to the Past in a Dodge Dart.