I recently read through some of the comments left by readers. I had to laugh a little when someone called me a Fanboy. The thing is, I totally am, and for a good reason. The Toyota Prius has completely upset the automotive industry. Ever since the first generation rolled into our lives, others have done well in following but there has always been a leader.
I want to explore a couple reasons why the Prius AWD-e is still leading the class in the pursuit of hybrid systems. Toyota recently introduced to the family line up the stellar and sleek all wheel drive version of the already popular Prius.
What makes this Prius unlike any other all wheel drive vehicle is that it does what others dream of doing. It has a completely independent rear differential that allows the vehicle to have AWD capabilities but without the power and fuel robbing components.
Here are a few neat features that have changed not only the way Prius looks and feels but also why it is helping the owners think differently about how they use fuel.
Toyota Prius Eco Score
The Eco Score is a number out of 100 you will see in the 2019 Toyota Prius and other hybrid models. This means that Prius and Prius Prime, and soon to be, Corolla Hybrid will all have this feature.
For the AWD-e, Toyota calls this the Hybrid system indicator. It shows current battery charge and the typical regen braking meter, which shows driving on electric mode and and gas powered driving. This, while not a new feature, has been around since 1997 back on the first Prius. It is something people are familiar with and other car makers have tried so hard to duplicate. The way that this is all broken down in the AWD-e is figured out by three different data points being Stop, Start, and Cruise.
AWD-e Technology Aids You In Driving Better
The algorithm that determines how efficient your driving is actually helps you become conditioned to a more linear, smooth acceleration and deceleration. It teaches you to think about when you do and do not need to punch the throttle hard. Overall, this Prius really helps you understand what your driving habits were and how you can better them for the ultimate fuel economy experience.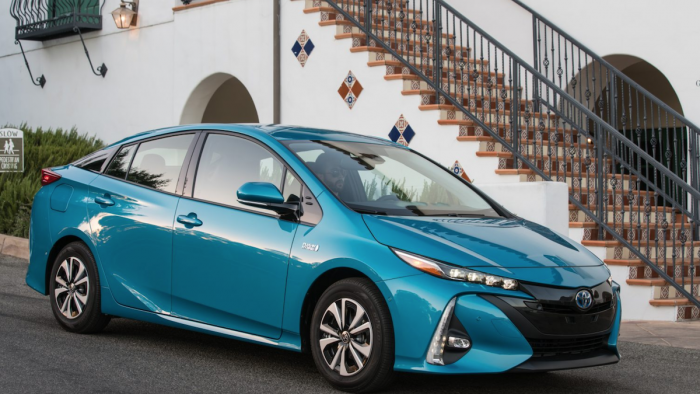 The score you start out with can change as you drive. You always start out with 100 and while it is possible to increase that score but once you have dipped down below the 100 you can only hit a maximum of 99 even when driving solely on the battery.
This really is like playing a live video game. I know for me when I am driving my 07' gen 2, I am always looking at how to improve my MPG. This score systems just takes it to a whole new level.
Conclusion
Toyota, in my fanboy opinion, still has the best hybrid. I have driven many other cars and while they are good, those care makers have the Prius to thank for getting them the results they have so far. Prius is the leader when it comes to hybrid technology and continues to make the improvements that enhance the end users experience.
I hope that you have enjoyed reading about new Prius Technology. Check out my other story 3 Top Tire Brands You Should Consider For Your Toyota Prius to find even more ways to make that fuel sipper go the extra mile.
See you in the next story where I am discussing why the Toyota Prius AWD-e is the best one yet.
Also Watch New tech means more MPG from your Toyota Prius and Click to Subscribe to Torque News Youtube Channel for Daily Toyota Prius and Automotive News.
Peter Neilson is an automotive consultant specializing in electric cars and hybrid battery technologies. He is an automotive technology instructor at Columbia Basin College. He holds a Bachelor of Science in Automotive Service Technology from Weber State University. Peter can be reached on Linkedin and at Certified Consulting