Dodge's sixth 'Last Call' special-edition screams "sinister". The 2023 Dodge Challenger Black Ghost is a throwback to a 1970 Challenger RT that haunted Detroit's Woodward Avenue back in the 1970's. Only 300 of the 2023 Challenger Black Ghost 'Last Call' models will be produced. 2023 Dodge Challenger Black Ghost boosts Challenger SRT Hellcat Redeye Widebody to 807 horsepower, nearly double the original "Black Ghost's" horsepower.
"There are so many legendary muscle cars in Dodge brand history, it was hard to choose the seven vehicles we wanted to pay homage to with our Last Call lineup, but the Black Ghost was an easy pick," said Tim Kuniskis, Dodge brand chief executive officer – Stellantis. "The 2023 Dodge Challenger Black Ghost is the prelude to what we're going to unveil with our seventh and final special-edition model."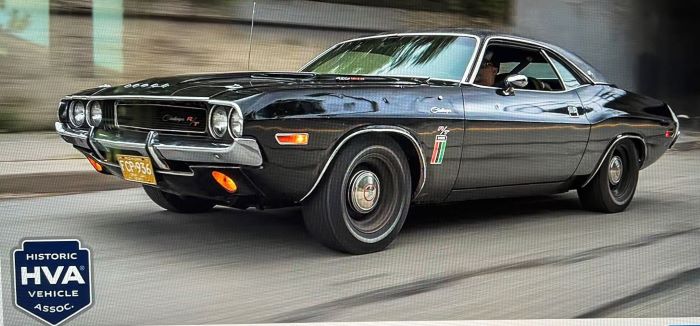 The 1970 'Black Ghost' Challenger RT
The original Black Ghost was a black 1970 Dodge Challenger RT SE (special edition) owned by Godfrey "Dennis" Qualls that was periodically seen on Woodward Avenue in the 1970s. Qualls' 1970 Challenger earned a legendary reputation for flexing its 426 HEMI-powered muscle on Woodward and then driving off mysteriously into the night, not to be seen again for months. Turns out that Qualls was a Detroit police officer and had to be careful to not get caught racing. Not simply a local legend, in 2020, Qualls' vehicle earned a spot on the National Historic Vehicle Register. The 'Black Ghost' is still owned by the Qualls family. There are several videos about the original 'Black Ghost' on the Hagerty Drivers Foundation website.
2023 Dodge Challenger Black Ghost Special Edition Features:
Matches the original in all respects including the black "gator skin" roof vinyl graphics
Challenger script badges and white tail graphics
Challenger grille script, fender and spoiler badges
Midnight Metallic SRT grille badge, along with white rear fender graphics
Black Ghost instrument panel badge
Alcantara steering wheel with red SRT logo
20-by-11-inch Satin Carbon Warp Speed wheels

'Last Call' Dodge Special-Editions
The 2023 Dodge Challenger Black Ghost is the sixth of seven special-edition Dodge 'Last Call' models, following the previously announced Dodge Challenger Shakedown, Dodge Charger Super Bee, Dodge Challenger and Charger Scat Pack Swinger, and Dodge Charger King Daytona models. The 'Last Call' models celebrate the Dodge Challenger and Dodge Charger, which will end production with the 2023 models.
The seventh and final 2023 special-edition model will be revealed at the 2022 SEMA Show in Las Vegas, scheduled for Nov. 1-4, 2022.
The 2023 Dodge Challenger Black Ghost, as with all seven of the 'Last Call' special-edition models, will be allocated to specific dealerships, with pricing and dealer information shared on DodgeGarage.com when vehicle ordering opens later this fall.
Details and specific information on all of the Dodge 'Last Call' models available at Dodge.com.
Dodge and Hagerty Drivers Foundation Photos

Mary Conway is a professional automotive journalist and has decades of experience specializing in automotive news analysis. She covered the Detroit Three for more than twenty years for the ABC affiliate, in Detroit. Her affection for the Motor City comes naturally. Her father ran a gas station while Mary was growing up, in Wisconsin.
Follow Mary Conway at @maryconwaymedia and send her car news tips for future stories.