Dodge calls this week before the Woodward Dream Cruise, in the Detroit area, Speed Week. This year, Dodge is filling the week with big announcements about the future of its popular muscle cars and what Dodge fans can expect going forward. Dodge has big plans for its last internal combustion engine 2023 Challengers and Chargers and wants everyone to know they will receive a celebrated farewell.
"We are celebrating the end of an era — and the start of a bright new electrified future — by staying true to our brand," said Tim Kuniskis, Dodge brand chief executive officer – Stellantis. "At Dodge, we never lift, and the brand will mark the last of our iconic Charger and Challenger nameplates in their current form in the same way that got us here, with a passion both for our products and our enthusiasts that drives us to create as much uniqueness in the muscle car community and marketplace as possible."
Dodge is calling this phase "Last Call" for the Dodge Challenger and Chargers. The brand will mark the last year of production by bringing back Heritage Colors for the 2023 model year. All of the 2023 vehicles will have commemorative plaques under the hood. There will be even more special Jailbreak editions and Dodge is going to change the way that buyers can get their commemorative vehicles.
During a video conference discussing the end of the ICE models and conversion to electric vehicles, Kuniskis told reporters, "We are looking at a cliff, we have to walk people down the path." Dodge is intent on assuring fans that muscle cars will continue in an electrified form.
2023 Dodge Challenger and Charger Heritage Models

Dodge isn't showing the special models just yet but says six of them will pay tribute to some of the most iconic models in the history of the brand. Most car enthusiasts are aware of the brand's storied past. The Woodward Dream Cruise honors the muscle cars that reigned supreme on the boulevard back in the 60's and 70's. Engineers for the auto companies often came out to Woodward to test and race new engines late at night. The stoplights on Woodward, from 12 Mile to 15 Mile, were placed at perfect quarter-mile increments. The Dodge and Plymouth models, with their huge HEMI engines, were almost impossible to beat.
Details and specific information on six of the vehicles will be released later this year. The new models will be offered on a first-come, first-serve basis at top-selling Dodge dealerships, throughout the country. The list of dealerships and what cars they will be allotted will be shared on DodgeGarage.com. Dodge says this should help customers identify vehicles efficiently and easily for purchase.
The seventh and final 2023 Dodge model will be the very last of its kind and will be revealed at the 2022 Specialty Equipment Market Association (SEMA) Show in Las Vegas, scheduled for Nov. 1-4, 2022.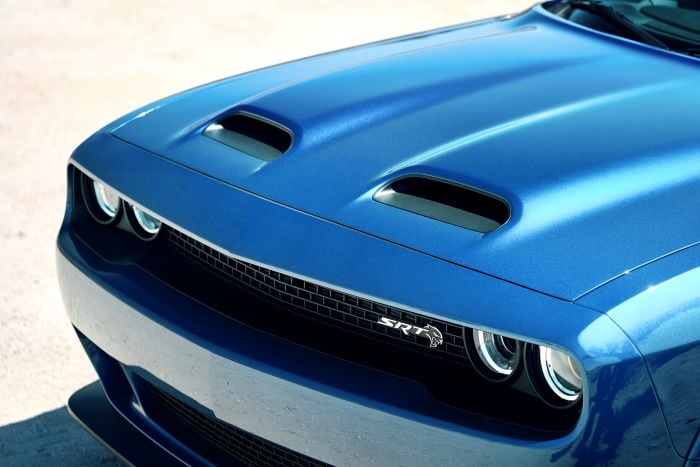 Heritage Colors are Being Brought Back
Heritage exterior colors B5 Blue, Plum Crazy purple and Sublime green are returning. There will also be a new color called Destroyer Grey.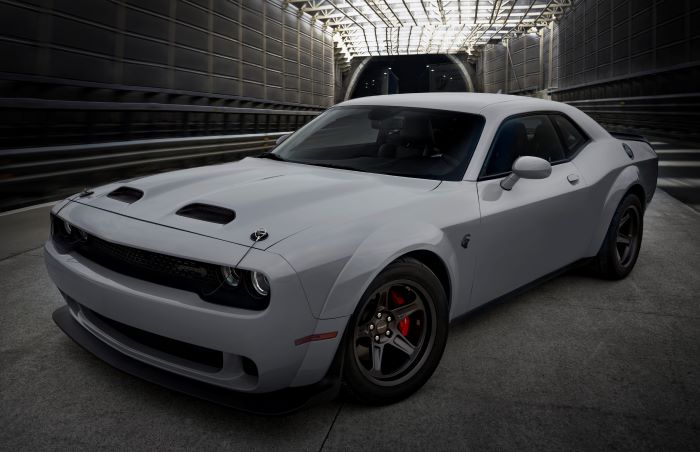 Popular SRT Jailbreak models expand for 2023 to include 717-horsepower Dodge Charger and Challenger SRT Hellcat.
Special Badging and Plaques
2023 Charger and Challenger R/T models will also feature new "345" fender badging, a callout to the 345-cubic-inch HEMI engine under the hood.
All 2023 Dodge Charger and Challenger models will also carry a special commemorative "Last Call" underhood plaque, making every 2023 Charger and Challenger a true collector's vehicle. The brushed aluminum underhood "Last Call" plaque features the vehicle name and a vehicle silhouette, as well as "Designed in Auburn Hills" and "Assembled in Brampton" to proclaim each vehicle's origin.
Since the modern-day Charger was launched in 2005, the Brampton (Ontario, Canada) Assembly Plant has built 3 million Dodge vehicles, representing a billion horsepower.
Ordering and pricing information for the 2023 Dodge Charger and Challenger will be announced closer to the on-sale date.
For complete information on Dodge and the brand's Never Lift plan, which provides a 24-month road map to Dodge's performance future, visit Dodge.com and DodgeGarage.com.
Look for more stories throughout this week on Dodge's big announcements.
Dodge Photos
Mary Conway is a professional automotive journalist and has decades of experience specializing in automotive news analysis. She covered the Detroit Three for more than twenty years for the ABC affiliate, in Detroit. Her affection for the Motor City comes naturally. Her father ran a gas station while Mary was growing up, in Wisconsin.
Follow Mary Conway at @maryconwaymedia and send her car news tips for future stories.