The 2025 Ram 1500 REV EV truck was revealed at the New York International Auto Show. Ram leaders say the truck will be available will 500 miles of range and be able to tow up to 14,000 pounds. The all-new truck will be able haul a payload of up to 2,700 pounds and be able to add 110 miles of range in just ten minutes. Ram is also promising another model called the Ram 1500 REV XR will be available later with what it is calling "class-shattering range".
2025 Ram 1500 REV
The all-new pickup has other impressive numbers. The truck is expected to have a 0-60 mph time of 4.4 seconds, 654 horsepower and 620 lb.-ft. of torque. It should have up to 24 inches of water fording, good news for all of the potential off-roaders.
2025 Ram 1500 REV to Have Advanced Technology

The driver of the 2025 Ram 1500 REV will have a new 14.5-inch touchscreen to control the Uconnect 5 system. The passenger will have a segment-first 10.25-inch touchscreen. The driver will also have a digital rearview mirror and Head-up Display (HUD).
The Ram app will enable customers to use their Smartphone as a Key to access and start the vehicle without their phone leaving their pocket. Ram owners can also create digital keys that can be shared with other smartphones, with full control over the access. The card key is a backup that can be used in case the phone battery is dead or if the driver doesn't have their phone with them. A traditional key fob is standard, but the smartphone and card key options give customers more flexibility in terms of how they access their trucks, especially on the job.
The front trunk or frunk will be power-controlled and offer best-in-class 15 cu.-ft. of storage.
The tailgate will also be available as power-controlled.
All-electric, zero-emission Ram 1500 REV to be offered in two choices:
Standard 168-kilowatt-hour (kWh) battery pack with a targeted range of up to 350 miles.
Optional 229-kWh large battery pack with a targeted range of up to an unsurpassed 500 miles.
"The all-electric Ram 1500 REV is a monumental milestone on our continued journey to offer the industry's best electrified solutions and further fortifies our award-winning lineup," said Mike Koval Jr., Ram brand CEO – Stellantis. "We believe in bringing the right range of powertrain solutions to our customers and will continue to redefine the pickup truck segment. Our all-new Ram 1500 REV pushes past the competition in areas customers care about most, including range, towing, payload and charge time."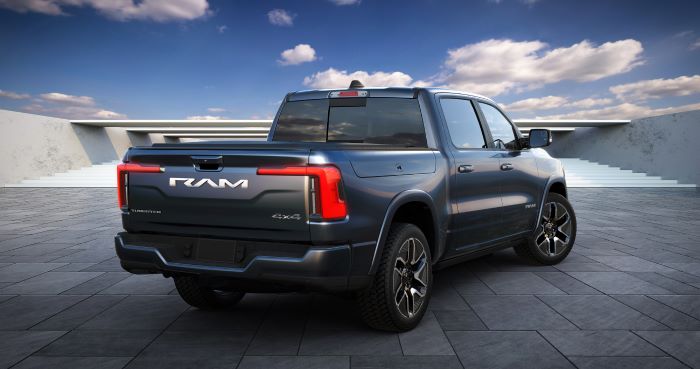 The 2025 Ram 1500 REV is Built to Serve or Help
Vehicle-to-vehicle, vehicle-to-home and vehicle-to-grid bi-directional charging affords the Ram 1500 REV the flexibility to charge another Stellantis battery-electric vehicle or provide power back to the grid. The truck can also send power to a home during a storm, run the tailgate party or provide power at the camp or jobsite. An onboard power panel in the bed can provide up to 7.2 kW while an available onboard power panel in the front trunk (frunk) provides up to 3.6 kW.
The charge port is placed on the driver's side front quarter panel and, when plugged in, is illuminated by blinking premium LED lighting. An audible sound signals the Ram 1500 REV is plugged in and charging has begun. The charge port features Level 1 and Level 2 AC charging on the top half and DC fast charging on the bottom half of the charger.
The new 2025 Ram 1500 REV offers the best lockable bed storage in the segment with the unique and convenient RamBox featuring a 115-volt outlet. RamBox is illuminated, weatherproof, lockable and includes drain plugs on the bottom of the storage bins.
The 2025 Ram 1500 REV is available in five trims, including Tradesman, Big Horn/Lone Star, Laramie, Limited and, introducing an all-new trim, Tungsten.
Ram says it has opened up preorders and reservations again at RamREV.com.
Ram is not saying at this point how much the 2025 Ram REV will cost or where it will be built. It is expected to be built in the U.S. so that buyers can take advantage of EV rebates. It is expected to go into production in late 2024 as a 2025 model.
Ram Photos

Mary Conway is a professional automotive journalist and has decades of experience specializing in automotive news analysis. She covered the Detroit Three for more than twenty years for the ABC affiliate, in Detroit. Her affection for the Motor City comes naturally. Her father ran a gas station while Mary was growing up, in Wisconsin.
Follow Mary Conway at @maryconwaymedia and send her car news tips for future stories.