If you are even slightly a sports car fan then you surely know that the E-Type Jaguars of the 60's were (and still are) the most beloved and sought after cars in the world. So the thoughts of having an opportunity to build the final six of the famous All-Aluminum E-Type Coupes would make most Jaguar fans lose sleep. These original cars were factory built for European racing and rally events in 1963 and '64.
Eleven of the original twelve Lightweights still exist, however the demand with collectors was higher than could be supplied. The remaining six chassis numbers were still on the books but were never filled with production; but a business opportunity by Jaguars' Heritage Group led to making the project happen. This was the first continuation project by Jaguar which just so happened to come on the 50 year anniversary of the Lightweight E-Type cars.
Using laser scanning and original blueprints, all six of these new modern E-Types were built to the original specifications, including the same 3.8 liter, aluminum block engine with 340 horsepower. The lightweight build materials and aluminum engine block made the original cars idea for race applications.
Jaguar honored the past and continued the legend with a two- year labor of love that completed the story of a very special car project. Head of Jaguar design said "I believe the result is a new Lightweight E-Type that is as stunning as the originals would have been when they were new."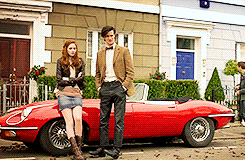 The first prototype car was unveiled at the 2014 Pebble Beach Classic car show; however all of the newly built "missing six" have already been sold. Cost of these new/old E-Types is estimated to be over $1.6 million. Jaguar said they would give preference to "established Jaguar collectors" and if chosen, could choose some color and trim levels.
Enjoy the short video description of the project from Bloomberg News: