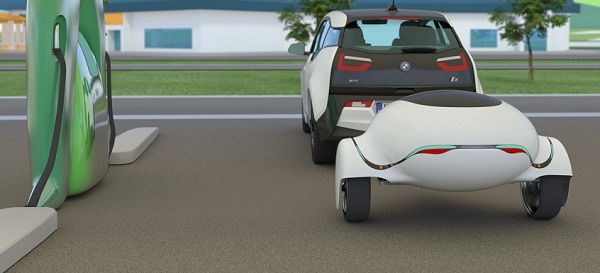 An intriguing cure for range anxiety allows any EV to take a road trip
Please
SHARE
with friends and include TorqueNews in
Google Alerts
for tomorrow's interesting stories.
The three most common cures for range anxiety are as follows: a larger and more expensive battery (Tesla), a backup gasoline engine (Chevrolet Volt, etc.), and well-developed charging infrastructure (Nissan, Tesla). Is it time to make way for a fourth remedy for this troublesome ailment?
The German firm ebuggy is developing what amounts to a battery on wheels; a trailer packing 85 kWh of energy that can add 300 miles of range to support long drives in otherwise range-limited electric vehicles (via Ecomento). Their newest concept is still in the rendering stages but the advantages and disadvantages are already clear.
A backup battery that is used only when needed is in theory an ideal answer to one of the greatest shortcomings of battery electric vehicles: most have limited range and therefore are not suited for long drives, restricting them to daily commutes and rendering them impractical unless a second vehicle is in the garage. If a BMW i3 can pick up a battery trailer on the weekend for the trip to visit relatives in the next state, it instantly becomes viable for many more potential buyers.
Please include TorqueNews in
Google Alerts
to receive tomorrow's stories and
SHARE
this with friends if it was interesting.
The first problem with the ebuggy is the cost and ownership model. This concept in a way recalls memories of now-defunct Better Place; the best way to make it work would be to have roadside "stations" in cities and along major highways where a driver could pick up a trailer, hitch it to his vehicle, and hit the road until the backup battery ran out and it was time to swap it for a fresh one.
It would be difficult for the company to make a profit on such an expensive product (an 85 kWh battery at the moment costs at least $20,000) until the concept and the EV industry gained significant momentum, though the company could charge steep fees for use of the ebuggy. Presumably an electric vehicle owner will only occasionally make long trips necessitating the range-extending trailer, so they won't mind paying a few extra for their highway miles.
Pages
Please
SHARE
with friends and include TorqueNews in
Google Alerts
for tomorrow's interesting stories.