Lucid Motors Hit With Class-Action Lawsuit
Lucid has another headache to contend with in the form of a class-action lawsuit which seeks to recover investment funds lost since its initial public offering on July 26th 2021. LCID debuted with share values in the mid-$20 range and climbed to the mid-50s thanks to glowing reviews, record-setting technology, and the investor hype that surrounds disruptive products like the Lucid Air. Values have since been eroded by delays due to parts shortages, sell-offs, and the announcement that Lucid would miss its goal of 20,000 Air deliveries in 2022 by some 6000 vehicles. LCID sits at $19.55 as of market close today.
The suit is being led by Levi & Korsinsky, LLP, a New York law firm which specializes in class-action securities lawsuits. It was announced on April 14th and investors have until May 31st 2022 to decide whether they want to join the suit.
From the Levi & Korsinsky press release:
"The lawsuit seeks to recover losses on behalf of Lucid investors who were adversely affected by alleged securities fraud. This lawsuit is on behalf of a class of all persons and entities who purchased or otherwise acquired Lucid common stock between November 15, 2021, and February 28, 2022, inclusive."
As we know, the SEC is investigating whether or not Lucid knowingly mislead investors regarding its production capacity and other pertinent factors around the time of the IPO. How heavily the lawsuit's outcome rests on the results of the investigation remains to be seen, but it would be much harder for the lawyers to make a case for damages should the SEC find no wrongdoing occurred.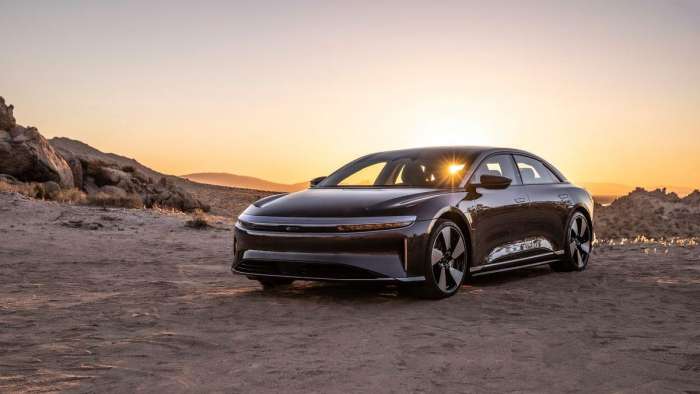 Lucid recently announced a Performance version of the Air Grand Touring with 1050 horsepower on tap.
Again, from the press release:
"The filed complaint alleges that defendants made materially false and/or misleading statements and failed to disclose material adverse facts about Lucid's business and operations. Specifically, the Company overstated its production capabilities while concealing that "extraordinary supply chain and logistics challenges" were hampering Lucid's operations. As a result of the defendants' wrongful acts and omissions, and the significant decline in the market value of Lucid's common stock, Lucid investors have suffered significant damages."
The Sky's Not Falling
Class-action lawsuits like this one are a fairly common occurrence in the automotive world. Google any car company + class-action suit and you'll see that this is something that happens to every auto manufacturer from time to time. It would certainly be a setback for Lucid to be found culpable in the suit but the fact remains that this disruptive company has the product to back up its marketing efforts. We'll just have to wait and see how this, and the SEC investigation, plays out for the Californian car maker.
Related: BMW Unveils The First All-Electric 7 Series
Images by Lucid Motors licensed by CC BY 2.0.
James Walker is an Automotive Journalist at Torque News focusing on Lucid Motors. If it's got wheels he's interested, and he's looking forward to seeing what kind of cars the EV revolution brings us. Whether it's fast, slow, new, or old, James wants to have a look around it and share it in print and on video, ideally with some twisty roads involved. You can connect with James on Twitter, Instagram, and LinkedIn.