Lucid Air In Three-Way Tie For Best EV At MotorWeek Driver's Choice Awards 2022
MotorWeek is one of the nation's longest running and most respected automotive outlets on television. From its founding in 1981 the show has tested thousands of cars and trucks around its private track and out on the road in the real world. MotorWeek's annual Drivers' Choice Awards have been handed out since 1983, judging competitors on price, practicality, performance, and fuel efficiency.
MotorWeek has named the Lucid Air as Best EV for 2022, though it's an honor shared with two other electric vehicles. All three serve entirely different market segments, and I believe that the three-way tie is a result of the Drivers' Choice Awards not having enough EV categories. That'll change in the future, but this year the Lucid Air shares its trophy with the (now more expensive) Rivian R1T and the Volkswagen ID.4.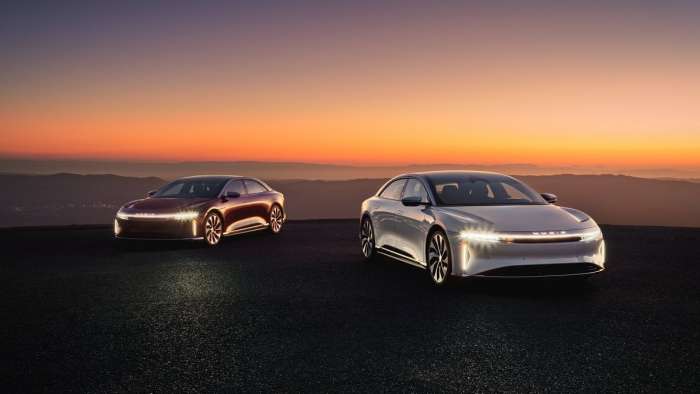 Lucid Air Dream Edition
Like many of the awards bodies that have praised the Lucid Air recently, MotorWeek's judges were highly impressed by the Dream Edition Performance's horsepower figure, 0-60 mph time, and near-500 mile range. The Range version of the Dream Edition also received a mention, with the judges stating:

"If that's not enough to dispel your range anxiety, a Range version pushes it to 520-miles, though operates with "only" 933-horsepower."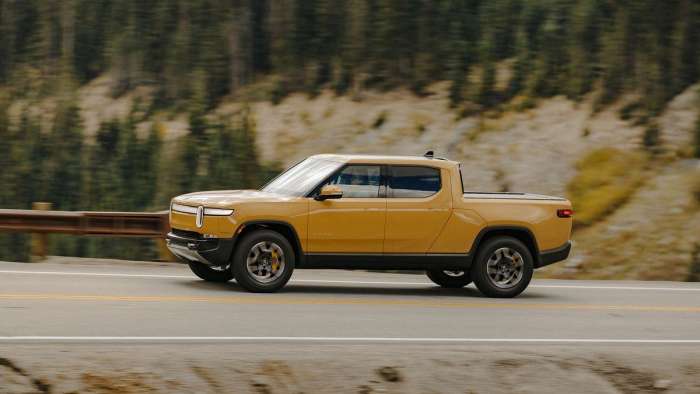 Rivian R1T
MotorWeek hailed the Rivian R1T as a breakthrough vehicle because of its ability to "offer what pickup people really need." That means towing (11,000 lbs. capacity, around the same as top-of-the-line light-duty trucks from Detroit's Big Three), the ability to traverse difficult off-road trails, and up to 314 miles of range. Interestingly, the judges also praised the R1T for feeling like a sport sedan on twisty roads. I'm not aware of any sport sedans that weigh nearly 8000 lbs., though with much of that weight down low and instant electric torque on tap they may be onto something.
Volkswagen ID.4
A normal, everyday electric SUV to the Lucid's powerful luxury and the Rivian's spirit of electric adventure, the ID.4 shares in the EV honors because of just how much it resembles the small SUVs that buyers are already familiar with. MotorWeek's judges say that the first vehicle born from VW's ID sub-brand could be all the SUV you ever need, available in rear- or all-wheel drive and capable of up to 260 miles of range. Most importantly of all, it drives and is priced like run-of-the-mill gas SUVS. The Lucids and Rivians of the world may grab most of the headlines, but it's everyday vehicles like the ID.4 that will make up much of the buyer migration from gas to EV.
Here's a list of all the other Drivers' Choice Awards winners:
Best Family Sedan: Honda Civic
Best Luxury Sedan: Mercedes-Benz S-Class
Best Sports Sedan: Cadillac CT4-V and CT5-V Blackwings
Best Sport Coupe: Toyota GR86/Subaru BRZ
Best Performance Car: Porsche 718
Best Small Utility: Volkswagen Taos
Best Midsize Utility: Nissan Pathfinder
Best Large Utility: Jeep Grand Cherokee L
Best Luxury Utility: Genesis GV80
Best Compact Pickup: Ford Maverick
Best Midsize Pickup: Nissan Frontier
Best Full-Size Pickup: Ford F-Series
Best of the Year: Ford Maverick
The Ford Maverick took home the ultimate Best of the Year award, and you can read all about it here.
Images by Lucid Motors, Rivian, and Volkswagen licensed by CC BY 2.0.
James Walker is an automotive journalist at Torque News focusing on Lucid Motors. If it's got wheels he's interested, and he's looking forward to seeing what kind of cars the EV revolution brings us. Whether it's fast, slow, new, or old, James wants to have a look around it and share it in print and on video, ideally with some twisty roads involved. You can connect with James on Twitter, Instagram, and LinkedIn.