The latest episode of The Smoking Tire's One Take test show sees hosts Matt Farah and Zack Klapman putting a Stealth-equipped Lucid Air GT Performance through its paces on winding canyon roads in California.
Comparing their production line test car to pre-production examples, they find there's been improvement in a couple of major areas while other little issues remain. For example, Farah took a pre-production Air Dream Edition Performance on a 1000-mile road trip to see Pearl Jam in Phoenix and experienced charger connectivity issues which have been remedied in their Air GT.
Air Grand Touring Performance Stats
The hosts begin the video by asking why the GT Performance is $10K more expensive than the Dream was (blame inflation) and slower than the launch edition Lucid with 61 fewer horsepower. The Air GT P may not match the Dream on paper or against a stopwatch, but they're soon hitting some significant speeds and decide that you don't exactly miss the extra grunt when you're catapulting towards the horizon with a large smile on your face.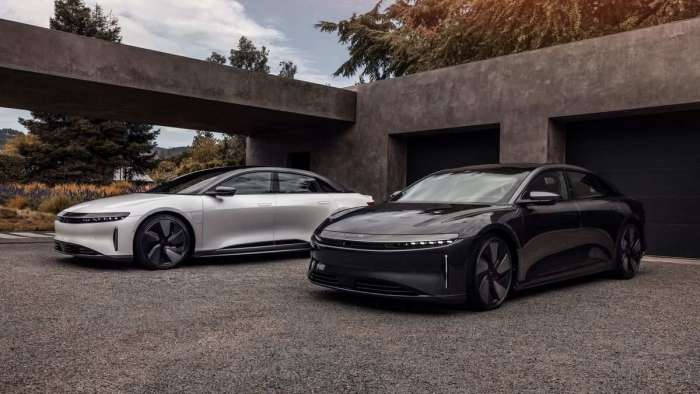 TST's test car features Lucid's murdered-out Stealth Look appearance package; a $6000 option.
Making do with 'only' 1050 horsepower, the Lucid Air GT Performance takes 2.6 seconds to hit 60 mph and accelerates to a 168 mph top speed. Covering a quarter mile is achieved in the thick end of 9 seconds and range is rated at 446 miles.
So Fast
Setting off the guys go straight for the Air's most athletic 'Sprint' driving mode. Zack floors it and the Air surges forward, a small amount of wheelspin the only delay as the hosts are pressed back into their seats. The entirety of the GT P's horsepower is available in any mode, but Sprint gives drivers a more responsive throttle pedal for precise inputs. As we've heard before, the Lucid is extremely fast but isn't violent about it.
Farah raises an interesting point that Lucid's CEO Peter Rawlinson mentioned to him, which is that fitting a more powerful electric motor to a car improves its performance without sacrificing efficiency. He uses the example of the quad-turbo W16 engine in a Bugatti being exponentially more expensive to engineer and build than the four-cylinder in a VW Golf, while a larger electric motor is very similar in design to a less powerful one, and only costs a couple of hundred dollars more to manufacture. You get more performance with similar efficiency, and Lucid gets a silly horsepower number to use in marketing. Everyone's a winner.
Ride & Handling
This is one of the areas in which the GTP shines. Farah says that the GT Performance feels like what would happen if Lotus made an EV (made-for-China SUVs notwithstanding), with the Air striking an ideal balance between ride quality and handling agility. The Air uses a conventional suspension and anti-roll bar setup, eschewing the air suspension seen in other high-end sedans.
Farah and Klapman praise the Air's interior for its design, comfort and materials, likening it to being in a spa with its quiet interior, though the glass roof can heat the cabin quite a bit during the summer months.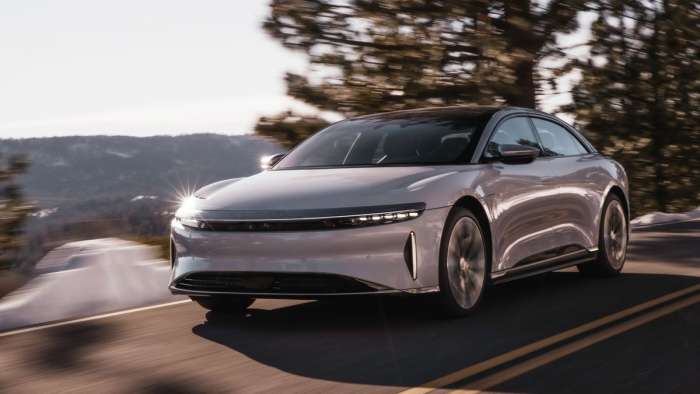 Problems
It's not just the fancy glass that caused the hosts issues. The Air's proximity locking/unlocking system seemed to have a mind of its own, locking and unlocking the car without any input from keys or phones. The hosts say that this is just technology for technology's sake, and that there's absolutely nothing wrong with a traditional key fob and stop/start button on the dash.
Lane-keep assist couldn't be disabled even after finding the button for it, and there were some weird Bluetooth connection issues with phones. Like Tesla and Rivian, Lucid's vehicles rely on cellular data over satellites for navigation and 'satellite' radio, meaning that you can't listen to Sirius XM if you're in an area with no service. Panel gaps were another issue.
There have been gains made though, with the Air's computer systems faster to boot up and respond to inputs than the pre-production cars TST previously tested.
The video ends with the hosts saying that Lucid has got the powertrain and driving dynamics nailed as well as the design and interior materials. Once the other little nuances are ironed out the Lucid Air GT Performance will be an even more compelling car than it already is.
Related Story: Lucid Responds To Tesla With $7,500 Price Cut
Here's the review in full:
Images by Lucid Motors licensed by CC BY 4.0.
James Walker is an Automotive Journalist at Torque News focusing on Lucid Motors. If it's got wheels he's interested, and he's looking forward to seeing what kind of cars the EV revolution brings us. Whether it's fast, slow, new, or old, James wants to have a look around it and share it in print and on video, ideally with some twisty roads involved. You can connect with James on Twitter, Instagram, and LinkedIn.